In The African Queen both Humphrey and Katherine were older (he was over fifty and she in her forties) which I appreciate very much as it adds the realism into the film. I love watching beautiful, young people, however, when the film/TV show displays the good-looking cast only it can come off as dull and unrealistic very easily.
Rosie (Katherine) is a missionary in Africa when the First World War starts. She losses her brother (another missionary), who dies of shock when enemy German army burns down the village and probably kills its inhabitants. She joins the captain Charlie (Humphrey) on his desolate boat named African Queen and convince him to torpedo the German ship as a revenge.
Positives
: They overcome all kinds of trouble – enemy Germans, African nature, even Charlie's drinking habit:
Rosie's rehab program is easy.
By the way the rumour has it that Humphrey and

John Huston

(the director) drank only Scotch to avoid all the exotic diseases because the film was really shot in Africa (not every scene, though). I thought that it would be fun to know that not only Humphrey's character Charlie was a wino, even the actor himself drank a lot.
You can understand the film as an excellent story about survival and conquering one's weaknesses. I like that they both looked realistic: tired, dirty, neglected and I could almost smell Charlie through the screen. Also, the props and setting deserved an Oscar in my opinion (both Katherine and Humphrey won). Moreover, the special effects had to be very inventive in those dark ages without computers.
Negatives
(and spoilers)
: Maybe I misunderstood the plot completely, but I couldn't understand their motivation. Dead brother and natives – okay, it all makes sense to hate the evil Germans and the film relied a lot on the memories of Second World War (since it was released in 1951) but – BUT attacking the ship with the poor old African Queen and amateur torpedoes (baking soda and lemon juice? Maybe, I can't remember) makes no sense to me whatsoever.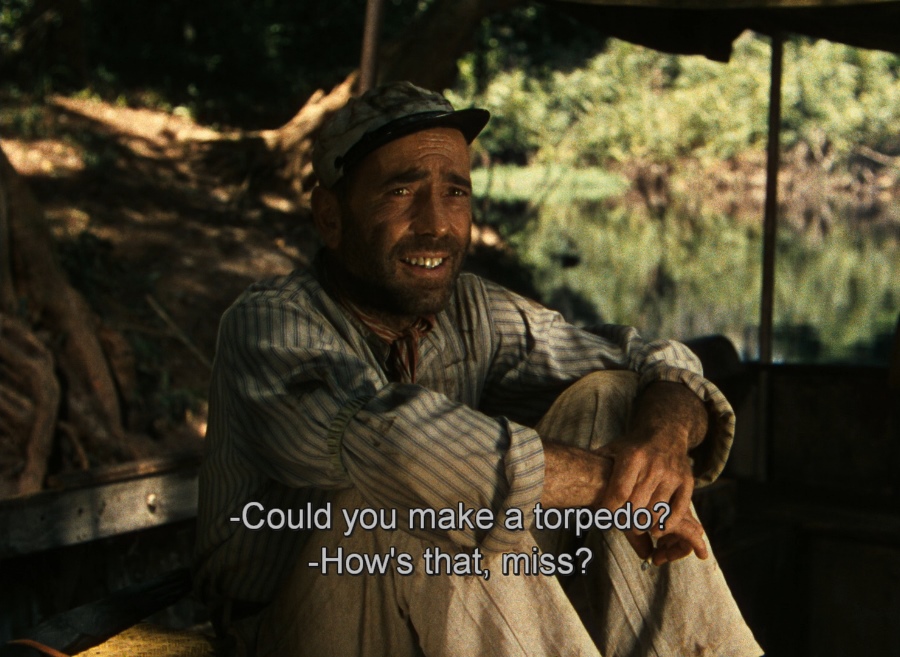 R
osie and Charlie planned to dive into the sea just before their Queen and the torpedoes hit the German ship. See, they didn't have any other boat than African Queen! So they dived into the sea all happy they've succeed in sinking the German ship and The End. The epilogue scene about them drowning exhausted from swimming didn't make it to the final cut, I suppose.
So
: It wasn't the best film I've ever seen but both Humphrey Bogart and Katherine Hepburn were amazing and deserved the Oscars for their performance
(
since they weren't, in fact, responsible for a script that doesn't make much
sense).
V Africkej kráľovnej sú obaja Humphrey a Katherine už starší (ona mala po štyridsiatke a on po päťdesiatke), čo oceňujem, lebo to robí film realistickejším. Rada obzerám mladých a dokonale upravených ľudí, ale keď nám film/seriál ukazuje iba samých fešných hercov, veľmi skoro ma to začne nudiť.
Rosie (Katherine) je misionárkou v Afrike, keď prepukne Prvá svetová vojna. Príde o brata (tiež misionára), ktorý umrie na šok po príchode nepriateľskej nemeckej armády, ktorá spáli dedinu domorodcov a pravdepodobne aj zabije ich obyvateľov. Rosie sa pridá k Charliemu (Humphrey), kapitánovi zanedbanej loďky menom Africká kráľovná a presvedčí ho, aby sa spolu pomstili Nemcom a zaútočili na ich loď Lujza.
Plusy
:
Rosie a Charlie spolu prekonávajú rôzne nástrahy – nepriateľských Nemcov, africkú prírodu, ale aj Charlieho problémy s pitím
:
Rosin rehabilitačný program je veľmi jednoduchý
.
Mimochodom, že vraj Humphrey a

John Huston

(režisér) pili iba škótsku, aby sa vyhli exotickým chorobám, lebo film sa skutočne nakrúcal v Afrike (aj keď nie každá scéna). Takže nie len Humphreyho postava bol ochlasta, ale aj samotný herec.
Film sa dá chápať ako brilantný príbeh o prežití a prekonaní samého seba. Páčilo sa mi, že obaja protagonisti vyzerali realisticky: unavení, špinaví a zanedbaní. Skoro som cítila Charlieho pach cez obrazovku. Tiež rekvizity a výprava by si podľa mňa zaslúžili Oskara (obaja Katherine a Humphrey ho vyhrali). Navyše špeciálne efekty sa museli robiť všakovakými vynaliezavými spôsobmi v tých temných, temných časoch bez počítačov.
Mínusy (a spoilery)
:
Je možné, že som absolútne nepochopila zápletku, ale nevedela som sa vžiť do postáv a ich motivácie. Mŕtvy brat a domorodci – dobre, nenávidieť zlých Nemcov dáva zmysel a film sa zrejme aj dosť spoliehal na čerstvé spomienky na Druhú svetovú vojnu, ale... ALE zaútočiť na nepomerne väčšiu loď neborkou starou Africkou kráľovnou a na kolene robenými torpédami (kypriaci prášok a citrónová šťava? Nepamätám si, možno) – to nedáva absolútne žiaden zmysel.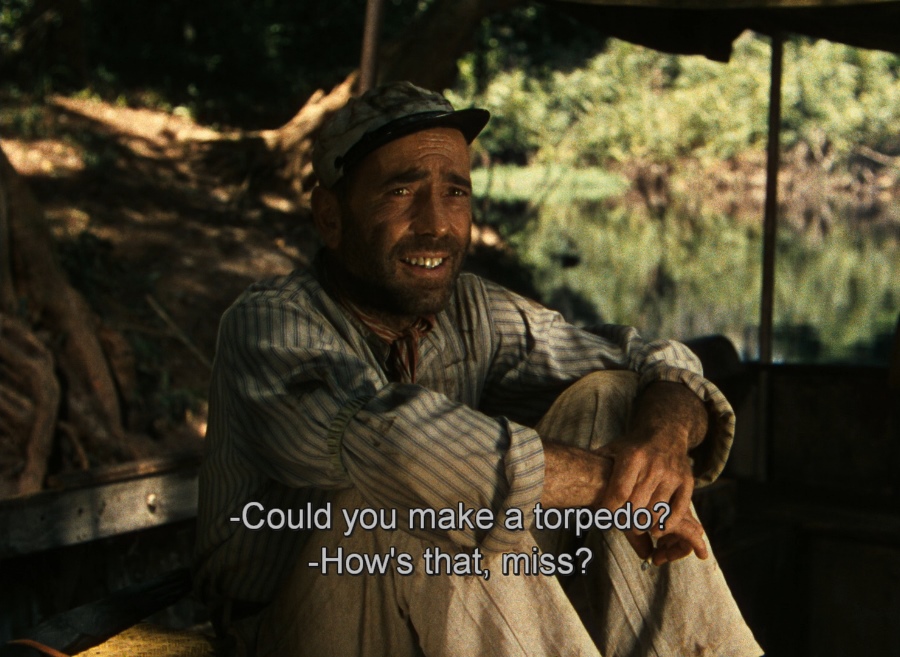 - Vedeli by ste vyrobiť torpédo? - Pardon?
Rosie a Charlie plánovali skočiť do mora tesne predtým ako Kráľovná s torpédami vrazia do nemeckej lode. Lenže oni nemali žiadnu inú loď! Takže skočili do mora a radovali sa, že uspeli a koniec. Posledná scéna o tom, ako sa od vyčerpania utopili sa nedostala na plátno, predpokladám.
Takže
: Nebol to najlepší film, ktorý som kedy videla, ale uznávam že, Humphrey Bogart a Katherine Hepburn boli obaja skvelí a zaslúžili si Oskara za svoje výkony (kedže neboli zodpovední za scenár, ktorý nedáva zmysel).
Na večnosť, Charlie.