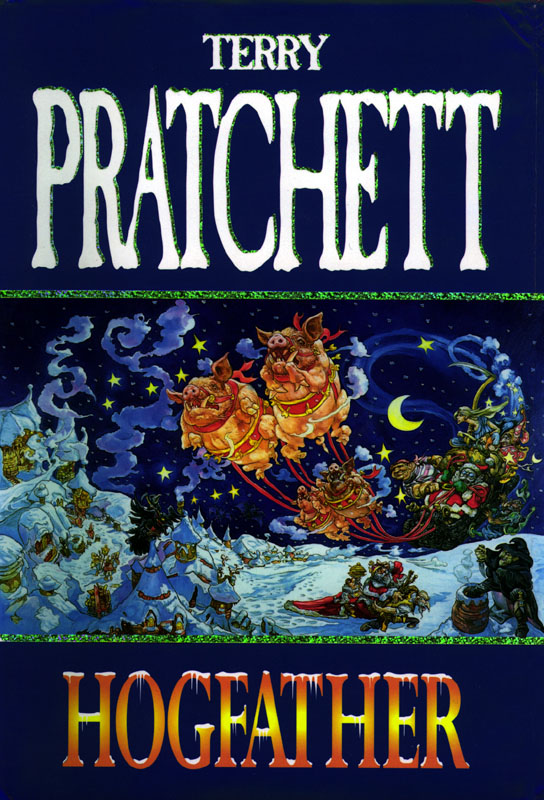 "YOU NEED TO BELIEVE IN THINGS THAT AREN'T TRUE

. HOW ELSE CAN THEY BECOME
?"
"
LIDÉ POT
Ř
EBUJÍ V
ĚŘ
IT VE V
Ě
CI, KTERÉ NEJSOU PRAVDIVÉ. JAK JINAK BY MOHLI EXISTOVAT
?
"
This week I decided to watch not the most suitable film considering
it's
May.
As I told you before I'm a huge Terry Pratchett fan and even though I haven't had time to read
Snuff
yet, I'm gonna present you my opinion about the film
Hogfather
based on the
book
with the same name. (I've just realized how the title resembles Godfather, Terry is one adorable rascal)
The story is set in the magical world called Discworld, which is carried on the backs of four elephants that stand on the shell of the great turtle called A'tuin.
How amazing is that? There have been 3 fictional worlds I'd like to live in and those are: Duckburg, Hogwarts and Discworld. You know what? From now on I'm gonna believe that we actually live in this world. I just like it so much better.
Discworld is full of all kinds of magical phenomena and has a very rich folklore. One of the traditions is the winter festival called Hogswatch when Hogfather comes to people's houses through the chimneys and give kids presents.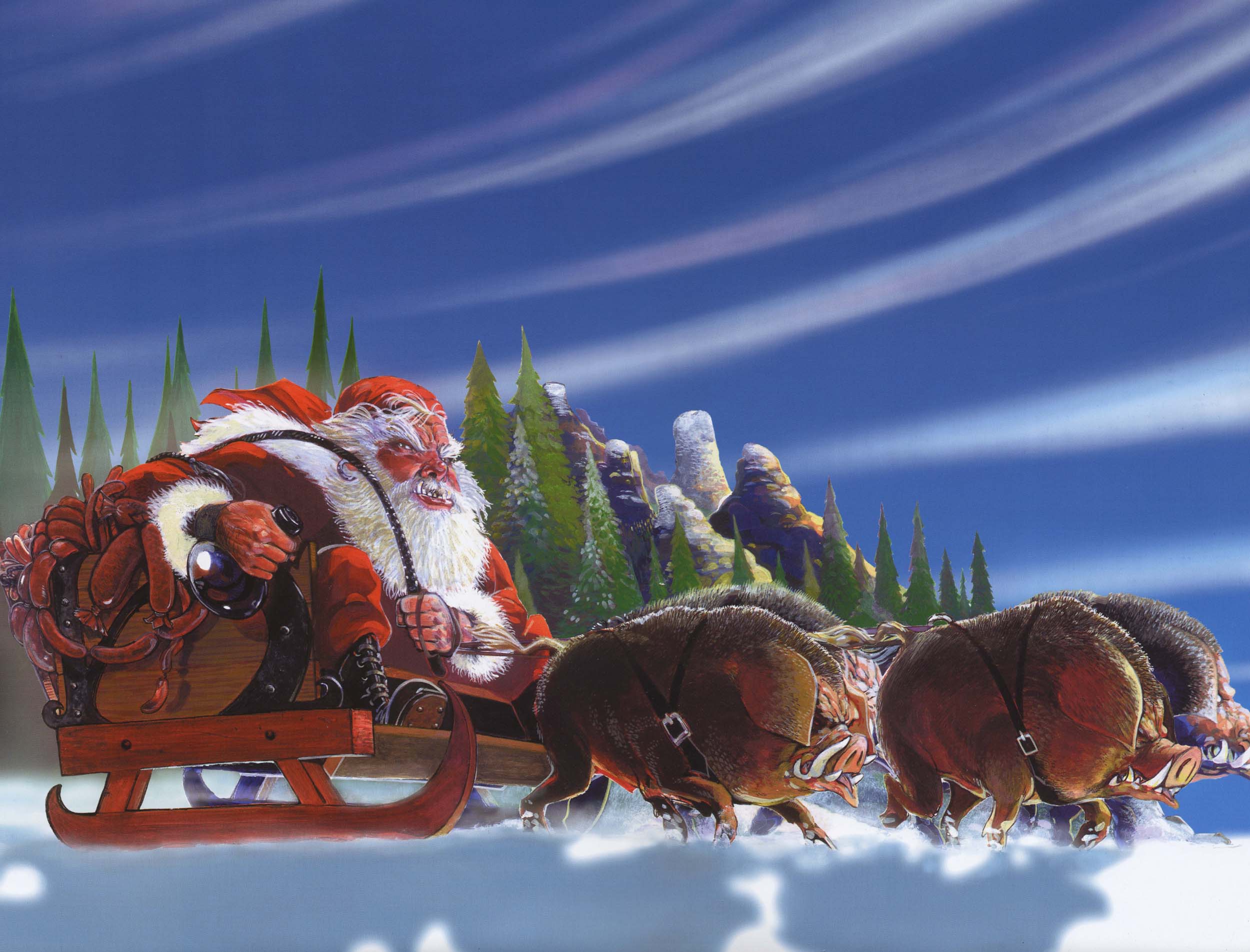 Just in case you were wondering about the name.
But now
Hogfather is missing and unless somebody saves him, there will be no Hogswatch anymore. The plot might seem cliché but you can bet anything
Terry
makes it fresh and fun. In this case the gentleman that decides to save Hogswatch is this one:
Awww.
Well, to be honest in the film Death looks rather bad, but I understand that making a charismatic skeleton in not an easy task:
Eh.
Though one might think Death can do anything he actually needs help from his granddaughter Susan Sto Helit, a young lady with the right attitude.
Positives
: What I love about Terry is the realism of his works, that in spite of being classified as fantasy are extremely realistic. No matter what is the plot Terry always shares his philosophical views about both the great and the small things in life. He comments on our nature as human race:
"Human beings make life so interesting. Do you know, that in a universe so full of wonders, they have managed to invent boredom."
"Real stupidity beats artificial intelligence every time."
Or even every day trivialities:
"Drinks like this tend to get called Traffic Lights or Rainbow's Revenge or, in places where truth is more highly valued, Hello and Good-Bye, Mr. Brain Cell."
He combines the great issues with small everyday matters so easily that you usually won't even notice you're suddenly reading about deep philosophical problems because you're having tremendous fun.
The film made a good job quoting the book on many occasions and its story followed the book very closely. Susan wasn't a sultry hussy, characters looked pleasingly freaky (therefore, charismatic) and nobody made Chuck Norris moves because that's just not what happens in the books.
One of the professors of magic from the Unseen University.
Negatives
: Butchering Death's compelling face with that weird rubber mask is a huge negative for me. Another problem, which might be probably only on my side, is that the atmosphere of the film didn't quite match the one in the book. Terry describes everything in such special charming and witty way and without the narrator's comment, which is a crucial part of every book, the film's atmosphere changes. However, this is not the fault of anyone from the production. The thing is that Terry is such an amazing writer, who regularly writes about indescribable stuff and always succeeds. In books Susan is a rational and responsible lady, who never doubts herself and never loses her head over anything. In film she just seemed too uptight and annoyed, therefore for me, she's not as likable as the original Susan in the novel.
So
: Making a film based on a literary gem is always a challenge.
Hogfather
is a very decent attempt, which can't compare to the original but it's an entertaining film and a good choice (not only) for Christmas holidays if you just don't feel like watching Kevin being home alone yet again.
Terry as a toymaker in the film.
PS: Because I need to study for my state exams the next post will be posted on Monday 3rd of June.
Bye for now:-)
Uplynulý týždeň som sa rozhodla pozrieť si nie tak úplne najvhodnejší film, vzhľadom na to, že je máj. Ako som vám už predtým povedala, som obrovský fanúšik Terryho Pratchetta, a aj keď som ešte nemala čas prečítať si
Šňupec
, dnes vám poviem o filme
Otec prasátek
(slovenský preklad zatiaľ neexistuje)

, ktorý bol natočený podľa rovnomennej
knihy
.
Príbeh sa odohráva v magickom svete nazvanom Zeměplocha/Plochozem, ktorú nesú na chrbte štyri slony stojace na pancieri vesmírnej korytnačky Veľkej A'Tuin.
No nie je to úplne úžasné? Vo svojom živote som chcela žiť v troch fiktívnych svetoch: Káčerovo, Rokfort a Zeměplocha. A viete čo? Od teraz začnem veriť tomu, že na Zeměploše naozaj žijeme. Jednoducho sa mi to tak páči oveľa viac.
Tento svet je plný rôznorodých magických javov a zjavov a má veľmi bohatý folklór. Jednou z tradícií je zimný sviatok nazvaný Noc prasečí hlídky, kedy Otec prasátek lozí k ľuďom domov cez komín a dáva deťom darčeky.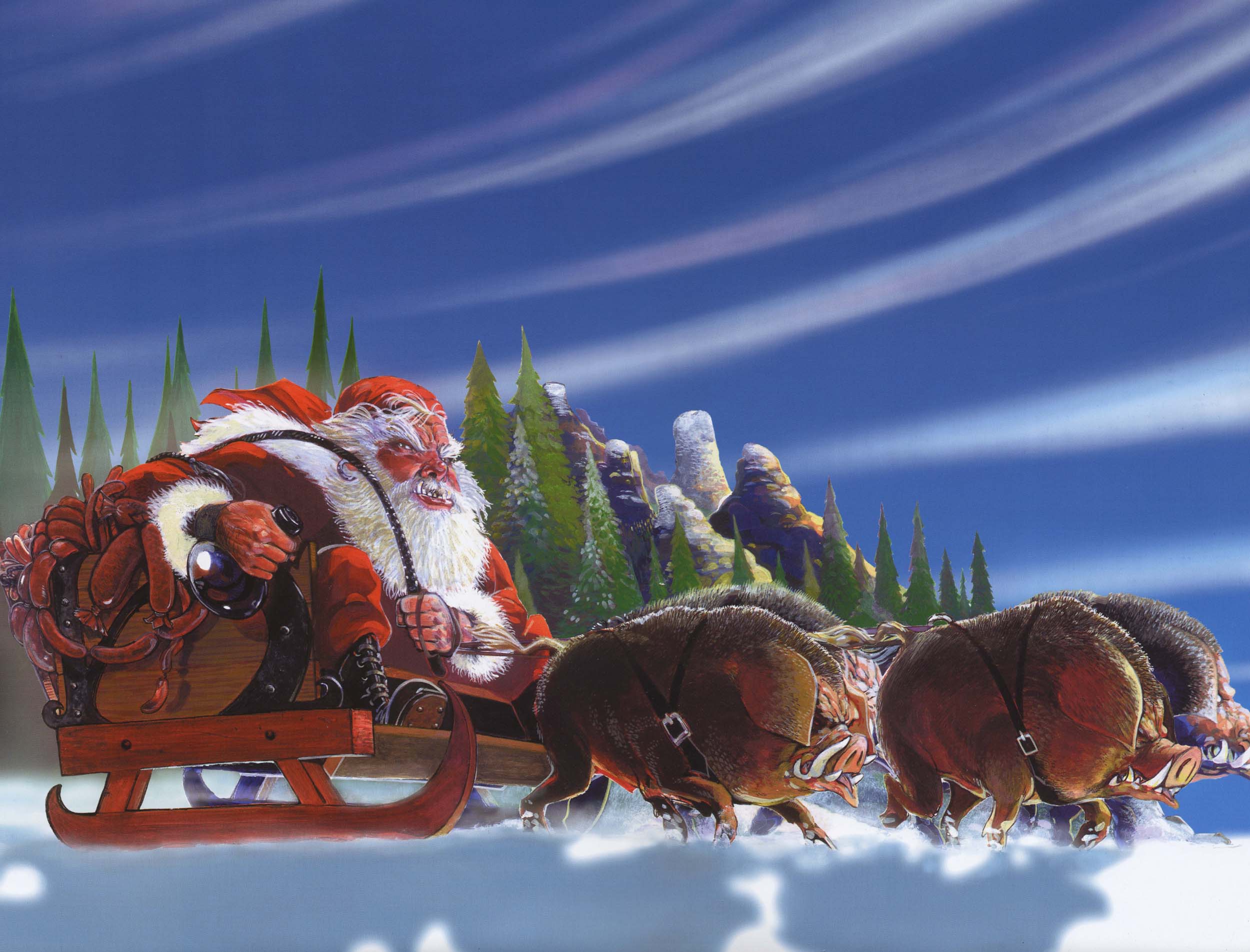 Pokiaľ by sa náhodou niekto pozastavoval nad jeho menom.
Teraz však Otec prasátek zmizol, a pokiaľ ho niekto nezachráni, žiadna ďalšia Noc prasečí hlídky nebude.
Zápletka sa môže zdať ohraná, ale môžete sa staviť, že Terry ju oživí a čítanie bude skutočná zábava.
V tomto prípade je to tým, že džentlmen, ktorý sa rozhodne zachrániť Noc prasečí hlídky vyzerá takto:
No aby som bola úprimná, vo filme Smrť vyzerá dosť nanič, ale je mi jasné, že urobiť charizmatického kostlivca nie je ľahká úloha
:
Eh.
Aj keď by si jeden mohol myslieť, že Smrť dokáže všetko, predsa len potrebuje pomoc jeho vnučky Zuzany Stohelitskej, mladej slečny s tým správnym prístupom.
Plusy
: Čo na Terrym úplne milujem, je to, že jeho knihy sú síce klasifikované ako fantasy, ale v skutočnosti sú maximálne realistické. Nezáleží, akú zápletku si Terry vyberie, vždy sa s nami podelí o svoje filozofické názory na podstatné veci, ale aj maličkosti. Komentuje našu ľudskú povahu:
"LIDÉ JSOU TAK ZAJÍMAVÍ, ŽE VYMYSLELI DOKONCE I JEDNOTVÁRNOST A NUDU. ÚŽASNÉ."

(hovorí to Smrť, preto je to veľkými písmenami)
"

Přirozená hloupost musí vždycky porazit umělou inteligenci. "
Ale aj každodenné drobnosti:
"

Nápoje, jako byl tenhle, mají sklony nazývat se jmény jako Semafor či Duhová pomsta nebo na místech, kde si lidé pravdy více cení, Vítej a sbohem, slečno mozková buňko."
Kombinuje veľké problémy s triviálnosťami s takou ľahkosťou, že si zvyčajne ani nevšimnete, že vlastne čítate hlboké filozofické myšlienky, pretože sa skvelo zabávate.
Filmári urobili dobre, že sa dosť presne držali knihy a pri viacerých príležitostiach ju citovali. Zuzana nebola sexi husička, postavy vyzerali príjemne podivuhodne (a teda charizmaticky) a nikto neoplýval hmatmi a chmatmi hodnými Chucka Norrisa, pretože tak to v Terryho knihách jednoducho nebýva.
Jeden z profesorov mágie na Neviditeľnej univerzite.
Mínusy
: Sprznenie Smrťovej čarovnej tváre tou divnou gumovou maskou je pre mňa obrovské mínus. Ďalší problém, ktorý však môže byť iba na mojej strane, je, že atmosféra filmu celkom nekorešpondovala s tou v knihe. Terry popisuje všetko svojim osobitým štýlom, ktorý prekypuje šarmom a humorom a bez rozprávača, tvoriaceho zásadnú časť každej knihy, sa atmosféra filmu samozrejme zmení. Toto však nepovažujem za chybu nikoho z produkcie. Je to jednoducho tak, že Terry je skvelý spisovateľ, ktorý úplne bežne opisuje neopísateľné a vždy s úspechom. V knihách je napríklad Zuzana racionálna a zodpovedná mladá slečna, či nikdy nestráca hlavu a nezapochybuje o sebe, ani svojich schopnostiach. No vo filme sami zdala príliš upätá a mrzutá (takzvaná tyč v zadku), a teda nie taká sympatická ako jej knižná predloha.
Takže
: Natočiť film podľa literárneho skvostu (nie, nie žiaden sarkazmus) je vždy veľká výzva.
Otec prasátek
je veľmi slušný pokus, ktorý sa však nedá porovnať s originálom. Ale aj tak je to milý film a dobrá voľba (nielen) na vianočné sviatky, pokiaľ sa naozaj necítite na to, aby ste po sedemstýkrát sledovali Kevinove dobrodružstvá.
Terry ako majiteľ hračkárstva v závere filmu.
Vďaka mojim štátniciam, na ktoré sa musím tieto dni učiť, bude ďalší príspevok až v pondelok 3. júna.
Zatiaľ prajem krásny deň (hlavne keď už máte štatnice za sebou, vy ropuchy jedny, čo sa nezabudnete pochváliť na Facebooku, aby ste trápili úbohú Soňu).