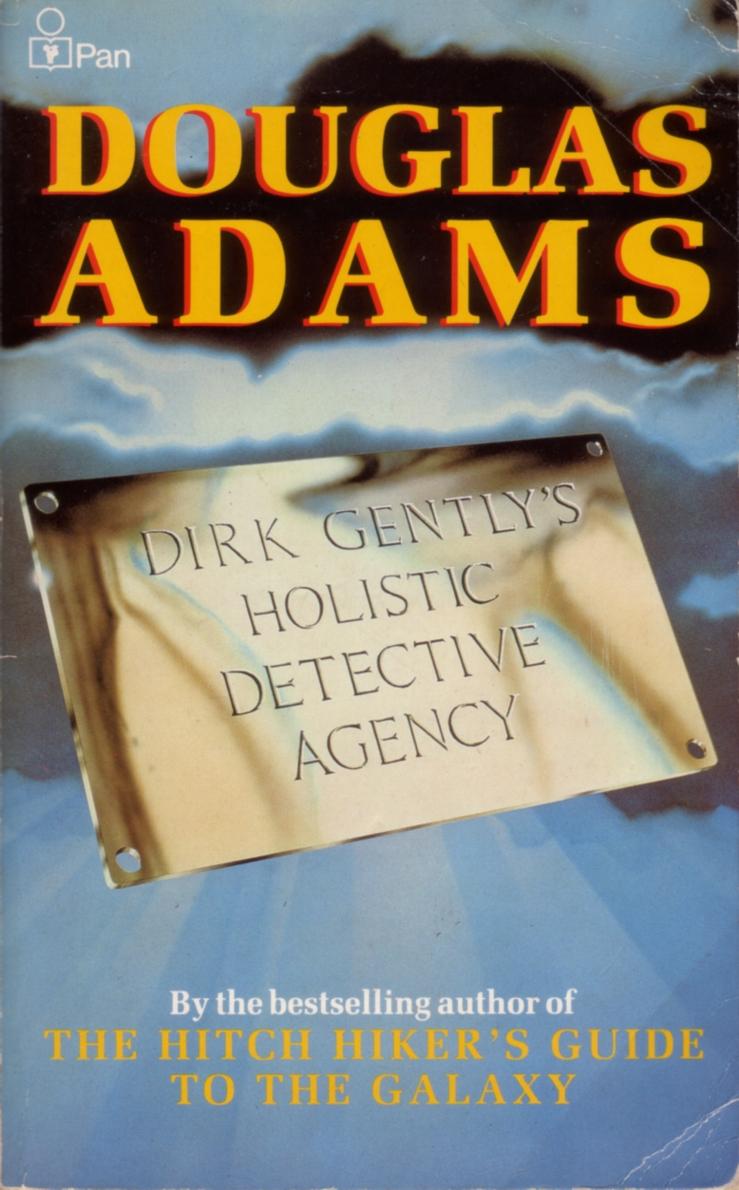 "
The light works," he said, indicating the window, "the gravity works," he said, dropping a pencil on the floor. "Anything else we have to take our chances with."
"
Světlo funguje," ukázal na okno, "přitažlivost funguje," pokračoval a pustil tužku na zem. "A všechno ostatní musíme risknout."
Hello, my friends. These days
I'm enjoying much deserved blissful holiday after the state exams, exhausting days of shopping for a graduation ceremony dress (it sounds like fun, but it isn't) and drinking Hoegaarden I found some time to read another book.
Douglas Adams
is a very popular English author, who, at least in my mind, is like a cousin of
Terry Pratchett
. They both share very similar sense of humour and relish creating utterly absurd plots, situations and statements. Douglas is considered to be a member of the famous British
Monty Python comedy group
, which created a comedy sketch show in 1970s called
Monty Python's Flying Circus
. If you like the show, you'll most probably like Douglas Adams's books too (and you already know them, don't you?). But if you have a problem with understanding the show just like I did -
a guy's asking for some cheese at the
cheese shop
and they don't have any and it lasts for 20 minutes, what the hell is that? I've had a snack, went to the loo, washed my face and he's still standing there asking for a goddamn cheese! Give up already, please! Go to another shop if this one sucks – if you think that in Communism the shops were empty you should see the British shops in 1970s! Really the British should have written to the prime minister about this. Margaret Thatcher. No, she was in 1980s not 1970s... shoulder-pads...-
anyway
I
promise that you can still enjoy Douglas's books, the writing, though still absurd, is more understandable. Observe:
Well, no, I'm not married as

such, but yes, there is a specific girl that I'm not married to.
Did you know that...
Douglas wrote the script for Doctor Who TV series so you can find several recurring topics as time travelling, aliens and such. By the way several episodes of Dirk Gently TV series were shot but then BBC cancel it.
The main topic of DGHDA is the mysterious murder of Gordon Way, the owner of a big company, where Richard, the protagonist, works as a computer specialist. At the moment of the murder Richard is at some ceremonial dinner at his old Alma mater and that's where we meet strange professor Reg, who possesses a talent for conjuring tricks. Later we are introduced to Svlad Cjelli, who was Richard's classmate and now works as a detective with a new name - Dirk Gently. To understand his charming personality I'm gonna use the quotation from the novel:
Svlad Cjelli. Popularly known as Dirk, though, again, 'popular' was hardly right. Notorious,

certainly; sought after, endlessly speculated about, those too were true. But popular? Only in the sense that a serious accident on the motorway might be popular -- everyone slows down to have a good look, but no one will get too close to the flames. Infamous was more like it. Svlad Cjelli, infamously known as Dirk...

People gravitated around him, drawn in by the stories he denied about himself, but what the source of these stories might be, if not his own denials, was never entirely clear...

By means of an ingenious series of strategically deployed denials of the most exciting and exotic

things, he was able to create the myth that he was a psychic, mystic, telepathic, fey, clairvoyant,

psychosassic vampire bat.

What did 'psychosassic' mean?

It was his own word and he vigorously denied that it meant anything at all.
He's not the only one with the quirks. Every character in Douglas's universe is more or less crazy. Also, there are more mysteries than Gordon Way's murder: Richard has a stuck sofa in his flat and it can't be moved in any way and, what's more, his computer analyzer claims that the sofa couldn't possibly get there at all. As for professor Reg, there is a horse in his bathroom at one point in the story:
"

Yes it is,' said the Professor. 'Wait—' he motioned to Richard, who was about to go out again and investigate— 'let it be. It won't be long.'

Richard stared in disbelief. 'You say there's a horse in your bathroom, and all you can do is stand there naming Beatles songs?'
Oh, and as a pedagogy graduate I

couldn't

miss this gem:
What I mean is that if you really want to understand something, the best way is to try and explain it to someone else. That forces you to sort it out in your own mind. And the more slow and dim-witted your pupil, the more you have to break things down into more and more simple ideas.



Negatives
: One thing I miss in Douglas's books – an active female character. I see that as a male writer he might have felt more comfortable writing from the point of view of male characters but I'd love to read about a charismatic female character.
Nevermind, artist has a full right to create anything they like.
So
: Will we find out who and why killed Gordon Way? Will Richard succeed in moving the sofa from the stairs to a better place? Why did Richard jump into the Thames full of sewage out of blue? These questions and many others too will be on your mind night and day when reading
Dirk Gently's Holistic Detective Agency
.
Ahojte, kakaovníci. Teraz si užívam zaslúžené prázdninové poštátnicové blaho a popri zháňaní šiat na promócie (znie to ako zábava, ale nič také) a pití Hoegaardena som si našla čas na ďalšiu knihu.
Douglas Adams

je veľmi populárny anglický autor a v mojej hlave je niečo ako bratranec

Terryho Pratchetta

. Obaja majú podobný zmysel pre humor a vyžívajú sa vo vymýšľaní vyslovene absurdných zápletiek, situácií a výrokov. Douglas býva niekedy považovaný za člena komediálnej skupiny

Montypythonovcov

, ktorí v 70. rokoch robili populárnu televíznu šou Monty Pythonov lietajúci cirkus

.

Ak sa vám táto šou páči, tak sa vám budú páčiť aj knihy Douglasa Adamsa (a potom ich už zrejme poznáte). Alebo ak ste mali rovnaký problém s pochopením Monty Pythonocov ako ja – chlapík si 20 minút pýta

v syrovom obchode

syr a žiaden nemajú, čo to má znamenať? Už som sa najedla, vycikala, umyla si tvár a on tam ešte stále stojí a pýta si ten syr! Už to vzdaj, preboha! Choď do iného obchodu, ak je tento nanič – ak si niekto myslí, že za komunizmu boli obchody prázdne, mal by sa pozrieť do Británie 70. rokov! Len dúfam, že briti napísali premiérovi alebo čo. Margaret Thatcher. Nie, tá bola až v 80. rokoch... vypchávky na ramenách – no nevadí, aj keby ste Montypythonovcom nerozumeli, aj tak sa na Douglasových knihách pobavíte, pretože sú síce napísane trošku absurdným štýlom, ale aj tak sú akosi pochopiteľné. Aha:
No, ženatý jako opravdu ženatý, to nejsem, ale ano, je jedna konkrétní dívka, se kterou nejsem ženatý.
Vedeli ste, že...
Douglas písal aj scenáre pre televízny seriál Doktor Who, takže tam môžete nájsť pár spoločných tém ako cestovanie v čase, mimozemšťania a tak. Mimochodom bolo natočených aj pár častí seriálu aj podľa tejto knihy, ale potom ho BBC zrušila.
Hlavnou témou knihy je záhadná vražda Gordona Waya, majiteľa veľkej spoločnosti, kde hlavný hrdina Richard pracuje ako počítačový expert. V čase vraždy je Richard na slávnostnej večeri na svojej starej Alma mater a tam sa stretávame aj s čudným profesorom Regom, ktorý má talent na čarodejné triky. Neskôr príde na scénu Svlad Cjelli, bývalý Richardov spolužiak, ktorý teraz pracuje ako detektív a používa nové meno – Dirk Gently. Aby ste pochopili, čo je to za osobnosť dám sem pár ukážok z knihy:
Svlad Cjelli. Proslul pod jménem Dirk, ačkoli zase – těžko mluvit o 'proslulosti'. Notoricky známý – jistě; vyhledávaný; opředený nejrůznějšími dohady – to všechno byla pravda. Ale proslulý? Jediné v tom smyslu, ve kterém se může těšit proslulosti vážná nehoda na dálnici – každý zpomalí, aby se pořádně podíval, ale nikdo se nepřiblíží až k plamenům. Neblaze proslulý by bylo výstižnější. Svlad Cjelli, neblaze proslulý jako Dirk...

Kolem Dirka bylo vždycky živo. Lidi k němu přitahovaly všechny ty historky, jejichž pravdivost ovšem on vyvracel. Nikdy nebylo úplně jasné, kde se ty historky berou; jestli náhodou nepřicházejí na svět tím, jak je vyvrací...

Pomocí důmyslně promyšlené série strategicky nainscenovaných popření těch nejobdivuhodnějších a nejnepravděpodobnějších věcí se mu podařilo vytvořit kolem sebe hotový mýtus, mýtus o upírovi* s parapsychologickými, telepatickými, jasnovideckými, věšteckými a psychosickými schopnostmi.

Co znamená 'psychosický

'

?*

*

Bylo to jeho vlastní slovo a on vehementně popíral, že vůbec něco znamená.

*vampire bat – druh netopiera, nie upír

**psychosassic – sassy – drzý, všetečný, energický, sexi, štýlový, cool atď. (prepáčte, nemôžem si pomôcť)
Dirk však nie je jediná svojská postava v knihe. Vo svete Douglasa Adamsa má každý o kolečko menej alebo viac. A navyše sú tam aj ďalšie záhady okrem vraždy Gordona Waya: Richard má na schodoch svojho bytu zaseknutú pohovku, ktorá sa nielenže nedá vyniesť hore ani dole, ale o ktorej jeho analytický počítačový program tvrdí, že sa na tam ani nemohla dostať. A čo sa týka profesora Rega, v jeho kúpeľni sa na jednom mieste príbehu zasa ocitne živý kôň:
"Ano. Přesně tak," opakoval profesor. "Počkejte –" snažil se zadržet Richarda. Ten už zase mířil na zvědy – "nechtě to být. Nebude to trvat dlouho."*

Richard na něho nevěřícně zíral. "Vy tedy tvrdíte, že máte v koupelně koně, a přitom tady akorát stojíte a vyjmenováváte písničky Beatles."

*pozri anglický originál hore.
Ou, a ako absolvent pedagogiky som si nemohla nevšimnúť tento skvost:
"

Já si myslím, že když chce člověk něco opravdu pochopit, je nejlepší zkusit to vysvětlit někomu dalšímu. To vás donutí všechno si v hlavě pořádně srovnat. A čím je Váš žák těžkopádnější a zabedněnější, tím víc musíte problém rozkládat do jednodušších a jednodušších myšlenek."
Mínusy
: Jedna vec mi v Douglasových knihách chýba – aktívna ženská postava. Chápem, že mužský autor sa asi cíti viac doma, keď píše z pohľadu mužských postáv, ale ja by som si rada prečítala aj o charizmatických ženách. No nič, ako umelec má právo písať si, čo chce a ako chce.
Takže
: Zistíme kto a prečo zabil Gordona Waya? Podarí sa Richardovi presunúť pohovka zo schodišťa na nejaké lepšie miesto? Prečo Richard z ničoho nič skočil do Temže plnej páchnucich splaškov? Tieto a mnohé oné otázky vám budú behať po rozume dňom i nocou pri čítaní
Holistickej detektívnej kancelárie Dirka Gentlyho.