This time

I watched the film you would never guess I would. Action films are not m

y

cup of tea

and I'm probably not the target audience. But I'd decided I should have gotten out of my favorite genres and you might like to read a review in which I'm not constantly raving about Audrey Hepburn and nagging you to love her just like I do.
Tentoraz som si pozrela film, ktorý by ste odo mňa asi vôbec nečakali. Akčné filmy nie sú môj štýl a ja nie som ich typický cieľový divák. Ale aj tak som sa rozhodla, že sa tento týždeň vyhnem svojim obľúbeným žánrom a možno aj vy si radi prečítate recenziu, v ktorej sa nerozplývam nad Audrey Hepburn a nebuzerujem vás, aby ste ju tak nekriticky obdivovali ako ja.
So I watched
The Avengers
. The film has a huge fanbase and everybody seems to be mad about Loki, so I decided to find out what's all this about. I didn't grow up reading comic books about these superheroes so there was a lot of things I simply missed I guess.
So according to what I understand, the group of 6 superheroes are called to help to save the world
after another superhero named Loki steals a fancy stone that has the potential to destroy the world. The whole film they are trying to stop him from using the stone but as they are busy being witty and cool it takes them around forever.
From the very beginning the characters talked about the most serious matters, which I'm either too stupid to understand or they didn't make any sense whatsoever. They made the most serious faces and many jokes fell flat in my opinion. I don't like seeing people trying hard to be cool because they always come off as drama queens – trying to be cool is an oxymoron, it's impossible, so quit it! Okay, I'm not criticizing the actors. They had things written in the script so they had to do them. Everyone has to pay the bills and the Hollywood bills are probably huuuge
(and there is the pissing contest about cars and houses and so on with your celebrity friends)
.
Now that's better. I checked
this page
and I found out that the bloopers
much better than the film. Laughing pretty people, who could resist that?
Now about the particular characters. The preceding two pictures were of Hawkeye, who I found mind-numbingly boring despite being possessed by evil forces, which usually makes a character more interesting. Then there was Black Widow - Scarlett Johansson, who must be tired of playing dramatic femme fatales all the time and I'm also tired of seeing her in such roles (I like
Lost in translation
,
I bet you do too
). Next one is a self-conceited joke-machine named Ironman, who I'm not sure whether he was supposed to be annoying or admirable but the only thing that saved him from being the first one was the fact that he was played by Robert Downey, Jr., which made the character almost charming in my eyes.
Okay, I know it might sound a bit puzzling, when I criticize the ever serious characters for being too serious and then I blast the ones who make jokes so let me explain. I love to laugh but one bad joke is worse than a constipation face.
Next I welcomed the character of a humble doctor, who was quite nice and likable as he didn't try to stun us with tons of jokes at all. However, he turned to Hulk, a big destructive monster, every time he was pissed off enough, which was a lot less likable. Captain America seemed goal-oriented and competent enough, despite the ridiculous outfit and thankfully he didn't try to make us laugh.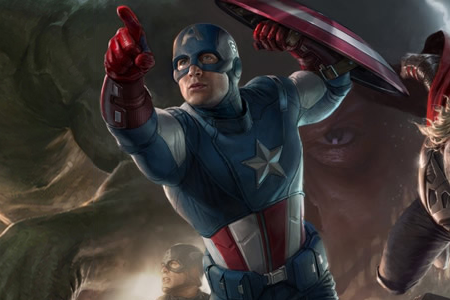 Actually, I liked when Ironman called him out on the costume.
Then there is Thor Lorealsson:
Dontcha wish you had the hair just like me, dontcha?
And just to make it clear, I'm not making fun of him. Long hair looks much more interesting on a man than a short hairstyle. As a child I was traumatized
because
my parents kept cutting my hair too short and later I developed a hair fetish so I love long hair on anybody – a man or a woman – if they take care of it properly.
These 6 guys (and some others who I'm lazy to mention) fight against
Loki. O
ne
Loki
. It smells like bullying and incompetency to me but nevermind. To be honest Loki the villain is the most interesting character of the film. I know that there is this
pub
theory that women love bad boys and that being bad or rude is somehow appealing, but I have my own theory, which is less complicated and it goes like this:



Pretty people are pretty.
That's why Tom Hiddleston can pull off this:
What the hell is he wearing?! The costume is downright absurd, right? But he can
wear it and put on the saber-toothed helmet
and in spite of it he instantly becomes the most beloved character of the film. Plus while everybody frowns and broods and generally makes serious faces, he smiles and
it
's a well-known fact that smiling people seem more attractive.
Villains are not likable as a rule – people, who enjoy themselves are likable.
And this is the guy I want to party with.
Also, Loki and Ironman must have tons of slashfiction written about them as they have the greatest chemistry together.
So
:
T
he film has a very predictable plot and ending and I'm not sure if it brings anything new to the genre
at all but I
'm no expert. The visuals were good but excessive amounts of broken glass, destroyed buildings and action scenes are not really fascinating to me. As for the characters, their personality and attitude, I'm well aware that the film is based on the comic books and that the producers aren't going to change the characters according to my personal liking just yet (but right after Loki and I conquer the world the things are going to be different...). However, Thor's hair and Loki's everything makes it worth watching.
Tak som si kukla
The Avengers
. Film má mnoho fanúšikov a každý je z Lokiho úplne paf, tak som si povedala, že sa pozriem okolo čoho je ten cirkus. Toto nie sú hrdinovia, s ktorými som vyrastala, takže mi asi veľa vecí ušlo.
Takže podľa toho, čo som videla, 6 superhrdinovia sú povolaní, aby zachránili svet
po tom, čo ďalší superhrdina Loki ukradol veľmi efektný čarovný kameň s potenciálom zničiť svet. Hrdinovia sa celý film snažia Lokimu zabrániť, aby kameň použil, ale keďže sú príliš zaneprázdnení rozdávaním svojho šarmu a chrlením vtipov, trvá im to večnosť.
Od úplného začiatku postavy riešia závažné veci svetového významu, na ktoré som buď príliš blbá alebo naozaj nedávali zmysel. Neustále mali napäté výrazy tváre, významné pohľady a poväčšine aj dosť chabé vtipy. Nerada sa pozerám na ľudí, čo sa snažia byť cool, pretože vždy vyzerajú akože túžia po pozornosti (nenapadá ma preklad slova drama queen) – nemôžete sa snažiť byť cool, to je oxymoron, vylučuje sa to. Dosť!
Okej, nekritizujem hercov. Jednoducho mali nejaké veci napísané v scenári a tak ich museli robiť. Každý musí platiť účty a tie hollywoodske sú pravdepodobne obrovské
(a to ani nehovorím o tom, že musíte prečúrať vašeho celebritného kamaráta, keď ide o auto, dom a ostatné veci)
.
No, hneď je to lepšie. Našla som
túto
stránku a zistila som, že
nepodarené
zábery sú lepšie než film. Smejúci sa ľudia, kto by im odolal?
Poďme však na konkrétne postavy. Na predchádzajúcich dvoch obrázkoch bol Hawkeye, ktorý sa mi zdal neskutočne nudný napriek tomu, že bol posadnutý zlými silami, čo robí obyčajne postavy zaujímavejšími. Ďalej je tu Čierna Vdova – Scarlett Johansson, ktorú už musí nudiť hrať tak často dramatické femme fatale a mňa to nudí rovnako (odporúčam
Stratené v preklade
, keď ste to ešte nevideli). Potom tu máme namysleného srandistu Ironamana a ja si nie som istá, či mal byť otravný alebo obdivuhodný, ale jediná vec, čo ho zachránila pred tým
prvým
bol fakt, že ho hral Robert Downey Jr., ktorý z neho v mojich očiach urobil skoro sympaťáka.
Človeče, ale som dobrý!
Okej, možno to teraz znie trošku pokrytecky, keď kritizujem vážne postavy za to, že sú stále príliš vážne a potom zotriem tých, čo rozprávajú vtipy, tak vám to musím vysvetliť. Rada sa zasmejem, ale zlý vtip je horší ako tvár alá chronická zápcha.
Uvítala som postavu skromného doktora, ktorý bol milý a sympatický práve preto, že nesnažil diváka ohromiť
záplavou
vtipov.
Až na to, že
vždy keď sa naštval sa zmenil na Hulka, ničivé monštrum, ktoré bolo podstatne menej sympatické.
Svedomitý
Kapit
án Amerika bol zameraný na hlavný cieľ a zdal sa mi celkom kompetentný aj napriek smiešnemu kostýmu a tiež sa nás chválabohu nesnažil rozosmiať.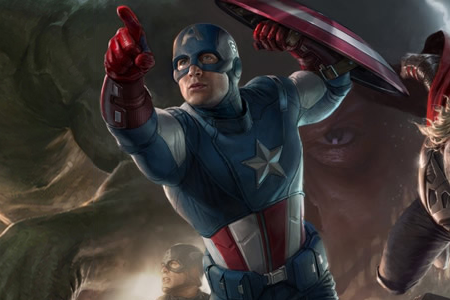 Celkom sa mi páčilo, keď si doňho Ironman kvôli tomu kostýmu podpichol.
A potom tu ešte bol Thor Lorealsson:
Dontcha wish you had the hair just like me, dontcha?
A aby bolo jasné, teraz si srandu nerobím. Dlhé vlasy sú oveľa zaujímavejšie ako taký obyčajný nudný krátky účes. Ako dieťa som bola permanentne straumatizovaná, lebo rodičia mi stále strihali vlasy nakrátko, a preto sa u mňa neskôr vyvinul vlasový fetiš, takže ľúbim dlhé vlasy na komkoľvek – mužovi, či žene – teda ak sa o ne starajú.
Týchto 6 hrdinov (a tiež kopa ďalších, ktorých sa mi teraz nechce menovať) bojujú proti Lokimu. Jednému Lokimu. Smrdí to šikanou a nekompetentnosťou, no ale dobre. Aby som bola úprimná, Loki ako zloduch je bezpochyby najzaujímavejšia postava filmu.

Poznám tú krčmovú teóriu, že ženy majú radi zlých chlapcov a že byť zlý a nevychovaný je akosi príťažlivé, ale ja mám svoju vlatnú teóriu, ktorá znie takto:



Fešní ľudia sú fešní.
A preto Tomovi Hiddlestonovi prejde aj takýto kostým
:
Čo to do čerta je?! Tento kostým je absolútne nemožný! Ale on si ho oblečie aj s tou šablozubou helmou a napriek všetkému sa z neho okamžite stane najobľúbenejšia postava filmu. Navyše, zatiaľčo každý sa mračí, mocno dumá a skrátka robí megavážne ksichty, on sa usmeje a je to známy fakt, že smejúci sa ľudia hneď vyzerajú atraktívne. Nie zlodusi, ale radujúci sa ľudia sú sympatickí. S týmto pánom by som išla na žúr:
A podľa tej ginormickej chémie, čo som videla je mi jasné, že Loki a Ironman sú vďačným námetom na slashfiction.
Takže

:
Film mal veľmi predvídateľnú zápletku a nie som si istá, či do žánru vôbec priniesol niečo nové, ale na to nie som odborník. Vizuálne
efekt
y
boli dobr
é, aj keď na mňa hromady rozbitého skla, zničených budov a akčných scén veľký dojem nerobia. Čo sa týka postáv, ich charakterov a postojov, je mi jasné, že film vychádza z komixov a že producenti sa nič nechystajú zmeniť podľa mojich osobných preferencí (ale hneď ako si Loki a ja podmaníme svet, všetko sa zmení...). No, Thorove vlasy a Lokiho všetko mi za tie dve hoďky stáli.