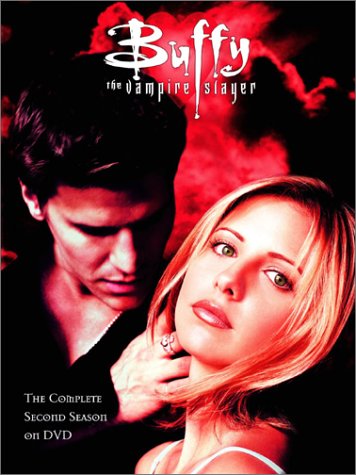 Xander:
Cavalry's here. Cavalry's a frightened guy with a rock, but it's here.

Xander: Kavaléria je tu. Kavaléria je síce iba jeden vystrašený chlapík s kameňom, ale som tu.
The summer

's over and it's getting cold, which is depressing. I feel like the summers have getting shorter and hotter it the last years, haven't they?

G

lobal warming

is becoming real and it

may have something to do with people, so use public transport, guys! And no, there's no way I'm

saying

it because I

don't

have a car,

bah

:

-)
I've started watching

Buffy

. I never watched it before and everybody seems to talk about it even when it's been over for a long time, so I thought that maybe there was something about it then.
To be frank I find the show a little bit absurd sometimes on several levels. Various monsters of season 1 were a total minus in my humble opinion because they were so unrealistic they looked like something out of Red Dwarf. The difference is, however, that Red Dwarf was comedy and you were supposed to laugh at their amateur budget special effects, but in Buffy you're expected to take seriously things like these:
No words.
Also the plots and plot twists don't make much sense. I expect TV entertainment to surprise me but still give me a chance of making predictions, not to invent new rules and come up with deux et machina all the time. Maybe it's me not paying attention but the show doesn't seem to make much sense in its beginning seasons. Neither in the later ones for that matter, but after a while I just rolled with it. Mostly because every season is better than the previous one, which is kind of a miracle considering that usually it's the other way around. That's why I'm not going to pick any episode from season 1 – not that all of them were bad, but none of them seemed that memorable for me.
So the first episode that I found really really amazing was
Halloween
in second season. Basically, an evil wizard comes to town and turns great part of population of Sunnydale (still not sure whether the name is ridiculous or ingenius) into their costumes. Kick-ass Buffy, who always knows what to do (kick somebody's ass) becomes an 18
th
century lady, who keeps fainting every time a danger occurs and Xander is turned to a soldier and is useful for a change.
Willow becomes a ghost.
At first I saw this plot on
The Simpsons
and I loved it instantly. The very idea of being turned into one's costume promises lots of crazy shenanigans. If this happens on every supernatural TV show, okay it might seem a little unoriginal at first but with all sorts of various costumes the possibilities for mischief are endless. Some like Christmas episodes I love Halloween episodes.
I
'm excited like a kid!
Another episode that definitely deserves attention is the last episode of second season –
Becoming:
Part 2
(the last episodes are usually done great to make you watch new season, obviously). Buffy is considered a wanted criminal (though the police invests surprisingly little effort to find and arrest her - Sunnydale is Absurdistan) and Angel is evil. One of the highlights of the show and a gift that keeps on giving and gets better and better every season is Spike. He begins as a regular annoying evil vampire with terrible peroxide hair earlier in the season, but this episode marks a milestone since he teams up with Buffy to stop Angel. Buffy and Spike go to her home for ammo but they are disturbed by her slightly suspicious mother (after 2 seasons she realizes that maybe there is something weird out there).
She plays triangle - pure awesomeness.
Spike and Buffy's mother have a silent awkward moment in Summers's living room when they aren't sure what to talk about. I think that characters of most TV shows/films in general prattle all the time and everything would be so much better if they didn't repeat themselves hundred times as if the authors think that the audience suffers from Alzheimer disease. Okay, I said before that I have problems with understanding and remembering plot, causes and consequences but for example love confessions in every other scene in any TV show/film are just LAME. Not that Spike and Buffy's mother had a love scene. I just enjoyed the quietness of it all. But then Joyce realized she remembered this guy before:
Buffy is a fun show, sure ridiculous as hell, but it gets better every season and these were the two episodes that stood out most for me in the season 2. If you like some others, feel free to share.
Right now I'm reading The Hound of the Baskervilles, so maybe that will be the next post.
Enjoy yourselves and don't get too depressed about the end of summer.
Leto sa skončilo a začína sa ochladzovať, čo ma deprimuje. Letá sú každým rokom kratšie a horúcejšie a globálne otepľovanie prestáva byť teóriou. Možno to súvisí s tým ako žijeme, takže ľudia jazdite autobusmi, nech sa znížia emisie! A to nehovorím len preto, že auto sama nemám, pchá, to teda nie:-)
Začala som pozerať

Buffy

. Nikdy predtým som nevidela ani jednu časť a každý o nej hovorí, aj keď už dávno skončila, tak som si pomyslela, že na nej možno niečo je.
Aby som bola úprimná, Buffy je niekedy hneď úplne absurdná, a to na viacerých rovinách. Všakovaké príšery z prvej série boli podľa mňa hlavné mínus, pretože vyzerali tak nerealisticky ako keby boli z Červeného trpaslíka. Rozdiel je však ten, že Červený trpaslík je komediálny seriál a divák sa má smiať na nízkorozpočtových špeciálnych efektoch, ale v Buffy je vám úplne seriózne prezentované toto:
Ani zápletky a dejový zvraty často nedávajú zmysel. Ja očakávam od televíznej zábavy, že ma prekvapí, ale aj umožní uhádnuť ďalší vývoj podľa istých indícií a nie, že bude stále vymýšľať nové pravidlá a každú chvíľu využívať deux et machina. Možno je to tým, že som nebola dosť pozorná, ale tento seriál naozaj často nedáva zmysel, no po chvíli si na to divák celkom zvykne a to hlavne preto, že každá ďalšia séria je lepšia ako predošlá, čo je dosť zázrak, pretože obyčajne to so seriálmi býva naopak. A preto si nevyberiem žiadnu časť z prvej série – teda niežeby boli však naozaj zlé, ale žiadna mi až tak neutkvela v pamäti.
Takže prvá epizóda, ktorá ma naozaj ohromila bol Halloween v druhej sérii. V skratke: zlý čarodejník príde do mestečka Sunnydale (ešte stále som sa nerozhodla, či je to meno úplne stupídne alebo geniálne) a premení časť obyvateľov na to, za čo sa prezliekli. Chladnokrvná Buffy, ktorá vždy vie čo treba robiť sa zrazu stane kontesou z 18. storočia a v momente nebezpečenstva zamdlieva, zatiaľčo Xander je premenený na vojaka a, aha-ho, zrazu je užitočný.

No a Willow je duch.
Najprv som takúto zápletku videla v Simpsonovcoch a hneď sa mi to zapáčilo. Nápad, že niekto je premenený na svoj karnevalový kostým sľubuje množstvo zábavy. Ak by sa to stalo v každom fantazijnom seriáli, okej asi by to na prvý pohľad mohlo vyzerať ako kradnutie nápadov, ale keď si uvedomíte aké všelijaké kostýmy existujú, možnosti na rôzne nezbedníctva, lapajstvá a neplechy sú nekonečné! Niekto ľúbi vianočné časti, ja Halloweenske. Radujem sa ako malé dieťa!
Ďalšia časť, ktorá si určite zaslúži pozornosť je posledná epizóda druhej série –

Premena 2

(posledné časti sú obyčajne super, pretože sa vás snažia namotať na ďalšiu sériu). Buffy je hľadaná políciou ako kriminálnik (aj keď polícia sa skutočne nepretrhne – čiža Sunnydale = Absurdistan) a Angel je zloduch. Silnou stránkou celého seriálu je Spike, ktorého osudy a repliky sa stále zlepšujú. Začína ako obyčajný otravný zlý upír s príšernými peroxidovými vlasmi, ale táto epizóda je Spikov míľnik, pretože sa rozhodne spojiť sily s Buffy, aby zastavil Angela. Obaja idú k Buffy domov, kde ich vyruší jej mama, ktorá má konečne po 2 sériách podozrenie, že voľačo nie je v poriadku.
M: Buffy dejú sa tu príšerné veci. Čo si doteraz robila?
B: Že som... v kapele. Rockovej kapele, tu so Spikom.
S: Hej, hej, na bubnoch. Je to hotová šelma!
Kým sa Buffy chystá na na zásah proti Angelovi, Spike a Buffyna mama majú v obývačke tichú chvíľku, lebo nevedia o čom sa rozprávať. Myslím si, že postavy vo väčšine seriálov a filmov vo všeobecnosti strašne tárajú a všetko by bolo oveľa lepšie, keby sa neustále dookola neopakovali, akoby si autori z nejakého dôvodu mysleli, že ich diváci musia nutne trpieť Alzheimerom. Okej, ja sama som povedala, že mám problém s chápaním zápletky, ale napríklad také vyznania lásky v každej druhej scéne ľubovolného seriálu/filmu sú jednoducho NEMOŽNÉ. Teda nie žeby Spike a Buffyna mama mali spolu ľúbostnú scénu, to nie. Ja len, že sa mi páčila táto krátka scéna, lebo sa nehovorí. Ale potom si predsa len mamina uvedomila, že sa jej tento chlapík zdá nejaký známy:
M: Nestretli sme sa už niekedy?
S: Ále raz ste ma udreli sekerou, nepamätáte? RUKY PREČ OD MOJEJ DCÉRY!
Buffy
je vtipný seriál, síce úplne absurdný, ale každou sériou sa zlepšuje a tieto dve časti sa mi zdali najlepšie z druhej série. Ak sa vám páčia iné, kľudne sa podeľte. Práve čítam
Psa Baskervillského
, takže možno o tom bude môj ďalší príspevok.
Zabavte sa a nenechajte sa zdeprimovať končiacim letom.