Had Terry Pratchett seen this film he would say something like this: the Scandinavians have reached the line between sanity and insanity and they just keep merrily going up and up.
Ako by povedal Terry Pratchett kedy videl tento film: severania už dávno prekročili hranicu príčetnosti a veselo fičia ďalej.
So the festival of Nordic films began and I decided that it might be fun considering how well Smala Susie turned out. By the way do you remember how I said that

Smala Susie

was wild? Oh, well after seeing this I'm forced to reconsider the meaning of the words "wild" and "weird". Does any of you know some good synonyms? It seems like I'll need a lot of them.
Sons of Norway

is a hilarious, ridiculous, rebellious, tragic, nudistic and genuinely entertaining guide on how to traumatize a 13-year-old. I saw it more than a week ago and I needed some time to recover and gather my thoughts and during this period only isolated phrases or sentences crossed my mind and now I'm still struggling to express myself fluently.
So Nikolaj is around 15 (looks like 13, though the actor was 16 at the time, I had to check) and he belongs to a peculiar family, the head of which is a lefty hippie eccentric extrovert of a father, Magnus. The family scenes are full of hilarious moments of one batshit insane family but we suddenly we are shocked when young Nikolaj decides to investigate the strange noises from his parents' bedroom. Nikolaj, have you not seen any horror before? NEVER INVESTIGATE ANY SUSPICIOUS SOUNDS. I'm not going to quote the words with which his father welcomes him and his younger brother in the bedroom you wouldn't believe me anyway. That's the thing with this film. You cannot predict anything and it keeps surprising you.
So I'm just gonna put here a picture of their atheistic Christmas table instead.
Nikolaj as a teenager goes through a rebellious phase and he becomes a fan of a hip new band named Sex Pistols (the film is set in 1970s).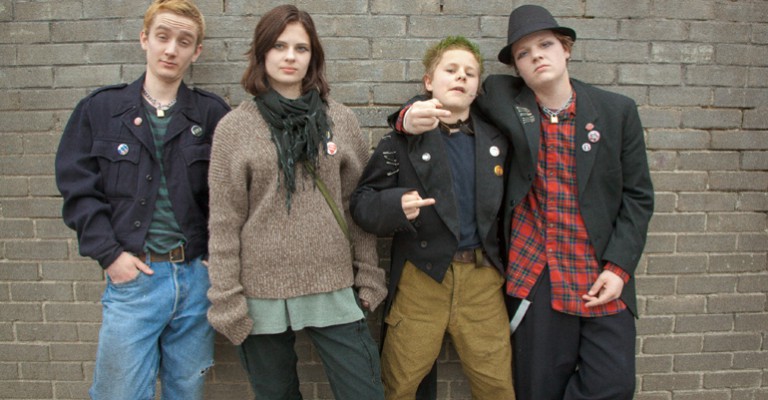 He starts rebelling against everything and everyone but his father, Magnus, becomes a major complication. How can Nikolaj rebel against somebody who unconditionally supports him and every single hooey he makes? The support the boy gets from his father is truly admirable. Nikolaj, as a fan of such a scandalous lifestyle, wants to shock people around him. That's what punk (actually any popular music nowadays) and puberty is about. But guess what! Magnus has also some quirky ideas and one of them is a trip to a nudist camp. How can you shock your father if he can do it better? You can't. So here are naked Norweigians:
You see some people have private parts, others don't. They have public parts instead. Public party parts and they will publish them all they want. Roll with it or not. The film makes a good job creating likable characters. Even though you see them in pretty compromising moments and making questionable choices that should theoretically make you judge them, you still feel sympathy for them. You just want to hug them (after they put on some clothes) and give them a good home.
Also, Johnny Rotten makes a cameo.
Sons of Norway. I like how the title implies that Norwegians are just nuts
:-DDD
Takže začal Nordfest a ja som sa rozhodla, že by to mohla byť sranda, keď aj so Smala Susie to dopadlo tak dobre. Mimochodom pamätáte si, ako som povedala, že

Smala Susie

bola divočina? No po tom, čo som si pozrela toto musím prehodnotiť zmysel slov "divoký" a "bláznivý". Poznáte niekto nejaké dobré synonymá? Myslím, že ich budem potrebovať ešte veľa.
Synovia Nórska

je komický, absurdný, rebelantský, tragický a skutočne zábavný návod ako straumatizovať 13-ročného chlapca. Videla som ho pred viac ako týždňom a potrebovala som trochu času, aby som sa zotavila a pozbierala si myšlienky. Počas uplynulého týždňa mi na myseľ prišli iba izolované frázy a vety a ešte aj teraz sa mi zle plynulo vyjadruje
.
Nikolaj má asi 15 rokov (vyzerá na trinásť a herec mal 16, musela som si to zistiť) a patrí do prazvláštnej rodiny, hlavou ktorej je ľavicovo-orientovaný hipisácky excentrický extrovert, Magnus. Rodinné scény sú plné zábavných momentov jednej pošahanej rodiny, ale prvý šok príde keď sa Nikolaj rozhodne preskúmať tie podivné zvuky ozývajúce sa z rodičovskej spálne. Nikolaj, čo si nikdy nevidel horor? NIKDY NECHOĎ ZA PODOZRIVÝMI ZVUKMI! Nejdem vám citovať slová, s ktorými Nikolaja a jeho mladšieho brata otec privítal v spálni, lebo by ste mi aj tak neverili. Takýto sú Synovia Nórska. Nedokážete nič predvídať a neustále vás niečo prekvapuje.
Takže vám sem dám obrázok ich ateistickej vianočnej večere.
Kedže Nikolaj je v puberte, prechádza
rebelantskou
fázou a stáva sa z neho fanúšik novej skupiny s názvom Sex Pistols (film sa odohráva v sedemdesiatych rokoch).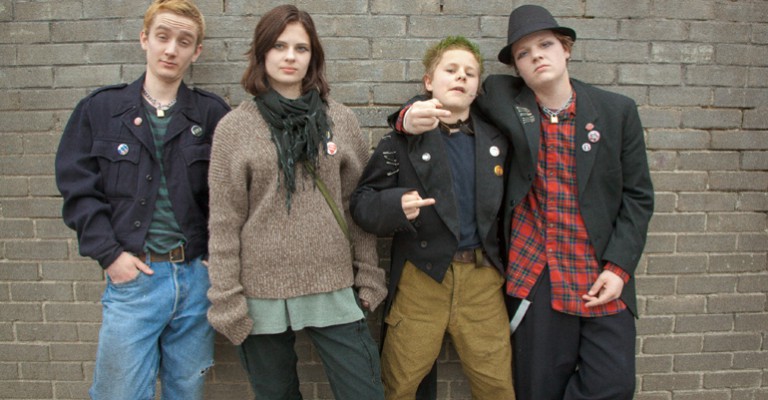 Začne rebelovať proti všetkému a všetkým, ale jeho otec, Magnus, mu to veľmi komplikuje. Ako môže Nikolaj rebelovať proti komusi, kto bezpodmienečne podporuje jeho a každú blbosť, ktorú vymyslí? Podpora, ktorú otec dáva svojmu synovi je naozaj pozoruhodná. Nikolaj ako fanúšik poburujúceho životného štýlu chce šokovať ľudí okolo. O tom je celá
puberta a
punk (alebo vlastne každý dnešný žáner populárnej hudby, no nič). Ale hádajte čo? Aj Magnus má vlastné šialené nápady a jedným z nich je výlet do nudistického kempu. ako môžete šokovať otca, keď on sám to vie lepšie? No nijako. Takže tu sú nahatí Nóri:
Viete, niektorí ľudia majú intímne partie a niektorí nie. Tí majú potom verejné partie. Verejné párty partie. A budú ich zverejňovať kedy sa im len zachce. Zmierte sa s tým alebo nie, nič to nezmení.
Postavy vo filme sú veľmi sympatické. Aj napriek tomu, že ich vidíte vo všelijakých kompromitujúcich situáciach, počínajú si diskutabilne a vy by ste ich za to mali
teoreticky
odsudzovať, no aj tak s nimi vlastne
súcítite
. Chcete ich objať (hneď ako sa oblečú) a zobrať si ich domov.
A potom príde na návštevu Johnny Rotten.
Synovia Nórska. Páči sa mi ako názov filmu naznačuje, že Nóri sú jednoducho blázni:-DDD