Network Executive: "
We can't let him die in front of a live audience!"
Christof: '
He was born in front of a live audience."
Výkonný pracovník televíznej stanice: "Nemôžeme ho nechať umrieť v priamom prenose!"
Christof: "Veď sa narodil v priamom prenose."
The Truman Show is one of the few films in which I don't want to physically
assault

Mr. Carrey
but merely clap my hands and congratulate him to a job well done.
You've probably seen the film before (if you didn't, please, correct that mistake soon) and you probably liked it very much too. This is one of the films that one doesn't feel like one's wasting their time even when rewatching it for gazillionth time. Though I can't really say that I can one hundred percent relate to the protagonist, as this is something neither me nor you will ever experience, it somehow speaks to me.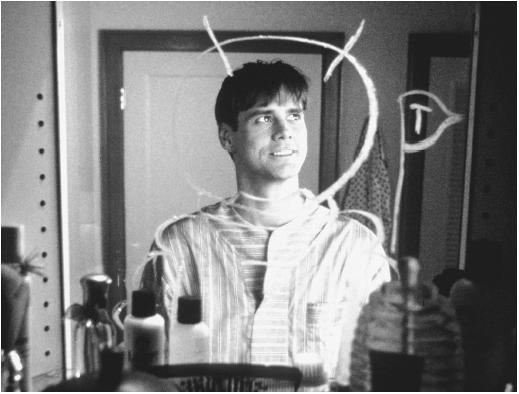 Truman is a victim of an inhumane experiment and the cherry on top is that others earn money out of him. He's a star of a reality show, which he doesn't suspect as he was born on air and the whole town, his family and friends are only actors on the set, while the mastermind director Christof whispers the lines into their ears while they're talking to poor Truman. I'm not sure whether he's stupid or the show was extremely well executed but it took him more than 30 years to realize that something's off.
I love that despite the serious topic the film still manages to be hilarious.
He's remarkably self-confident as he never doubts his own sanity. God knows that if I were in his shoes, I'd be already packed, pyjamas, crayons and all, by the nearest person in white. He investigates, confides in others and generally tries to solve the mystery. He's a rebel in the beginning when he trust himself and bravely go further in his investigations, break his stereotypes:
and even tries to disappear the omnipresent cameras. The scene at the sea during the storm is courageous of course but who would retreat on air right? But it was still fun watching him going insane (oh, his meltdown scenes are splendid to watch) while looking for a way out. This is one of the films during which one doesn't monitor their watch.
The film presents lots of topics:
Sharing our lives on the internet. Who are the villains?
The role of mass-media in shaping our reality. Plus: do we believe others more than ourselves?
We create films, but do they also shape our lives? What is the by-stander effect? Are we optimistic, cruel or mentally numbed by all the TV we watch so we actually think that everything is just a show for us to watch?
Philosophical questions of subjective and objective reality - is there any objective reality at all?
Human nature - rebel or conformist? Who are we and what should we be like?
Priorities - money/prestige or personal life? Have they changed in time?
Feel free to add some more...
Many would say that we all are Trumans because in the century of internet we share all kinds of things for others to see (however the difference is that The Truman Show was watched, while out little lives, masterful cakes and holiday pictures are not that interesting for 99 percent of our Facebook friends, except of those who are tagged of course). Also if you're unsure whether you're the star of a similar reality show, be chill - you have internet, the unlimited source of everything that has ever existed, and if your show isn't on it, then is truly doesn't exist:-)
The truth is we live in a crazy world where no one knows what's true. A few years ago I played The Sims and one day I came to an eye-opening conclusion: What if we all are sims? The funny thing is we can't check it.
"We accept the reality of the world with which we are presented."
I feel like I'm starting to sound boring and sliiightly silly, so I'm gonna leave alone with those inspiring topics above.
I'm gonna pray now for more wonderful scripts to be written and for Jim Carrey to be hired because he can be very compelling when he gets the chance.
PS
: Start exercising! Just in case you were unknowingly a star of some sick reality show (aren't they all?). You don't want millions of people watching your flabby ass, do ya?
The Truman Show
je jeden z nemnohých filmov, pri ktorom netúžim fyzicky napadnúť
Jima Carreyho
, ale namiesto toho mu zatieskať a zagratulovať k dobre odvedenej práci.
Asi ste tento film už videli (ak nie ten omyl musíte okamžite napraviť) a s najväčšou pravdepodobnosť sa vám tiež veľmi páčil. Toto je jeden z tých filmov, pri ktorom nemáte pocit strateného času aj keď ho pozeráte po miliónty raz. Nemôžem síce povedať, že by som sa vedela maximálne vžiť do hlavného hrdinu, pretože som sa v pdobnej situácii nikdy neocitla, to asi nik, no aj tak ma film oslovuje.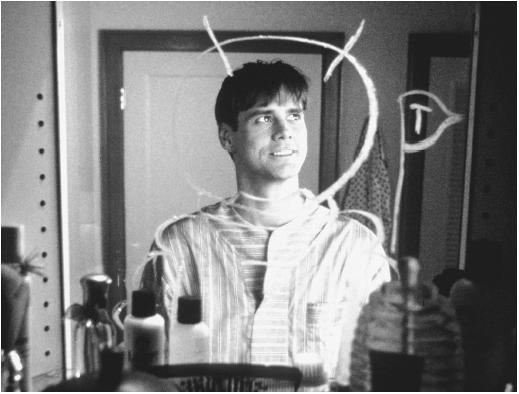 Truman je obeťou neľudského experimentu a čerešničkuo na torte je fakt, že na ňom ostatní zarábajú peniaze. Je hviezdou reality šou, o čom vôbec netuší, lebo sa tam už narodil a celé mesto, jeho rodina a priatelia sú iba herci na scéne, zatiaľčo geniálny zloduch, režisér Christof im šepká do uška repliky, keď sa s chudákom Trumanom rozprávajú. Neviem, či je Truman taký blbý alebo či bolo všetko v šou tak dokonale prepracované, ale trvalo mu to 30 rkov, kým zistil, že tu čosi nehrá.
Truman je skutočne mimoriadne sebaistý, pretože nikdy nepochybuje o svojej príčetnosti. Boh vie, že ja by som sa na jeho miesto už dávno hlásila u najbližšieho pána v bielom so zabaleným pyžamkom a pastelkami. Truman pátra, zveruje sa ostantým a jednoducho sa pokúša vyriešiťtú záhadu. Na začiatku je celkom rebel, lebo verí sám sebe a odvážne pokračuje v pátraní, napríklad tým, že začne porušovaťsvoje stereotypné správanie:
POMÓC, SOM SPONTÁNNY!
a snaží sa zmiznúť z dohľadu všadeprítomných kamier. Scéna na mori počas búrky je síce odvážna, ale kto by sa už len vzdal v priamom prenose, že? Sledovať Trumana ako vyvádza, ako sa nervovo rúca a snaží sa nájsť cestu von, od toho sa oči odtrhnúť nedajú. Toto je jeden z filmov, pri ktorých sa na hodiny nepozerá.
Film nám ponúka mnoho tém na zamyslenie:
Zdieľanie našich súkromných životov na internete. Kto je tu vlastne zloduch?
Úloha médií pri formovaní nášho vnímania reality. Plus: veríme ostatným viac ako sebe?
Život ovplyvňuje film a film ovplyvňuje život. Čo je to fenomén okoloidúceho? Sme optimistickí, krutí alebo omráčení televíziou, takže máme pocit, že všetko okolo nás je len film?
Filozofické otázky týkajúce sa subjektívnej a objektívnej reality - existuje vôbec nejaká objektívna realita?
Človek - rebel alebo konformista? Akí sme a akí by sme mali byť?
Priority - peniaze/prestíž alebo osobný život? Menia sa priority spoločnosti v čase?
Kľudne pridajte ďalšie...
Keď som si čítala nejaké ďalšie recenzie o filme, všade sa opakoval názor, že sme všetci ako Truman, pretože v tejto dobe internetu o sebe zdielame všetko možné (s malým rozdielom, že The Truman Show mala veľkú sledovanosť, zatiaľčo naše malé životy, lahodné koláče a dovolenkové fotky pre 99 percent našich Facebookovým priateľov nie sú až také fascinujúce, teda okrem tých, ktorí sú na nich označení). Pokiaľ však máte obavy z toho, že by ste mohli byť ďalším Trumanom v podobnej reality show, len pokoj - máte internet, neobmedzený zdroj všetkhé čo kedy existovalo, a keď tam šou o vás nie je, tak naozaj neexistuje:-)
Pravdou je, že žijeme v bláznivom svete, kde človek nikdy neviem čo je pravda a čo nie. Pred pár rokmi do hrala The Sims a jedného dňa som mala ohromujúci nápad: Čo ak sme aj my simsovia? Sranda je, že si to nikdy neoveríme.
"Akceptujeme takú realitu a taký svet, ktorý je nám prezentovaný."
Mám pocit, že už začínam znieť nudne a možno aj trošku hlúpo, takže vás teraz nechám samých s tými inšpiratívnymi témami, ktoré som načrtla vyššie. A ja sa idem modliť za to, aby vzniklo ešte pár takých skvelých scenárov a aby tam dostal Jim Carrey nejakú rolu, pretože dokáže byť byť skutočne parádny, keď má na to priestor.
PS
: Začnite cvičiť! Keby ste predsa len boli hviedzou nejakej takejto chorej reality šou (nie je vlastne každá chorá?) a nevedeli o tom. Nechcete predsa, aby sa milióny ľudí pozerali na váš mľandravý zadok, ha?!