Kryten
: [reading Hitler's diary] Things to remember: Stop milk, pay papers, invade Czechoslovakia!
Kryton
: [číta Hitlerov denník] "Nezapomenout: Vypnout plyn, zaplatit účty a napadnout Československo."
When I started rewatching
Red Dwarf
I couldn't stop. While reading a crazy-ass book named Misery I really needed all kinds of relax. Plus these crazy guys had me wrapped around their fingers and I couldn't wait to see one of them in particular. What a guy!
Third season
Polymorph
Yet another episode a little bit psychological insight, the best horrible special effects and massive amount of fun. We meet an army experiment that went wrong. The creature should have served as an universal soldier that can change its shape according to the enemy's personality to distract, disorientate and weaken them by sucking out their most prominent character trait. The creature gets on Red Dwarf the it's only the matter of time when it gets all of our 4 members of the crew.
As I mentioned before, the effects of low-budget old comedy series are one of my strongest arguments for anyone to watch the show. Anytime in any different series if there's a magnificent scene with the major villain, the suspenseful music makes you sweat all over. In Red Dwarf you just hear the audience laughter mixed with your own.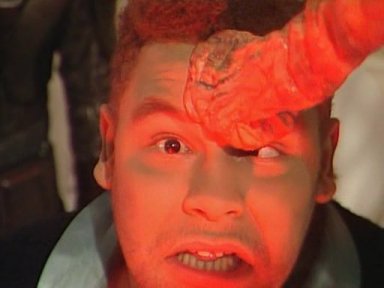 That's the monster's tongue, everyone.
Which emotions will the monster suck from Rimmer, Lister, Cat and Kryten? How will they change? How would you change if it happened to you?
Timeslides
Time-travelling! Doesn't everyone love it?
Being stuck in the space after the extinction of humankind (yeah!) with 3 other guys and no one else (meh!) makes Lister a dull boy. He doesn't want to play neither miniature gold, tricycle volleyball with condom nor Junior angler with Cat.
''I want to live. I want to meet people. I want to meet girls. I want to make love.''




''Well, Junior Angler is the best you're gonna get out of me, buddy!''
What a wonderful surprise is it when Kryten accidentally creates a way to enter any photograph and change the past! Lister immediately grabs the opportunity to perfect his past and therefore his whole life takes a different course.
Having people to meet your teenage you is a nightmare.
Will he succeed in persuading his younger self to obey? What will happen next? What if some other crew members decide to make use this new chance to change their lives?
The Last Day
Nobody lives forever and no gadget works forever either (except for those ancient Nokia bastards, how I love them!) and Kryton, a popular robotic crew member is getting close to his expiration date. When others learn that he'll be gone in a few days they are at loss. Not only because Kryten was the one doing all the cooking, cleaning, laundry or mechanical help anytime it was needed. Despite being just a bunch of circuits, he became their friend and he deserves to go out with a BANG!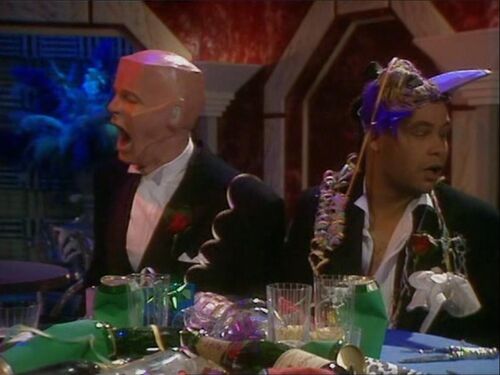 This episode touches religion a little bit too. Apart from that we see our heroes having genuine fun the last evening at the party for Kryten, which is not very common since we usually watch them fighting off various catastrophes. Also the guys wouldn't be real friends if they didn't try to fend off this one too.
Kryten: Is this the human quality you call friendship?

Lister: Don't give me any of that Star Trek crap. It's too early in the morning.


Fourth season
Dimension jump
Finally. Finally we're getting to the best character of the whole series, possibly the best in the whole history of television. Imagine: three spatial dimensions plus time - the fourth dimension. There are physical theories that there are more dimensions, in which all the possibilities are realized. Every one of our decisions creates another one and in all of those dimensions these are our selves shaped by different situations and decisions.
For example, what if you're a complete and utter dork, who is as popular as a fart in the elevator? Somewhere out there in another dimension there might be your different version with a completely different life. Successful, popular, handsome, admired.
I
sn't anyone at least a little interested in the
theory of alternative dimensions?
Rimmer isn't.
Next week I'm going to share my thoughts on Misery .
Keď som začala pozerať Červeného trpaslíka, nevedela som sa od neho odtrhnúť. Počas čítania takej vyslovene šialenej knihy ako je Misery som potrebovala akýkoľvek relax. Navyše týchto chlapci ma majú pevne omotanú okolo prstu a hlavne jedného konkrétneho som sa už naozaj nevedela dočkať. Je to frajer!
Tretia séria

Polymorf
Ďalšia epizóda s psychologickým podtónom, najlepšími príšernými špeciálnymi efektami a ohromnou dávkou zábavy. Stretávame sa s vojenským experimentom, ktorý sa nevydaril. Tvor mal slúžiť ako univerzálny vojak, ktorý dokáže zmeniť svoj tvar podľa osobnosti nepriateľa, aby odviedol jeho pozornosť, spôsobil dezorientáciu a oslabil ho tým, že mu vycucne výraznú charakterovú črtu. Tento tvor sa dostal na palubu Červeného trpaslíka a je len otázkou času, kedy dostane všetkých 4 členov posádky.
Ako som už spomenula špeciálne efekty tohto nízkorozpočtového komediálneho seriálu sú tým najpádnejším argumentom, aby ste si to pozreli. Vždy keď v akomkoľvek inom seriáli nadíde veľkolepá scéna s hlavným zloduchom, sprievodná muzika je taká napínavá, že sa spotíte aj za ušami. V Červenom trpaslíkovi sa tak akurát mieša smiech publika s tým vaším.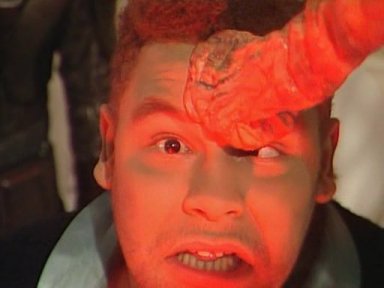 Toto je jazyk tej príšery, aby bolo jasné.
Aké emócie vycucne polymorf z Rimmra, Listra, Kocoura a Krytóna? Ako sa potom zmenia? Ako by ste sa zmenili vy, keby sa to stalo vám?


Fotostroj času
Cestovanie v čase! Existuje vôbec niekto, koho by tá téma nenadchla?
Byť ponechaný napospas prázdnemu vesmíru 3 milióny po vyhynutí ľudstva (jupí!) s troma ďalšími chlapíkmi a nikým iným (meh!) Listra veľmi deprimuje. Už sa nechce hrať minigolf, volejbal na trojkolkách s kondómom namiesto lopty a ani len Malého rybára s Kocourom.



"Já chci žít, pracovat, bejt mezi lidma. Chci chodit na rande. Chci se milovat!"




"Ze mě nevyrazíš nic lepšího než Malého rybáře!"
Aké úžasné prekvapenie to potom je, keď Krytón omylom príde na spôsob ako vkročiť do fotografií a zmeniť minulosť! Lister sa okamžite chopí šance zdokonaliť svoju minulosťa tým pádom aj celý jeho život naberie úplne iný smer.
Len si predstavte, že by vaši priatelia stretli vaše pubertálne ja.
Podarí sa Listrovi presvedčiť svoje mladšie ja, aby ho poslúchol? A čo ďalej? Čo ak sa ešte ďalší členovia posádky rozhodnú využiť túto šancu, aby zmenili svoje životy?
Poslední den
Nikto nežije naveky a žiaden prístroj tiež nie (okrem tých prastarých bastardov od Nokie, ako ich len ľúbim!) a Krytón, populárny robotický člen posádky, sa blíži ku koncu životnosti. Keď sa to ostatní dozvedia, sú úplne zaskočení. Nie len preto, že Krytón bol jediný, kto na lodi varil, pral, upratoval a orpavoval, keď bolo treba. Napriek tomu, že je vlastne len kopa obvodov, stal sa ich priateľom a zaslúži si koniec ako PÁN!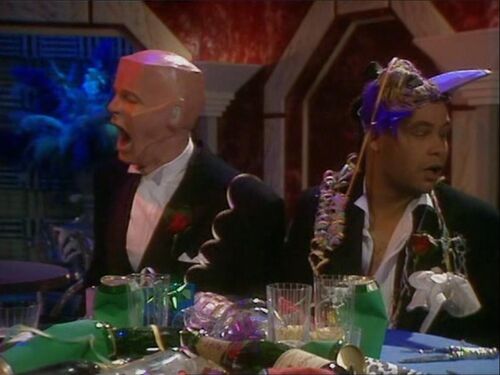 Aj táto epizóda sa zľahka dotkne náboženstva. Okrem toho uvidíme našich hrdinov ako sa poriadne bavia na večernej párty na Krytónovu počesť, čo pre seriál vôbec nie je samozrejmosť, kedže ich zvyčajne sledujeme ako sa snažia odvrátiťrôzne katastrofy. A chlapci by neboli kamaráti, keby sa nesnažili ubrániť aj teraz.
"Krytón: To je ta lidská vlastnost, které se říká přátelství?""Lister: Nech si ty startrekový pindy takhle brzo po ránu."
Štvrtá séria
Jiná dimenze
Konečne. Konečne sa dostávame k najlepšej postave celého seriálu, zrejme najlepšej v histórii televízie. Predstavte si: tri rozmery v priestor plus čas - štvrtý rozmer. Vznikli mnohé fyzikálne teórie o existencií ďalších rozmerov, v ktorých sa môže realizovať všetky možnosti. Že každé z našich rozhodnutí vytvorí ďalšiu dimenziu a že v každej z týchto dimenzií (alebo alternatívnych vesmírov, ak chcete) existuje vaše ja, ktoré bolo formované rôznymi situáciami a rozhodnutiami. Napríklad: čo ak ste úplný blbec populárny asi ako prd vo výťahu? Niekde tam v ďalšej dimenzií môže byť vaša iná verzia žijúca úplne iný život. Úspešnejšia, populárnejšia, fešnejšia a obdivovanejšia verzia. Existuje vôbec niekto, koho by aspoň trošku nezaujímala teória alternatívnych vesmírov? Tak napríklad Rimmer.
Nachystej uzenáče. Na snídani jsem spátky.
Na budúci týždeň vám porozprávam o Misery.