Kryten: With respect sir, you think Jesus was a hippie.
Rimmer: Well, he was. He had long hair and he didn't have a job. What more do you want?

Kryton: Při vší úctě, pane, vy si vážně myslíte, že Ježíš byl hipík?
Rimmer: To tedy byl. Měl dlouhé vlasy, nepracoval... co chceš víc?
During the ugly November and snowless December the best one can do to feel warm and comfortable is to return to one's most beloved things and so I'm going to share my favourite episodes from the seasons 5 and 6 of
Red Dwarf
. To people who haven't seen the show or read my blog posts in the past, the links for the articles about seasons 1 - 4 are
here
and
here
.
Fifth season
Back to reality
During exploring the bottom of the sea on one almost inhabited planet in a small exploring vessel, our heroes find a wreck with all of its crew members dead. What is more upsetting is that it seems like everybody committed suicide. Uncomfortably they stare at a skeleton of a guy who committed harakiri, others who hanged or shot themselves and on the top it all, they discover a haddock that willingly closed its gills to suffocate itself. The reason behind these horrifying suicides is a giant mutated squid that fights with neurotoxin which causes severe depressions. And it has just spotted our guys...
Lister: ''There's only three alternatives: it thinks we're either a threat, food or a mate.... It's either gonna kill us, eat us or hump us. Either we persuade him we're not that kinda oceanic salvage vessel, or we scarper pronto.''
Maybe I'm naive but this episode kept surprising me with its twists the first time I saw it.
Sixth Season
Psirens


Despite Rimmer accusing Lister of parking Red Dwarf somewhere and not knowing where, the truth actually is that the ship has been stolen by space pirates. Lister, Rimmer, Cat and Kryton are trying to catch them in their small exploring vessel named Cosmic but it's much slower than Red Dwarf. However, the pirates in big Red Dwarf needed to circumvent an asteroid belt and small Cosmic has a chance to reach them and get the ship back if they go through the asteroid belt. Nevertheless, the area is inhabited by creatures that eat human brains and have the ability of giving their victims visions to lure them out of their ships and to attack them. What shape would a psiren need to lure you out of safety into its hungry arms?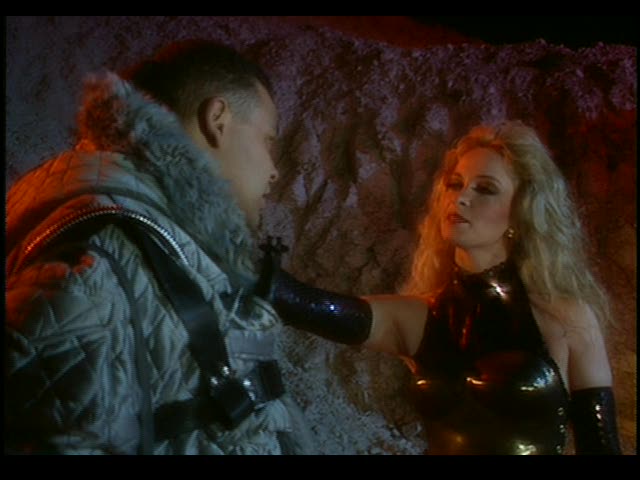 Cat: There's an old cat saying, "It's better to live one hour as a tiger than a whole lifetime as a worm."
Rimmer: There's an old human saying, "Who's ever heard of a worm skin rug?"
The tricks the psirens use are a liiiitle simple (or are our guys the simple ones?) but ''Bulgarian pin-up'' gets me every time. Plus psirens as monsters make you laugh your ass off.
Emohawk - Polymorph II
As I mentioned before Red Dwarf and the crew are stuck in outer space because Earth was destroyed and once in a while they run out of kari sauce or something equally essential and have to steal the resources from abandoned spaceships they occasionally find. However, a robotic police unit discovers them and they need to escape. They fly through the Gelf zone, which is very dangerous because Gelfs are a very aggressive species. But they also deserve a little bit of love, don't they?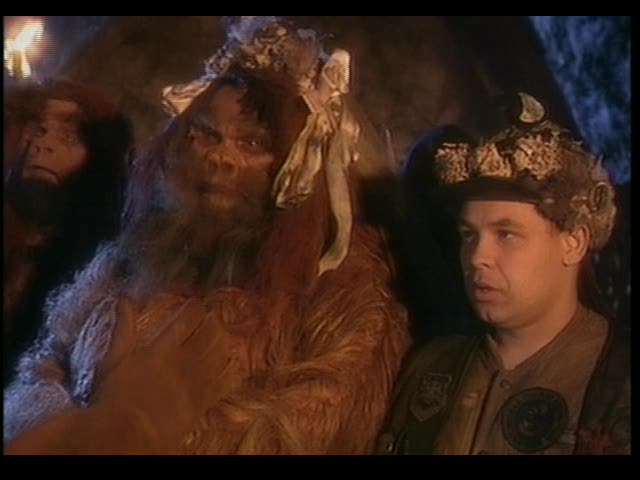 And I say, "Yes, you look wonderful tonight..."
I appreciate the return of the polymorph and the tiny joke at the expense of British civilizing poor foreigners.
Rimmerworld
Rimmer is a holograph yet his health has been damaged a lot by all the stress they as a crew has gone through. No wonder, the plot of every episode sounds like a catastrophic film I'm well aware. In this episode Rimmer unwillingly lands alone on a planet, while the rest reach him only after 600 years because space - blackhole - relativity - science. To pass the time he decides to create a new species and civilization. Will he be successful? What about the genetic pool? Will he like his creation at the end? How would the civilization look like if you created and shaped it?
Rimmerworld
While writing these episodes introductions on my blog I've realized that it must sound so frightening to everyone who doesn't know the show at all. I got to admire the creators of Red Dwarf for maintaining their wonderful sense of humor even during such scary premises (therefore in every episode).
I believe that the best seasons form Red Dwarf are 1 - 6 so I will probably not continue writing about the other season but I haven't seen them and right now they're not on my list.
However, I started watching Dollhouse by Joss Whedon. Be prepared.
Počas tohto škaredého novembra a upršaného decembra to najlepšie, čo môže človek robiť, aby sa cítil pohodovo je, že sa vráti k starým dobrým a časom overeným veciam a tak sa aj ja vraciam k
Červenému trpaslíkovi
a podelím sa o epizódy piatej a šiestej série, ktoré ja považujem za najlepšie. Pre ľudí, ktorý tento seriál nepoznajú alebo ktorí nečítali moje predchádzajúce články, linky na moje najobľúbenejšie časti zo série 1 až 4 sú
tu
a
tu
.
Piata séria
Zpátky do reality

Počas skúmania morského dna na volákej skoro neobývanej planéte v malej prieskumnej vermírne raketke, objavia naši hrdinovia vrak ponorky s posádkou, ktorá je mŕtva. Horšie je však to, že to vyzerá akoby tam všetci spáchali samovraždu. Chlapci z Červeného trpaslík neveselo kukajú raz na kostru chlapíka, čo sa obesil, raz na toho, čo spáchal harakiri a potom krútia hlavou nad treskou, ktorá dobrovoľne uzavrela žiabre, aby sa udusila. Dôvodom týchto desivých samovrážd je obrovská zmutovaná chobotnica, ktorá používa neurotoxín vyvolávajúci vážne depresie ako zbraň v situáciach, keď sa cíti ohrozená. A práve teraz si všimla našich hrdinov...
Lister: "Jsou jenom tři možnosti. Jsme pro ni soupeř, jídlo, nebo partner. Zabije nás, sežere nebo přeřízne. Buď ji přesvědčíme, že nejsme loď na jednu noc, anebo vezmeme roha."
Možno som naivka, ale keď som videla túto časť prvýkrát, tak ma tie zvraty celkom dosť zaskočili.
Šiesta séria
Psirény
Napriek tomu, že Rimmer Listra rád obviňuje, že stratil Červeného trpaslíka, lebo zabudol, kde ho zaparkoval, pravdou je, že im loď ukradli vesmírni piráti. Lister, Rimmer, Kocour a Kryton sa ich snažia chytiť vo svojej malej prieskumnej rakete menom Kosmik, ale tá je oveľa pomalšia ako Trpaslík. Piráti však musia obísť pás asteroidov, cez ktorý môže maličký Kosmik bez problémov preletieť a tak ich hravo dohnať. No nebolo by to ono, keby v tom nebol nejaký háčik. Táto oblasť je obývaná potvorami, ktoré jedia ľudské mozgy a majú schopnosť oklamať svoje obete rôznymi halucináciami, aby ich vytiahli z bezpečia vlastnej lode. Aké lákadlo by vám musela taká psiréna ponúknuť, aby vás vylákala do svojeho hladného náručia?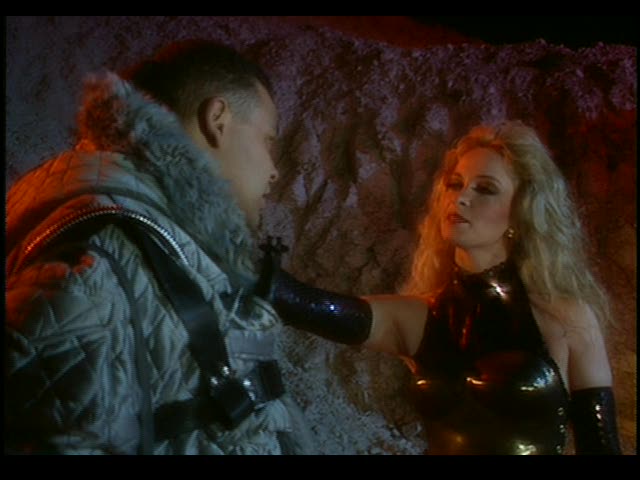 Kocour: "Kočky mají pořekadlo: "Je lepší žít hodinu jako tygr, než celý život jako červ."Rimmer: "Lidé mají taky pořekadlo: "Kdo kdy viděl předložku z červí kůže?"
Triky, čo psirény používajú sú síce trošku jednoduché (alebo sú to skôr naši jednoduchí hrdinovia?), ale "bulharská striptérka" ma vždy dostane. Navyše psirény sú príšery, na ktorých sa schuti zasmejete.
Emocuc - Polymorf dvě
Je jasné, že keď ste uväznení uprostred vesmíru milióny rokov po tom, čo bola Zem zničená, jedného hrozného dňa sa vám minie kari omáčka alebo niečo obdobne dôležité a musíte začať kradnúť zásoby z opustených lodí, na ktoré občas narazíte. Pri jednej takejto výprave na našu posádky skočí robotická polícia a oni pred ňou musia ujsť. Letia gelfskou zónou, čo je veľmi nebezpečné, pretože Gelfovia sú veľmi agresívne bytosti. No netúžia aj oni iba milovať a byť milovaní?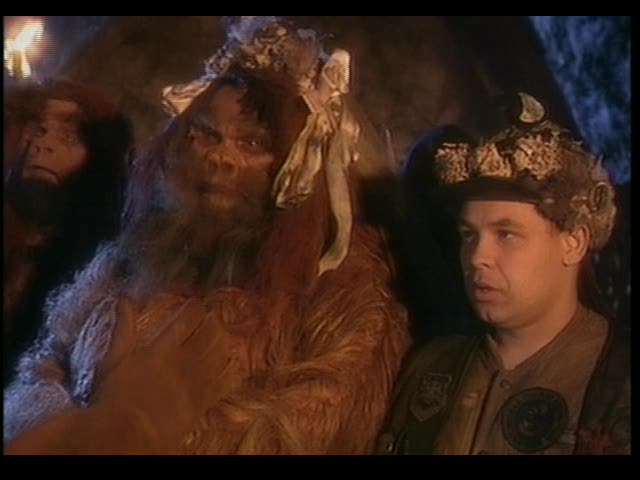 "Má všade jemnučké chĺpky jak broskyňa
Chcem po nich prstami na zajtra spomínať...."
Ocenila som návrat polymorfa a vtip o Britoch a ich viere, že musia civilizovať ubohých cudzincov.


Rimmrosvět
Rimmer je síce hologram, ale jeho zdravie je poškodené následkom stresu. Niet sa čo čudovať, veď zápletka každej epizódy znie ako katastrofický film, ja si to uvedomujem. V tejto časti Rimmer nedobrovoľne stroskotá samučičký sám na jednej planéte, zatiaľ čo zvyšok posádky za ním príde až o 600 rokov pretože vesmír - čierna diera - relativita času - veda a tak. Aby si ukrátil čas, rozhodne sa vytvoriť novú rasu a civilizáciu. Podarí sa mu to? čo s genetikou? Bude sa mu nakoniec vlastný výtvor páčiť? Ako by vyzerala civilizácia, ktorú by ste si sami vytvorili?
...vyvedie nás von, ukradneme nejaké meče a prebojujeme sa naspať k našej rakete.
Alebo môžeme použiť teleportér.
Počas písaní o mojich obľúbených častiach Červeného trpaslíka som si uvedomila ako hrozne to musí znieť pre niekoho, kto tento seriál vôbec nepozná. Musím obdivovať ako dokázali tvorcovia prísť s hororovými zápletkami (pomaly v každej časti) a zároveň z toho celého urobiť skvelú komédiu.
Verím tomu, že najlepšie Trpaslíkovské série sú 1 až 6 a tie novšie som nevidela a zatiaľ ich ani nemám v pláne vidieť.
Začala som pozerať Dollhouse ("Dum loutek" po česky) od Jossa Whedona. Pripravte sa.