Life moves pretty fast. If you don't stop and look around once in a while, you could miss it.
Život beží fakt rýchlo. Ak sa občas nezastavíte a nerozhliadnete, môžete ho zmeškať.
After watching the
Molly Ringwald films form 1980s
directed by John Hughes I found this film with young
Matthew Broderick
(the actor is married to Sarah Jessica Parker and he dubbed adult Simba in Lion King) and I was intrigued. However, I was afraid that it might turn out to be a similar bullshit like 16 Candles. So I look into Matthew Broderick's face and something in it, something that makes him look like a teddy bear, made me watch it without worrying.
Ferris Bueller's Day Off
(Matthew) is a film about a high school student that woke up and realized that it's a wonderful sunny day and he can't possible be expected to sit in the school. He gives ''the worst performance of his career'' but his caring parents believe him anyway so he stays at home alone to sleep off his mysterious illness. His angry sister is fuming over the unfairness of the situation but, hey, she is played by Jennifer Grey from
Dirty Dancing
!
It's not only about that one day. When Ferris's mother calls to school to say that he's ill the news spreads and everybody is horrified because they a, believe it and b, Ferris is the most popular guy at the school. They send him flowers with a get well note and start a donation campaign ''Save Ferris''. Everybody knows him, everyone loves him and the school stuff remembers him!
So Ferris decides to go out and after setting all the traps and cheating equipment, just in case someone came to check up on him (now you can notice the similarities with Home Alone films because they have the same director), he calls his sick and ever anxious friend Cameron and orders him to pick him up (Ferris is everything that shy Cameron is not and there is even a theory that Ferris is Cameron's imaginary friend that he invented to help him deal with life).
Together they succeed in getting Ferris's girlfriend out of the school for a day too and the fun can begin (that was unintentional. They don't do anything dirty). There is a conflict when the angry school principal decides to catch Ferris red-handed as he escaped the justice too many times and his actions are far from acceptable. He makes some calls (hilarious calls) and he pays Ferris visit (a hilarious visit). Both the principal and Ferris's sister are fed up with his easy life and are out to get him once and for all. Will Ferris have today his typical luck like hundred times before?
I wish I could live my life like the lovable rogue Ferris does. Some of it is a little exaggerated but all in all most it is pretty watchable with very few painful moments. The film aged well.
Some of the jokes are too silly but that might be just a matter of taste: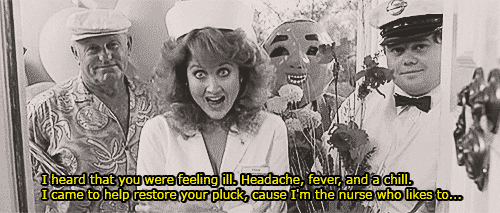 And there was Charlie Sheen at the police station. Brought in for drug possession. Wonderful.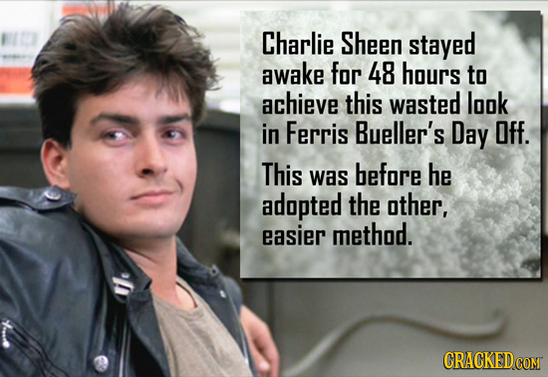 Voľný deň Ferrisa Buellera
je film o streškolskom študentovi, ktorý sa zobudil a uvedomil si, že je prekrásny slnečný deň a nikto predsa dnes nemôže čakať, že ho celý presedí v škole. Podá "najhosší výkon svojej kariéry", ale jeho starostliví rodičia mu sadnú na lep a nechajú ho doma samého, aby vyležal tú záhadnú chorobu. Táto neférová situácia úplne pobúri jeho sestra a aha! Je to Jennifer Grey z
Hriešneho tanca
!
Neštve ju len ten jeho jeden voľný deň. Keď Ferrisova matka volá do školy, že ochorel, novina sa šíri a každý je zdesený, pretože: a, tomu veria a b, Ferris je najpopulárnejší študent na celej škole. Posielajú mu kvety so želaním skorého uzdravenia a dokonca spustia aj finančnú zbierku "Zachráňte Ferrisa". Každý ho pozná, každý ho ľúbi a aj zamestnanci školy ho poznajú!
Športovci, motorkári, kockáči, štetky, feťáci, ... všetci ho zbožňujú.
Po tom ako Ferris nastaví všetky pasce a iné pomôcky na podvádzanie, čo keby ho náhodou niekto prišiel skontrolovať, (môžete si všimnúť podobnosť s so Sám doma, ten istý režisér) sa rozhodne ísť do sveta a zavolá svojho chorľavého a večne nervózneho kamoša Camerona, aby ho vyzdvihol (Ferris je všetkým, čím hanblivý Cameron nie je a existuje teória, že Ferris je Cameronov vymyslený kamarát, ktorého si stvoril, aby mu pomohol sa vyrovnať so životom).
Spolu sa im podarí dostať Ferrisovu frajerku zo školy a zábava môže začať (to nebolo zámerné. Nerobili žiadne opičiny.). Konflikt nastáva keď sa nahnevaný riaditeľ školy rozhodne, že Ferrisa pri jeho srandičkách konečne prichytí, pretože mu unikol pomedzi prsty už príliš veľa krát a on už nad ním odmieta prižmurovať oči. Vybaví niekoľko telefonátov (komických a neúspešných telefonátov) a príde k Ferrisovi domov na návštevu (komickú a neúspešnú návštevu). Obaja, riaditeľ a Ferrisova sestra majú už po krk Ferrisovho jednoduchého života a chcú to s ním skončiť raz a navždy. Neopustí
Ferrisa ani tentoraz jeho povestné šťastie?
Aj ja si želám, aby som vedela žiť ako sympatický šibal Ferris. Občas je to to tršku prehnané, ale v podstate sa všetko príjemne pozerá až na občasné hlúpe chviľky, ale tých je málo. Tomuto filmu čas neublížil.
Niektoré vtipy sú trošku hlupučké, ale možno je to len vec vkusu: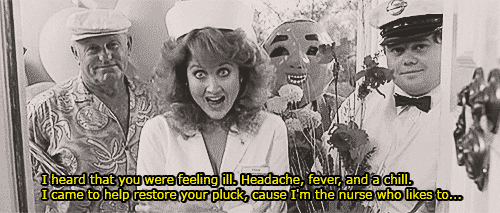 Počula som, že si chorý,
kýchaš, soplíš, celý horíš.
Kto liečiť nevie, bude kukať,
Prišla sestra, čo vie...

A na policajnej stanici bol Charlie Sheen. Zadržaný za držanie omamných látok. Po prdeli.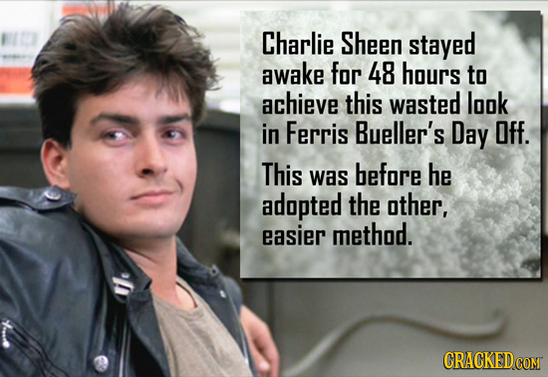 Charlie Sheen bol hore celých 48 hodín pre natáčaním, aby vyzeral takto na kašu.
To bolo ešte predtým, ako prišiel na ten druhý, jednoduchší spôsob.