Vintage is the new black.
Retro je nová čierna.
Christmas was very generous this year and I had more sweet delicious time on my hands.
I know that this game is a little older - 4 years, which in the virtual world means more than in the real world. You might still have the same hairstyle or several pieces of clothing that you still wear once in a while. However, now you're going to wear a corset or an armor, depending solely on your tastes, because we are going to travel back in time.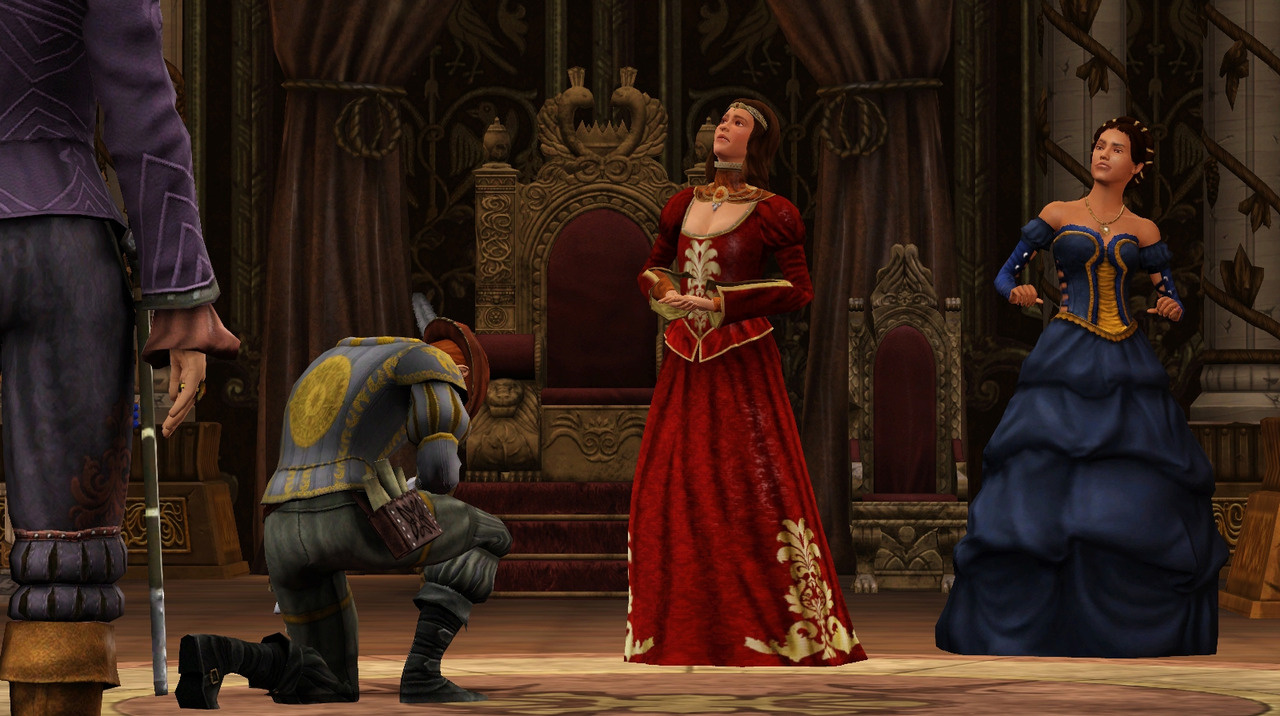 If you haven't guessed by now: I'm female. I know that a Sims spin-off screams that aloud because the original game is also mainly played by girls and women but that's a pity. Just for you to know, the first game - The Sims 1, not only provided great fun, it taught me basic English as well. I'm not talking about ooleke-kikilaa here. The vocabulary was pretty much related to everyday life but I'm digressing.
As the trends around 2011 (and today as well) consisted mainly of supernatural, historical or futuristic themes (everywhere but here, anytime but now) Electronic Arts delivered a game set in Middle Ages. Don't contemplate the historical inaccuracies because The Sims has never been about reality but more about fun (and later also more about money...).
Let's jump right into it, shall we? Since I also played the original game I can safely say that The Sims Medieval is not The Sims in historical clothes with some old-style furniture. This is a completely new game with different gameplay and it has goals. Some might miss the free style of The Sims since there are no goals at all. However, there's also a sandbox option in The Medieval as well.
You start with an almost empty map controlling one hero/sim (usually the king) and you choose a task you want to pursue. You gain experience in your (for example royal) career and unlock new abilities. It is important to note that you always control one or two heroes even though they might have a family. When you fulfill the task you earn points and can buy another building with another hero (for example physician, merchant, spy, wizard...).
This is something I'm quite comfortable with and the fact the your heroes have only 2 needs (energy and hunger) is refreshing as well. In The Sims I sometimes felt like I managed to do nothing else during the day than eating, working, bathing and sleeping (that reminds me of something). Medieval people were apparently much less demanding than we are. Medieval sims don't even need to pee:-D It's a bonus if you let them:-D
Since we have a story and tasks we must have less in different areas. I didn't notice sims aging, which a little bummer for me I admit.
However, as a painfully untalented person who cannot build a house to save her life I don't miss having no Build mode. I'm fully satisfied with decorating indoor spaces with furniture.
Interestingly you don't see every single corner of any building and game wisely hides the unimportant places like staircases, which I believe might be one of the reasons why the game is so stable and relatively bug-free (so unlike The Sims). My computer is rather old but it handles loading, saving and running the game with no problems at all and the graphic is very nice yet undemanding.
Camera seemed a bit stubborn as well but after a while one learns how to get around the kingdom.
The Sims Medieval comes with something that has been missing from the original game despite its number of expansion packs. After all, The Sims has always been mostly about getting a job, having a family, buying a bigger house, climbing the career ladder and whatever choices you did, they never extended further from your household. However, being able to choose various tasks and approaches in The Sims Medieval, on how to solve them, as well as heroes has another goal: you're doing it for the society, the kingdom, the greater good or if you're evil, greater evil. The truth is that the game probably doesn't count your successful missions to improve the lives of the citizens of your kingdom. Nevertheless, I consider this to be a step in the right direction and not just simple earn-more-buy-more approach.
The Sims Medieval is not perfect and it's not for everyone but I enjoyed it and recommend it to anyone, who enjoys tongue-in-cheek fun and likes to play.
Vianoce boli tentoraz veľmi štedré a mala som viac volného času.
Viem, že táto hra je trochu staršia. 4 roky sú vo virtuálnej realite oveľa viac ako v skutočnosti. Možno ešte máte rovnaký účes alebo nejaké 4-ročné oblečenie, ktoré ešte stále nosíte. Ale teraz si pre zmenu oblečiete korzet a brnenie, záleží to iba na vašom vkuse, pretože ideme cestovať časom.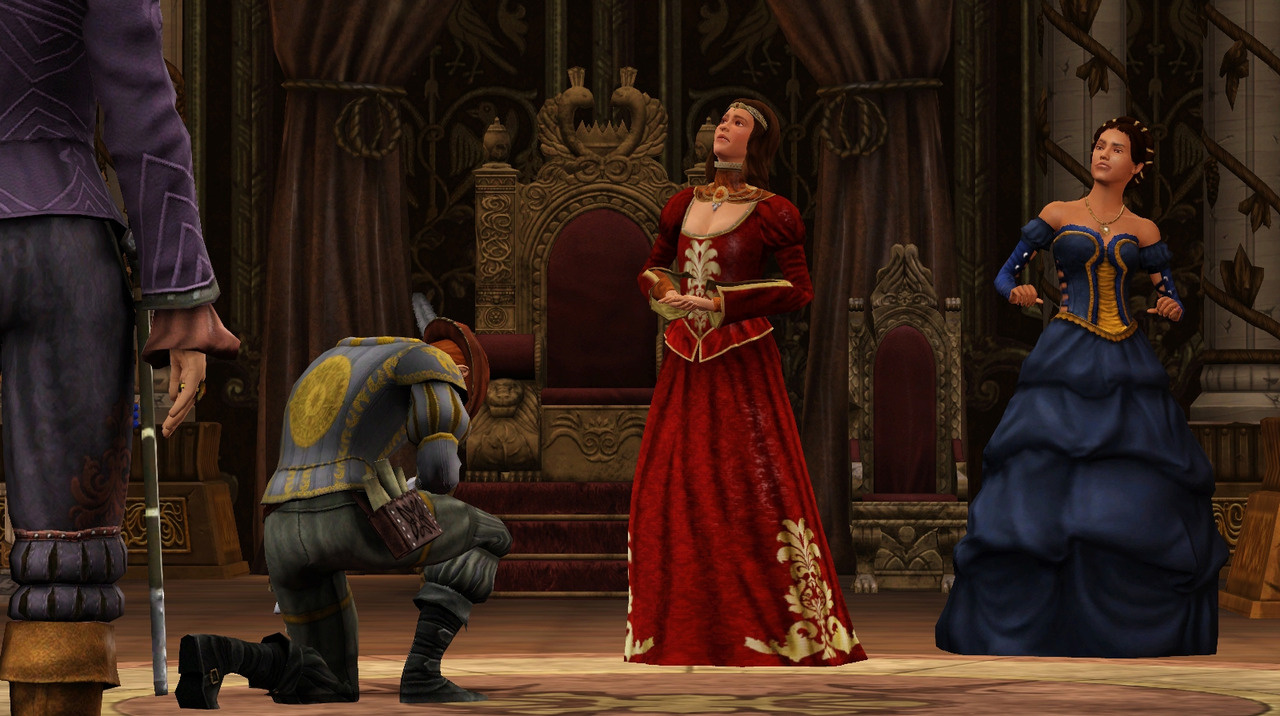 Ak by vás to ešte doteaz nenapadlo, som žena. Je mi jasné, že hra odvodená od Simsov to dáva najavo celkom okato, pretože ju hrajú/hrali prevažne dievčatá a ženy, ale to je škoda. Iba tak pre zaujímavosť, prvá hra - The Sims 1, mi okrem zábavy poskytla aj základné znalosti angličtiny. Nehovorím o uleke-kikilá. Slovná zásoba sa týkala každodenného života, ale to už odbočujem.
Kedže trendy okolo roku 2011 (a vlastne až do dnes) pozostávali hlavne z nadprirodzených, historických alebo futuristických tém (všade, len nie tu/hocikedy, len nie dnes) Electronic Arts prišli s hrou zasadenou do stredoveku. Nepozastavujte sa nad historickými nepresnosťami, pretože The Sims tiež nikdy neboli o realite, ale hlavne o srande (a neskôr tiežo peniazoch...).
Tak sa do toho teda pustime! Keďže som hrala aj pôvodnú hru, môžem s istotou povedať, že
The Sims Medieval
nie je The Sims s historickým oblečením a nábytkom. Toto je iná hra s iným prístupom a ponúka aj ciele. Niektorým by možno chýbal voľný štýl hry The Sims, pretože tam práve žiadne ciele neboli. No aj Medieval ponúka takzvanú sandbox možnosť.
Začínate so skoro prázdnou mapou a jedným hrdinom (obyčajne kráľ) a vyberiete si misiu, na ktorej chcete pracovať. Získavate skúsenosti vo vašej práci (napríklad ako monarcha) a tým sa vám otvárajú nové možnosti a schopnosti. Je dôležité tiež povedať, že vždy ovládate jedného alebo dvoch hrdinov, či už majú rodinu alebo nie. Keď splníte misiu, získate body, za ktoré si kúpite nové budovy, kde bude ďalší hrdina (napríklad doktor, kupec, špión alebo čarodej a tak ďalej).
Toto mi vôbec neprekážalo a to, že hrdinovia majú len 2 potreby (energia a hlad) bolo tiež príjemné prekvapenie. V The Sims som mala niekedy pocit, že nestíham urobiť nič iné ako jesť, spať, pracovať a osprchovať sa (čo mi to len pripomína...). Stredovekí ľudia boli evidentne menej nároční ako my. Stredovekí simovia nepotrebujú dokonca ani cikať:-D Ale poteší ich to:-D
Kedže tu máme príbeh a misie, inde sa muselo ubrať. Nevšimla som si, že by simovia starli, čo ma trošku sklamalo, to je pravda.
No ako mimoriadne netalentovaná osoba, pokiaľ ide o stavanie domov, v tejto hre mi vôbec nechýbalo stavanie a uspokojila som sa s upravovaním vnútorných priestorov a aranžovaním nábytku.
Zaujímavé, že nevidíte každý kút budov a hra múdro skryje nedôležité miesta ako napríklad schodiská, čo odhadujem by mohol byť dôvod prečo je hra taká stabilná a viac-menej bez chýb (taká zmena po The Sims). Môj počítač je celkom starý, ale bez problémov zvládne načítavanie, ukladanie a hranie bez problémov a grafika je pekná a zároveň nenáročná.
Kamera sa mi zdala trochu tvrdohlavá, ale po chvíli sa človek naučí ako s ňou behať po kráľovstve.
The Sims Medieval prichádza s niečím, čo v pôvodnej hre úplne chýbalo aj napriek všetkých tým datadiskom. The Sims bola vlastne hlavne o tom získať prácu, založiť si rodinu, kúpiť veľký dom, vyštverať sa hore po kariérnom rebríčku a akékoľvek zmeny, ktoré ste urobili nikdy nesiahali ďalej od vašej domácnosti. No byť schopný vybrať si rôzne úlohy a prístupy v The Sims Medieval, ako ich vyriešiť, rovnako ako aj hrdinov, to všetko má iný cieľ: robíte to pre spoločnosť, kráľovstvo, vyššie dobro, alebo keď ste zlí, tak pre väčšie zlo. Pravdou je, že hra asi neráta vaše úspešné misie, aby tým zlepšila život poddaných v kráľovstve. No aj tak to považujem za krok správnym smerom a nie len ten jednoduchý kolobeh zarábania a kupovania.
The Sims Medieval nie je dokonalá hra a nie je pre každého, no ja som si ju užila a odporúčam ju každému, kto má zmysel pre humor a rád sa hrá.