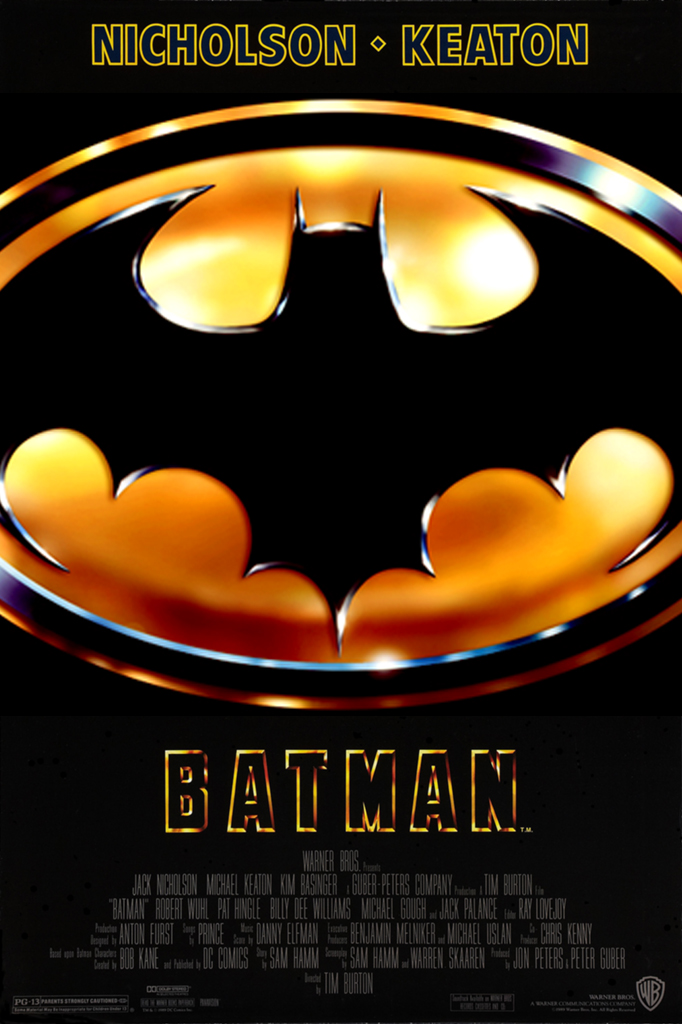 Why would I want to have Joker as my friend?
Because I wouldn't want him to be my enemy, that's why!
Prečo by som chcela Jokera za kamoša?
Pretože by som ho nechcela za nepriateľa, preto!
In the times of need when crime increases and most horrible villains torture our society, superheroes come to stop the trouble and set things right without expecting a salary. They don't need one, they are well off enough to maintain such eccentric
fetishes
hobbies like for example
Batman
(Would you believe that I just wrote Barman instead of Batman? Oh man, I'm done.).
So I knew I was gonna get a good laugh.
Now when I grow up and become rich I'm gonna have a fetish too.
Since I'm on a mission to watch the old films tested by time I decided to watch Batman. I was quite curious about the cast full of stars and Tim Burton as a director sounded very tempting as well. He directed such classic flicks like Edward Scissor-hands and
Beetlejuice
and as for newer production for example Sleepy Hollow, Sweeney Todd, Corpse Bride and some others. He was exactly the right person to create the atmosphere of dark and mysterious Gotham City, crawling with criminals and very bizarre villains. Since Batman started as a comic book Tim's gothic fairy-tale vibe is exactly the right fit for the film.
The Gotham City is set in 1920s meets 1980s slash noir world, which is a great combination. I haven't found many screens of sets but the film offers a large number of visually very beautiful scenes with buildings and furniture in the art deco style. Many scenes use the contrast of light and darkness which reminds me the old noir films with dark mysteries, criminals and femme fatales (see Jerry Hall below).
From the cast I especially enjoyed Jerry Hall and her hair, Kim Basinger in a bathrobe and, of course, Jack Nicholson.
You might notice that I didn't name Michael Keaton in the role of Batman. He was nice and suitable but you can't really compete with Jack Nicholson, can you? Casting a superhero right is important but casting the villain is crucial. If you do it right, you won. If not, then nothing else matters. Would it be overstretching if I called Joker the protagonist? In the film Joker wins hearts of the population of Gotham because he is simply the more entertaining one - that's how elections are won, my dears. I'm not sure why he decides to kill everyone after he has just become their new sweetheart but that's a question for the scriptwriters. Anyway, Joker steals scenes and you forgive the film some weak moments. If one has a style one can get away with anything.
Joker had an accident, which disfigured him. Now he has a permanent grin on his face. So he contaminates hygiene and beauty products so it has the same effect on everyone else. Joker was Lady Gaga before Lady Gaga. He was fighting against the mainstream ideal of beauty. And this is his little monster.
I also liked the friendship between Joker and his circle of friends. He had a terrible accident but his minions don't care and stand by his side anyway. See them dancing right next to him below? Now that's true friendship. Think how many of your friends wouldn't mind being seen with you if you had a horribly disfigured chalky face? Joker just must be a friend who's worth it.
Did you know
that Robin Williams was also promised a role of the villain in Batman but then he wasn't chosen which pissed him off so he refused to play Riddler in
Batman Forever
(on my list as well). Too bad, he would definitely be a great choice for a crazy villain in any comic film.
I liked Batman and recommend it to anyone who either likes superheroes or visual playfulness in film or Jack Nicholson or Tim Burton and who doesn't mind a bit fantasy.
V ťažkých časoch, keď zločinnosť stúpa a tí najhorší zlodusi tyranizujú mesto prichádzajú superhrdinovia, aby ich zastavili a všetko napravili neočakávajúc peňažnú odmenu. Ani im ju netreba, sú dostatočne zazobaní, aby mohli slobodne pestovať také ekcentrické
fetiše
koníčky ako napríklad taký
Batman
(veríte mi, že som práve napísala Barman? Asi mám problém.)
Ja som vedela, že sa zasmejem.
Keď budem veľká a bohatá, aj ja budem mať svoje fetiše.
Keďže som si vytýčila misiu pozreť si nejaké tie staré a časmi overené filmy, rozhodla som sa pozrieť si aj Batmana. Bola som celkom zvedavá na hviezdne obsadenie a Tim Burton ako režisér ma zlákal tiež. On režíroval takú klasiku ako Nožnicoruký Edward alebo
Beetlejuice
a čo sa týka jeho novšej produkcie, spomeniem napríklad Ospalú dieru, Sweeneyho Todda, Mŕtvu nevestu a tak ďalej. On bol tou správnou osobou na vytvorenie atmosféry temného a záhadneho mesta Gotham City, ktoré sa len tak hemží zločincami a bizarnými zloduchmi. Keďže Batman vlastne vznikol ako komiks, Timova atmosféra gotickej rozprávky bola presne tým, čo bolo treba.
Gotham City je zasadené do dvadsiatych/tridsiatych rokov šmrncnuté filmami noir, čo je perfektná kombinácia. Nenašla som dosť obrázkov prostredia, ale film ponúka množstvo vizuálne prekrásnych scén s budovami a nábytkom v štýle art deco, na ktorých si môžete veselo popásť oči. Veľa scén využíva kontrast svetla a tmy, ktorý veľmi pripomína staré noir filmy plné temných tajomstiev, zloduchov a žien typu femme fatale (trošku nižsie môžete vidieť Jerry Hall).
Čo sa týka obsadenia, najviac sa mi páčili zmienená Jerry Hall a jej vlasy, Kim Basinger a jej župan a, samozrejme, Jack Nicholson.
Asi ste si všimli, že som nemenovala aj Michaela Keatona v roli Batmana. Bol fajn a vhodný, ale s Jackom Nicholsonom sa jednoducho nedá súťažiť, však? Dobre obsadiť superhrdinu je dôležité, ale správne obsadiť zloducha je kľúčové. Ak sa vám to podarí, tak máte v podstate vyhraté. Ak nie, tak už na inom veľmi nezáleží. Preháňala by som to, keby som nazvala Jokera hlavným hrdinom? Joker si rýchlo získa srdcia celého obyvateľstva Gotham City, pretože je to jednoducho lepší zabávač - a tak sa vyhrávajú voľby, vážení. Nie som si už síce istá prečo sa rozhodol všetkých pozabíjať, po tom ako sa stal ich novým miláčikom, ale to je už otázka pre scenáristov. No Joker púta všetku pozornosť publika na seba a tak filmu odpustím aj nejaký ten slabší moment. Ak má človek štýl, tak mu prejde hocičo.
Joker mal nehodu, ktorá ho fyzicky poznačila. Teraz má na tvári permanentný úškrn. Takže kontaminuje hygienické produkty a dekoračnú kozmetiku, aby mala na každého rovnaký účinok. Joker bol Lady Gaga pred samotnou Lady Gagou. Bojoval proti mainstreamového ideálu krásy. A toto je jeho malá príšerka.
Páčil sa mi aj vzťah medzi Jokerom a jeho bandou okruhom priateľov. Stala sa mu tá strašná nehoda, ale jeho posluhovačom to nevadilo a aj tak stáli po jeho boku. Vidíte ako spolu dole tancujú? Tomu sa hovorí skutočné priateľstvo. Čo myslíte, koľkým z vašich priateľov by neprekážalo byť s vami na verejnosti, keby ste mali príšerne zmrzačenú kriedovobielu tvár? Joker ako kamoš teda musí stáť za to.
Vedeli ste, že
Robinovi Wlliamsovi tiež sľubovali rolu zloducha v Batmanovi, ale potom ho nevybrali, čo ho naštvalo tak, že odmietol rolu Hádankára v
Batman Forever
(aj to mám v pláne). Škoda, on by bol skvelou voľbou na akéhokoľvek šialeného zloducha v komixovom filme.
Batman sa mi páčil a odporúčam ho každému, kto má buď rád superhrdinov alebo sa vyžíva vo vizuálne zaujímavých filmoch, kto má rád Jacka Nicholsona či Tima Burtona a niekomu, komu trochu fantázie neprekáža.