Jennifer: And I still don't see why we're doing this!
David: Because we're supposed to be in school.
Jennifer: We're supposed to be at home, David. We're supposed to be in color!
David: [placatingly] Okay, okay, okay.
Jennifer: God!
Jennifer: A stále nerozumiem, prečo toto robíme!
David: Pretože máme byť v škole.
Jennifer: Máme byť doma, David. Máme byť farební!
David: [zmierlivo] Okej, okej, okej.
Jennifer: Bože!
Have you ever liked a TV series/film/book so much you wanted to live there? Or at least visit the place? Or have you ever felt like some story needed your guidance so very badly you imagined yourself getting into that fictional world and giving everyone a piece of your mind? Or is it just me and my teacher's degree?
Anyway, the media are full of alarming news everyday and the world is a complicated place to live in. That's why young David (Toby Maguire) likes to escape into watching a TV series from 50's named
Pleasantville
. It's a bit weird as he's a teenager and a 16 year old quoting a 50's show is quite unbelievable to me but the film is from USA and it's common knowledge that it's a country of unlimited possibilities. Nevermind my prattling. So David/Toby watches a TV series about a town where everyday is just as swell as the one before and everyone is the keenest, everything goes just right and all the people live happily ever after.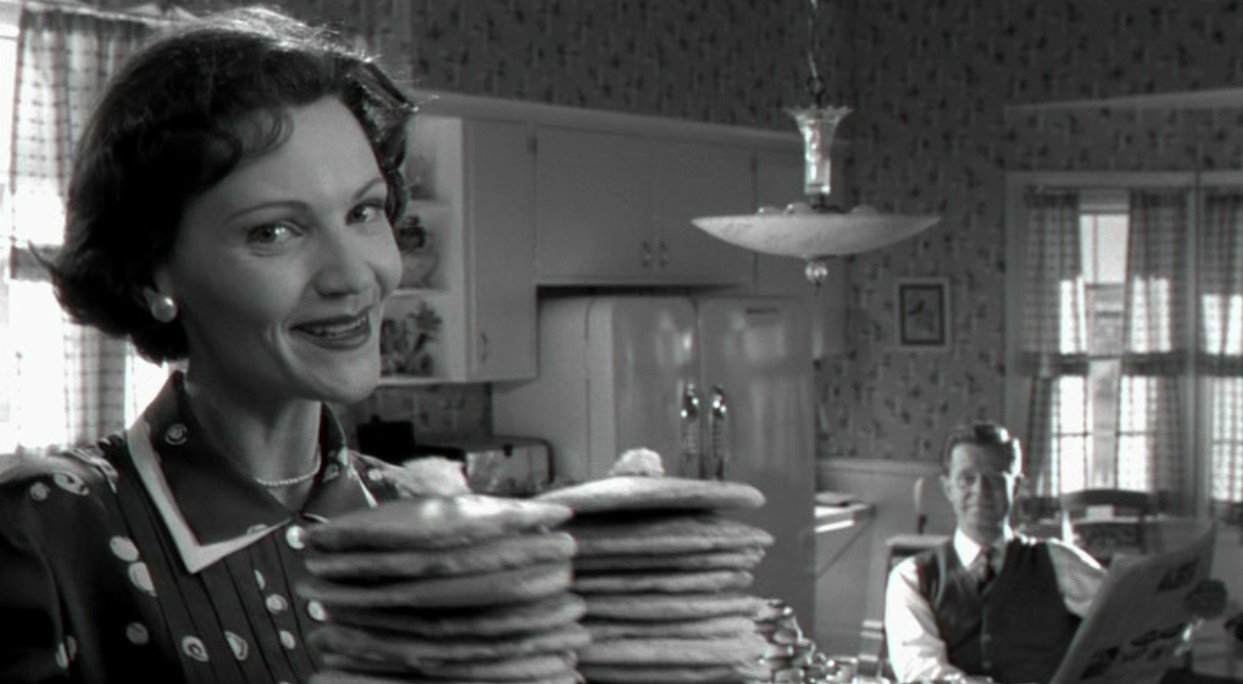 On the other hand his sister Jennifer (Reese Witherspoon) is very different.
Kimmy: [about David] Oh, my God. He is, like, so pathetic. I can't believe you're, like, related to him!
Jennifer: Only on my parents' side.Kimmy: Yeah, but you guys are, like, twins and stuff. You must be from the cool side of the uterus.
She has a rich social life and is on her way to become really popular at the school. She sleeps around and she (gasp!) smokes. I know, you won't believe me until you see with your very own eyes that Reese Witherspoon plays a bad bad girl.
A magical grandpa appears and these two very different siblings are promptly transported into the fictional town of Pleasantville. Of course Toby much happier about the situation than Reese and he constantly tries to get her to play along until the magical grandpa appears to retrieve them. However, Reese is an untamed teenager in this film and she won't surrender to the poodle skirts and huge bras. While Toby faces an identity crisis coming from his boss at the restaurant, she decides to educate her peers according to her standards.
Skip: I don't know if I ever told you this before, but I think you're just about the keenest girl in the whole school!
Jennifer: Oh, really Skip? The keenest?
And as you might have noticed from the pictures, strange things start to happen in the town. The people are forced to face the changed in both, their inner as well as outer world.
As the lives of people of Pleasantville changes one wonders what is that what made the characters colorful? What would make me colorful if I were on that black and white show with them?
Pleasantville is a lovely film that creates a good mood but also contains a message, which viewers interpret slightly differently. Moreover, the visual effects are what makes the film stand out.
PS
: This is one of the films where you can see Paul Walker, the actor who has died in a car-crash 2 years ago.
Páčil sa vám nejaký seriál tak veľmi, že ste tam chceli žiť? Alebo ho aspoň navštíviť? Alebo ste mali pocit, že nejaký príbeh potrebuje vašu pevnú ruku tak veľmi, že ste si predstavovali, ako by ste to každej postave poriadne vytmavili? Či zo mňa len hovorí tá pedagogika?
Média sú každý deň plné alarmujúcich správ a svet je komplikované miesto na život. Preto sa mladý David (Toby Maguire) rád zašíva pred televízorom pri seriále z 50. rokov, ktorý sa volá
Pleasantville
. Je to trošku zvláštne, lebo má 16 rokov a aby vám tínedžer citoval seriál z 50. rokov sa mi zdá neuveriteľné, nuž ale film je americký a všetci vieme, že je to krajina neobmedzenných možností. Moje táranie si nevšímajte. Takže David/Toby sleduje seriál o mestečku, kde je každý deň práve taký náramne príjemný ako ten predchádzajúci a každý je príma, všetko ide ako po masle, ľudia žijú šťastne a nikdy nepomrú.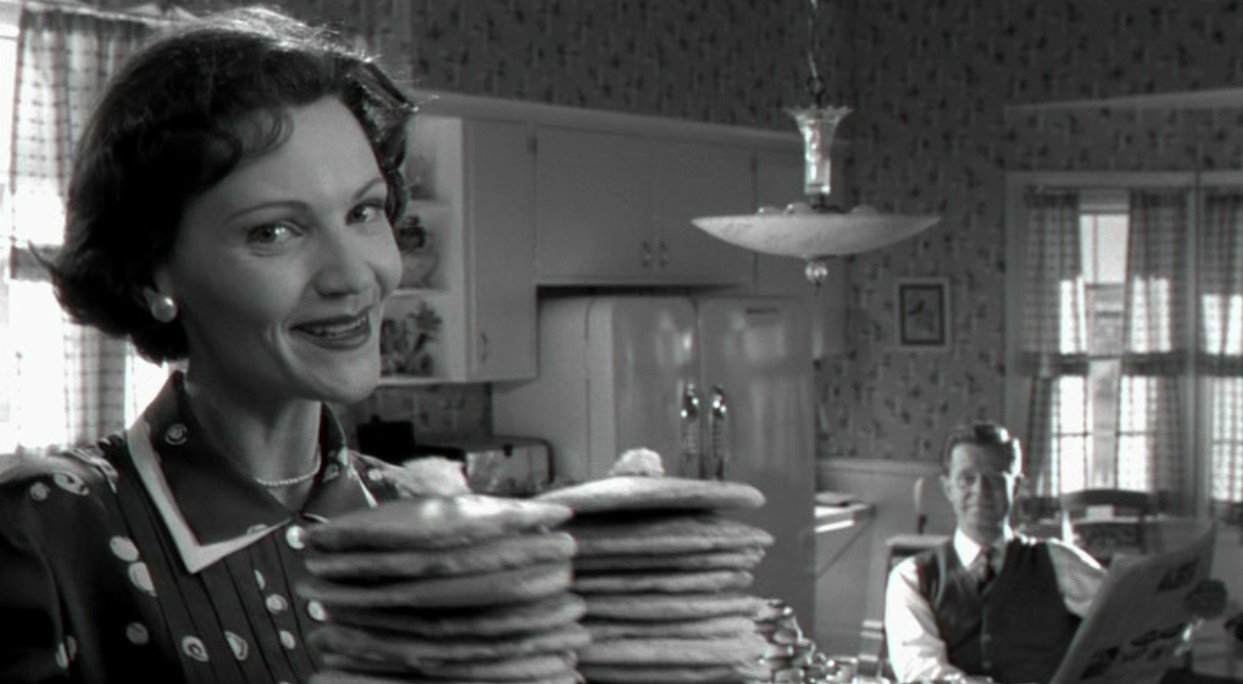 Na druhú stranu jeho sestra Jennifer (Reese Witherspoon) je úplne iná.
Kimmy: [o Davidovi] Ó bože! Akože on je taký úbohý. Ani neverím, že ste akože príbuzní.
Jennifer: Iba zo strany rodičov!
Kimmy: Hej, ale vy dvaja ste akože dvojičky a tak. Ty musíš byť z tej kúlovej strany maternice.
Reese má bohatý spoločenský život a je dobrej na ceste byť naozaj populárna. Spí s kadekým a (hí!) fajčí. Ja viem, neuveríte mi, kým na vlastné oči neuvidíte, že Reese Witherspoon hrá zlé zlé dievča.
Zrazu sa zjaví sa čarovný deduško a dvaja súrodenci sa v okamihu ocitnú vo fiktívnom mestečku Pleasantville. Samozrejme, že Tobyho celá situácia teší viac ako Reese a stále sa ju snaží presvedčiť, aby to hrala spolu s ním pokiaľ sa záhadný dedko neobjaví, aby ich poslal znova domov. No Reese je v tomto filme neskrotný tínedžer a odmieta podľahnúť pudlíkovým sukniam a predimenzovaným podprsenkám. Zatiaľ čo Toby čelí kríze identity svojho šéfa hamburgrárne, ona sa rozhodne vzdelávať rovesníkov podľa svojich vlastných predstáv.
Skip: Neviem, či som ti to už povedal, ale myslím, že si najsenzačnejšie dievča na celej škole!
Jennifer: Naozaj, Skip? Najsenzačnejšie?
A ako ste si mohli všimúť z obrázkov, v mestečku sa začnú diať zvláštne veci. Ľudia sú nútení čeliť zmenám v okolí aj v nich samotných.
Ako sa životy ľudí z Pleasantville menia, divák rozmýšľa nad tým, čo to vlastne je, čo postavy zafarbuje? A čo by zafarbilo mäa, keby som sa tam náhodou ocitla s nimi?
Plesantville je príjemný film, ktorý vás dostane do dobrej nálady, ale tiež obsahuje aj nejaké to posolstvo, ktoré si každý divák nemusí vysvetliť rovnako. Navyše vďaka vizuálnym efektom film ešte viac vynikne.
PS
: Toto je jeden z filomv, kde si môžete pozrieť Paula Walkera, herca, ktorý zomrel pred dvomi rokmi pri autohavárii.
Ja viem, ešte som s nikým nechodil ani nič podobné, ale jednoducho sa do toho nechcem zbytočne hrnúť.
Veď vieš, niektorí sa už dokonca držia aj za ruky a tak.