I like playing boss what can I say? Managing zoo, city or movie studio moderates my desire to rule to world. I like building, balancing the needs and making money out of it all. I played
Tropico
and enjoyed the power I had as the highest communist leader of the Caribbean. Now I rediscovered a game named
The Movies
, in which you are the owner of a movie studio and your job is to make movies and manage everything that goes with the territory. If you're at least a little interested in the movie making and the process connected to it you will consider it as a cool way to pass a few a few days, weeks or more, depending on your preferences but, trust me, the game can be pretty addictive.
Your stars expect more and more to feel satisfied and besides deciding on the genre and cast of your next film you have to solve the problems connected to aging, image issues, trailer and entourage requirements and salary matters of your stars. The more popular they are, the more requirements they have, however, the game introduces you to these new elements slow and clear enough.
Apart from the fact that there has probably never been a movie studio tycoon before, the game offers also one very nice bonus for the creative individuals with passion for film-making. There is a pretty good custom script writing office where you can create a script you wish for including every scene, set, character, costume, props and so on. There used to be an option for the players to share the movies they made on the internet with other fans, however, that's sadly not possible anymore. Anyway, for some who enjoy the creative aspect more than business and mikro-managing this is much appreciated.
I'm not talented and I have no patience for the custom script writing so I enjoyed the micro-management more. I love vintage and the development of film from the very beginnings in 1920s (complete with costumes and hairstyles) up to nowadays is what really speaks to me. The bonus of historical events announced on radio affecting the trends is the cherry on top for me.
Believe it or not The Movies is 10 years old now (!) and the fact I revisited it today means not only that my computer is a respectable elderly ma'am but also that The Movies hasn't aged much and is very well worth your time.
Rada sa hrám na šéfa, čo iné? Riadenie zoo, mesta alebo filmového štúdia tlmí maju túžbu vládnuť svetu. Rada staviam, balansujem potreby a zarábam na tom peniaze. Pri hraní
Tropica
sa mi moc najvyššieho komunistickhé diktátora Karibiku celkom pozdávala. Teraz som znovu objavila hru s názvom
The Movies
(filmy), v ktorej ste majiteľom filmového štúdia a vašou prácou je robiť filmy a riadiť všetko, čo s tým súvisí. Ak vás aspoň trochu zaujíma filmová tvorba a procesy s ňou spojené, tak sa vám táto hra bude iste zdať ako príjemný spôsob na strávenie pár dní, týždňov alebo viac, čo záleží na vašich preferenciách, ale verte mi, že táto hra dokáže byť dosť návyková.
Zaujímavé je, že hra začína v 20. rokoch, čo je celkom presné z historického hľadiska. Bol to šikovný nápad vložiť do hry aj takýto prvok, lebo bez plynutia času by to bola asi nuda. Úvodný tutoriál sa vám dosť zíde, pretože je toho celkom dosť na čo treba dbať. Naučíte sa posudzovať záujemcov o hereckú či režisérsku kariéru, ale budete tiež potrebovať scenáristov, štáb, upratovačov, stavbárov a výskumníkov. Na začiatku máte len málo možností a vaše filmy sú veľmi jednoduché, ale časom keď vy a vývoj pokročíte budete mať k dispozícii nové a nové kulisy, budovy, rekvizity a iné prvky.
Všimnete si, že sa mení móda a hore sa nachádza aj časová os a rádio vás informuje o najnovších udalostiach vo svete, ktoté majú dopad na popularitu filmových žánrov a tým pádom aj váš úspech. Napríklad v 20. rokoch fičali akčné filmy odohrávajúce sa na divokom západe. Počas druhej svetovej vojny to boli akčné filmy, ale aj komédie a v povojnových časoch bolo zasa moderné sci-fi.
Vaše hviezdy budú očakávať stále viac a viac, aby boli spokojné a okrem rozhodovaní o žánri vášho nového trháku budete riešiť aj problémy spojené so starnutím, imidžom, súkromnými karavanmi, požadavkami na asistenta a platové záležitosti vašich hviezd. Čím budú populárnejšie, tým viac požiadaviek pochopiteľne budú mať, no hra vás s týmito prvkami oboznámi celkom pomaly a zrozumeniteľne.
Aby sa karty ešte trošku zamiešali, každých 5 rokov sa koná odovzdávanie filmových cien, ktoré vám môže prihrať rôzne príjemné bonusy, ak vyhráte 1 či viac cien.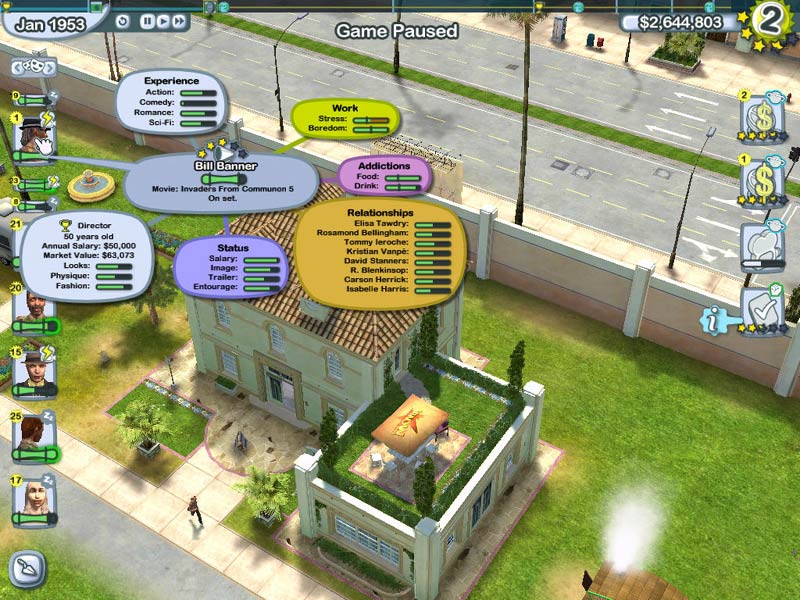 Okrem toho, že simulácia filmového štúdia tu asi ešte nikdy nebola, hra ponúka a ďalší fajn bonus pre kreatívne indivíduá s vášňou pre tvorbu filmov. V hre je skvelá kancelácia na písanie vlastných scenárov, kde si môžete vytvoriť scenár podľa vášho gusta scénu za scénou, s kulisami, postavami, kostýmami, rekvizitami a tak ďalej. Kedysi tu bola aj možnosť zdieľať vlastnoručne vyrobené filmy s ostatnými hráčmi, no to už bohužiaľ nie je možné. No tí, ktorým sa viac pozdáva kreatívny aspekt ako obchodnícky mikromanažment túto možnosť určite ocenia.
Priznávam sa, že nie som talentovaná a nemám trpezlivosť písať vlastný scenár, takže si skôr užívam ten mikromanažment. Mám rada retro a vývoj filmu od 20. rokov po dnes (kompletnej aj s kostýmami a účesmi) je to, čo ma tam oslovilo asi najviac. Bonus vo forme historických udalostí v rádiu, ktoré udávajú trendy bol už iba čerešničkou na torte.
Verte či nie
The Movies
majú už 10 rokov (!) a fakt, že som sa k nim dnes vrátila znamená to, že nielenže treba k môjmu obstarožnému počítaču pristupovať s najvyšším rešpektom, ale aj že
The Movies
veľmi nezostarli a zaslúžia si váš čas.
Ak by te chceli vedieť viac,
tento chlapík dal na Youtube celkom fajn recenziu
(po anglicky).