Enid: I think only stupid people have good relationships.
Seymour: That's the spirit.
Enid: Myslím, že iba hlúpi ľudia majú dobré vzťahy.
Seymour: Správny prístup.
When I got to
Ghost World
I was intrigued because the two girls reminded me
Daria
and her friend Jane and love that show. Nihilistic kids despising everyone around in their classic "life sucks and then you die" style seemed like a welcome return to what I enjoyed. If you want more comparisons I admit it reminded me
Freaks&Geeks
too. Avid readers might be interested that the film is based on a comic-book with the same name, which I haven't read so I can't tell anything about it but uncle surely Google can.
Nevertheless, let's talk about the film.
Enid (Thora Birch) and Rebecca (Scarlett Johansson) have just graduated from highschool and are wondering what to do next. None of them is going to university so the only logical option is to find a job. While enjoying the last free weeks they wander through streets, shops and 50's dinners like lost puppies and annoy random people.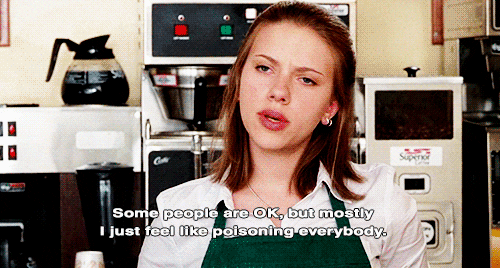 Once during one of their aimless afternoon trips they decide to prank an old lonely Steve Buscemi and Enid gets fascinated by him. This is where the film reminded me Freaks&Geeks. The film represents the point of view of people who feel like outsiders with no future who are yet to learn how to get along and generally function in life. Enid starts a strange friendship with the older man interested in his vintage fascination and music taste. She even goes as far as trying to help him meet women!
While Enid's friendship with the loner Steve seems to be kinda functioning the friendship with Rebecca deteriorates as the girls are drifting away from each other. Rebecca gets a job and plans to move to her own place while Enid struggles. She needs to take an art subject again as she failed it and is forced to spend time with a hippie art teacher and discuss tampons in cups and other nonsense.
This is that kind of film that presents you with memorable characters. Apart from the three protagonists (baby Scarlett Johansson, what a lovely kid she used to be) being great you get a handful of silly supporting characters: elderly satanistic couple, Weird Al the busboy, Greek 7/11 owner, the hippie teacher, overexcited wannabe actress and also this guy. He's my prince. Just so you know. He's taken.
Another film that shares similar topics and motives is my beloved
Graduate
. Moving on towards the the adult life, not knowing how and why, however,
Graduate
added the lovely 60's charm whereas Ghost World shows us only harsh light of day.
Ghost world is not a warm or fuzzy film with happy ending. However, it is a thought provoking piece and fans keep looking for symbols in the guy on a bench and other occasional moments. I'm not sure why the film is classified as a comedy though.
Not a film for everyone but films with depth are seldom universally loved.
Keď som narazila na
Ghost World
(neprekladám) zaujal ma tým, že predstaviteľky mi pripomínali
Dariu
a jej kamarátku Jane a ten seriál stojí za to. Nihilisticky zmýšľajúce puberťáčky opovrhujú všetkým a všetkými podľa filozofie "na ničom nezáleží, aj tak raz všetci zomrieme" vo mne vzbudil akési sentimentálne pocity a túžbu vrátiť sa. Ak by ste chceli ešte nejaké prirovnania, môžem povedať, že mi to trošku pripomínalo aj
Freaks&Geeks
(neprekladám, vzdávam sa). Dychtivého čitateľa by možno zaujímalo, že film je natočený podľa rovnomenného komixu, ktorý som nečítala, takže vám o ňom viac povedať neviem, ale strýko Google by v prípade potreby mohol.
Nevadí, poďme k filmu.
Enid (Thora Birch) a Rebecca (Scarlett Johansson) práve zmaturovali a rozmýšľajú, čo ďalej. Ani jedna nejde na výšku a teda jediným logickým riešením je sa zamestnať. Posledné voľné týždne trávia ako také stratené psíky bezcieľnym potulovaním sa po uliciach, obchodoch a retro reštauráciach a otravovaním cudzích ľudí, na ktorých náhodne narazia.
Nechcem sa zoznamovať s niekým, kto má rovnaké hobby. Nenávidím svoje hobby.
Raz sa v jedno pridlhé popoludnie rozhodnú napáliť starého osamelého Steva Buscemiho, ktorý začne Enid fascinovať. Tu mi film pripomínal Freak&Geeks. Film reprezentuje outsiderský pohľad na život postáv, ktoré majú pocit, že nemajú žiadnu budúcnosť a ešte sa nenaučili vychádzať s ľudmi a všeobecne v živote fungovať. Medzi Enid, ktorá je zaujatá jeho zbierkou retro vecičiek a hudobným vkusom, a starším mužom vzniká zvláštne priateľstvo. Dokonca to zájde tak ďaleho, že Enid sa mu pokúsi nájsť ženu!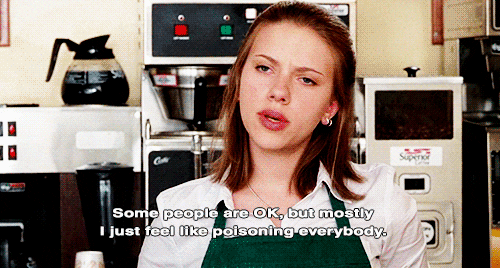 Niektorí ľudia sú okej, ale väčšinou ich túžim všetkých otráviť.
Zatiaľ čo Enidino priateľstvo s osamelým Stevom ako-tak funguje, priateľstvo s Rebeccou upadá, lebo dievčatá sa od seba vzďaľujú. Rebecca si nájde prácu a plánuje sa odsťahovať, zatiaľ čo Enid stále bojuje so životom. Musí si zopakovať výtvarnú, lebo z nej prepadla a tak jej nezostáva iné ako márniť čas v triede s hipisáckou učiteľkou výtvarnej, diskutovať o tampónoch v šálke a podobné nezmysly.
Toto je ten druh filmu, ktorý vám nasevíruje skutočne pamätihodné postavy. K trom protagonistom (mladučká Scarlett Johansson, aké chutné dieťa to bývalo), ktorí sú skvelí, dostanete ako prílohu aj takého postavičky: postarší satanistický párik, Weird Al (narážka na známeho komika), gréckeho majiteľa benzínky, hipisácku učiteľku, nadšenú amatérsku herečku a tiež tohto chlapíka. To je môj princ. Len aby ste vedeli. Je zadaný.
Ďalší film, ktorá zdieľa podobné témy je môj obľúbený
Absolvent
. Začiatok dospelosti, neistota, stratenosť, hľadanie cesty. No
Absolvent
ponúka aj šarm 60. rokov, zatiaľ čo
Ghost World
iba chladnú realitu.
Ghost World nie je príjemný film na pohodové zimné večery, ktorý by vás dojal happyendom. No obsahuje myšlienku a fanúšikovia stále premýšľajú nad symbolikou starého pána na lavičke a iných vecí. Prečo je film klasifikovaný ako komédia, to netuším.
Nie je to film pre každého, ale filmy s istou hĺbkou nebývajú všeobecne populárne.