"Now you listen to me," says Ove calmly while he carefully closes the door. "You've given birth to two children and quite soon will be squeezing out a third. You've come here from a land far away and most likely you fled war and persecution and all sorts of other nonsense. You've learned a new language and got yourself an education and you're holding together a family of obvious incompetents. And I'll be damned if I've seen you afraid of a single bloody thing in this world before now....I'm not asking for brain surgery. I'm asking you to drive a car..." And then Ove utters seven words, which Parvaneh will always remember as the loveliest compliment he'll ever give her. "Because you are not a complete twit."
"Tak teraz ma počúvaj," povedal Ove ticho, keď opatrne zavrel dvere. "Porodila si dve deti a onedlho vytlačíš aj tretie. Prišla si sem zďaleka a pravdepodobne si unikla prenasledovaniu a iným šialenstvám. Naučila si sa nový jazyk a zaobstarala si si vzdelanie a držíš pohromade rodinu evidentných diletantov. A ešte som ťa nevidel sa doteraz ničoho kurva báť... Nežiadam od teba operáciu mozgu. Chcem, aby si šoférovala auto... " A potom Ove vysloví tých päť slov, ktoré si Parvaneh bude do smrti pamätať ako ten najkrajší kompliment, aký jej kedy Ove zložil. "Pretože nie si úplný debil."
Somebody mentioned the book/film
En Man som Heter Ove
and I immediately thought of it to be a copy of the
The 100 Year-Old Man Who Climbed Out the Window and Disappeared
,
which was nice and lovely but I'm not a fan of copycats. The titles are similar and the main characters are both lonely old men with strange adventures. Luckily I casually asked around ten people about their opinion and they were all completely smitten. I decided to give it a try and I witnessed this happening on the screen:
An old man enters a shop and wants to but a bouquet of flowers for a special price. When the shop assistant says that the special price is valid only when buying two bouquets, he throws a fit, demands to see the boss and I realize I'm watching a Swedish version of those crazy-ass old grumpy professors that followed me through elementary school, high school and university (and appear out of nowhere just as I want a little peace and quiet). So this is Ove.
"Today I brought two but don't get used to it."
When Ove's beloved wife died a few months ago he lost his whole world (we are in Sweden, there must be some tragedy obviously). Moreover he's just been fired. Without his wife and his job he keeps enforcing his silly grumpy rules by yelling at his neighbors but he knows full well that his life is over. He puts on his finest suit, combs his hair, hangs the rope from the ceiling and put a chair underneath ready to do the deed when he hears somebody's loud angry nagging echoing in the street and someone drives into his mailbox. New neighbors are here. A pregnant Iranian woman and her slow incompetent man with two little children. This is the first time but definitely not the last time Ove doesn't get to exit this world on his own terms.
Of course he's grumpy. His memory lane has just been so rudely interrupted and he's forced to teach the newbies a lesson. Ove knows his duties and he never ever strays from them. However, he doesn't give up either. He attempts again and again which reveals more and more pieces from his life and the events that had shaped who he became.
The characters in the film are very charming. Young Ove is a shy and lonely man, who has the biggest luck of his life when he meets his wife (who likes likes him for no reason in my humble opinion but nevermind, they still look cute together). The wife seems to have only one facial expression going on: bubbly giggling but that can be explained by his selective memory.
Then we meet a gay teen, who's about to come out of closet, another teen, who wants to buy a French car (the horror), Ove's old friend/rival/enemy Rune and many others. The characters are truly charming and despite that the film doesn't invent anything new or revolutionary you'll realize that even that stereotypical ever-joyful fat guy is actually likable. Even though Ove doesn't see it the same way and hates everyone and everybody without any hint of discrimination, this is actually a film about understanding.
"Ove feels an instinctive skepticism towards all people taller than six feet; the blood can't quite make it all the way up to the brain."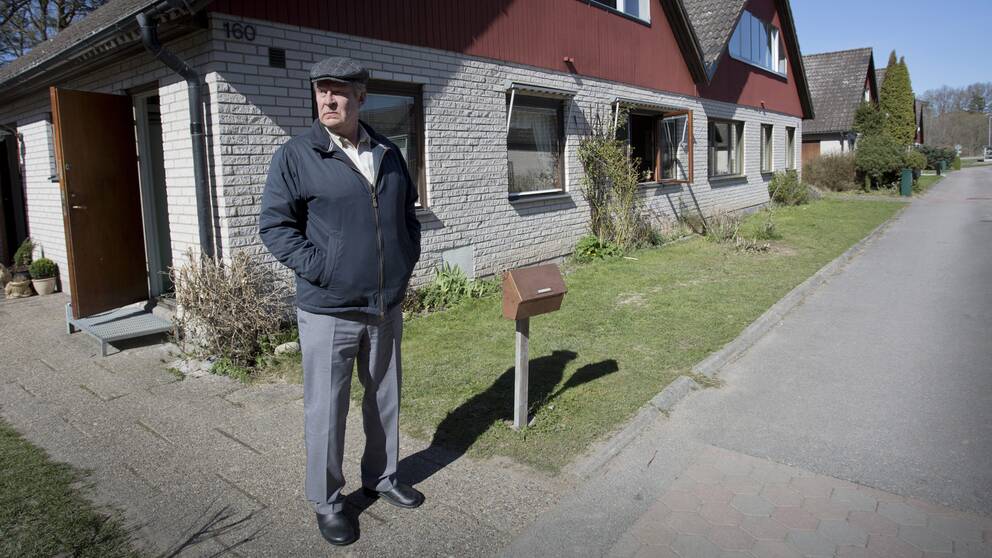 If you have already seen this gem let me know what you think. If you haven't I heartfully recommend seeing it. It has its sad moments that made the audience sob but it's not a Nordic tragedy that would traumatize you for life. The film offers many hilarious moments almost in every scene, which qualifies it for a feel-good film. Labelled watch-it-right-now.
Niekto predomnou spomenul knihu/film
Muž menom Ove
a ja som si automaticky pomyslela, že je to iba kópia
Storočného starčeka
, čo bola zlatá knižka, ale ja nemám rada imitáciu. Názvy sú podobné a hlavný hrdina je tiež osamelý dedulo prežívajúci zvláštne dobrodružstvá. Našťastie som sa medzi rečou spýtala na názory asi desiatich ľudí a tí sa úplne rozplývali. Rozhodla som sa, že dám filmu šancu a stala som sa svedkom tohto:
Starý muž vojde do obchodu a chce si kúpiť kvetiny so zľavou. Keď mu predavačka povie, že zľava platí iba pri nákupe dvoch kusov, dostane zúrivý záchvat, dožaduje sa manažéra a ja si uvedomím, že sledujem švédsku verziu všetkých tých šibnutých mrzutých profesorov, ktorý ma prenasledovali celú základnú, strednú a vysokú školu (a ešte aj teraz sa odniekiaľ objavia, práve keď chce mať človek trochu kľudu). Takže toto je Ove.
"Dnes som ti priniesol dve, ale nezvykaj si na to."
Keď jeho milovaná žena pred pár mesiacmi zomrela, prišiel Ove o celý svoj svet (sme vo Švédsku, nejaká tragédia tu byť musí). Stále chodí do práce a presadzuje svoje bláznivé mrzuté pravidlá tým, že vyrevuje na susedov, ale je mu jasné, že jeho život sa už skončil. Oblečie si teda svoj najlepší oblek, učeše si vlasy, zavesí na strop povraz a postaví si pod neho stoličku pripravený to oficiálne skončiť, keď tu zrazu počuje ako ktosi na ulici strašne vykrikuje a niekto mu vzápätí nabúra do schránky. Prišli noví susedia. Tehotná iránčanka, jej pomalý nemožný muž a dve deti. Toto je prvý raz, no ani zďaleka nie posledný, kedy sa Ovemu nepodarí odísť z tohto sveta podľa vlastných predstáv.
Jasné, že sa odúva. Bol drzo prerušený pri spomínaní na svoj doterajší život a tak to mu nedá a musí dať nováčikom príučku. Ove pozná svoje povinnosti a nikdy sa im nesnaží vyhnúť. No nevzdáva sa. Znova a znova to s tou samovraždou skúša a tak nám odhaľuje ďalšie časti svojho života, ktoré z neho urobili človeka, akým je teraz.
Postavy sú veľmi sympatické. Mladý Ove je hanblivý a osamelý muž, ktorý zažil najväčšie šťastie svojho života, keď stretol svoju ženu (ktorá sa do neho zaľúbila z úplne neznámych príčin, ak chcete počuť môj názor, no nevadí, pristane im to). Sonja má síce počas celého filmu jeden jediný výraz tváre, ale to sa dá vysvetliť jeho selektívnou pamäťou.
Okrem toho sa zoznámime s gay tínedžerom, ktorý sa plánuje priznať k svojej orientácii, jeho kamaráta, ktorý si šetrí na francúzske auto (hrôza pomyslieť), Oveho starého priateľa/rivala/nepriateľa Runeho a mnohých iných. Postavy sú sympatické a napriek tomu, že film neprichádza s ničím prevratným a revolučným, diváka dostane, že dokonca aj ten stereotypný veselý tlsťoch vám nelezie na nervy. Napriek tomu, že Ove to vidí inak a poctivo bez rozdielu nenávidí každého, je to film o porozumení.
"Ove cítil vždy nedôveru voči ľuďom vyšším ako meter osemdesiat. Nie je možné, aby sa im krv dostala až do mozgu."
Ak ste už tento klenot videli, dajte mi vedieť, čo si o ňom myslíte. Ak nie, tak vám skutočne odporúčam si ho pozrieť. Smutné scény dojali celé publikum, ale zase nie je to nijaká severská tragédia, čo by vás traumatizovala do konca života. Skoro v každej scéne je kopa zábavných momentov, čo z Oveho robí akurátny film "do pohody" a preto má tento príspevok nálepku "okamžite pozrieť".