Quentin: Hi. I'm Quentin from Montargis.
Ruby: Why not tell him who I am too?
Quentin: Oh sorry. He's Ruby from Puteaux.
Quentin: Ahoj. Ja som Quentin z Montargis.
Ruby: Skvelé. Ešte mu povedz kto som ja.
Quentin: Ou, prepáč. Toto je Ruby z Puteaux.
Despite the fact that
Amelie
didn't work for me last month I decided not to give up on French cinema since I knew that those guys can make a decent film if they put their hearts in it because I've seen
Suicide Shop
and it was infinitely more charming than Amelie.
I remember watching
Shut up!
as a teenager and laughing my ass off. It was generally a popular film beloved by many I knew but does it have anything to say more than ten years later? When I try look at the film from the point of view of someone who haven't seen it I believe that
Gerard Depardieu
and
Jean Reno
are a good argument when considering watching an unknown film. Regardless of the recent scandals involving Depardieu peeing on the plane seat his movie performances are usually pretty great and there's no need to explain that Jean Reno is a living legend with a face made of stone.
Shut up!
actually supports such beliefs about the actors' personalities and creates a hilarious comedy based on the contrast, conflict and clash of the two different characters.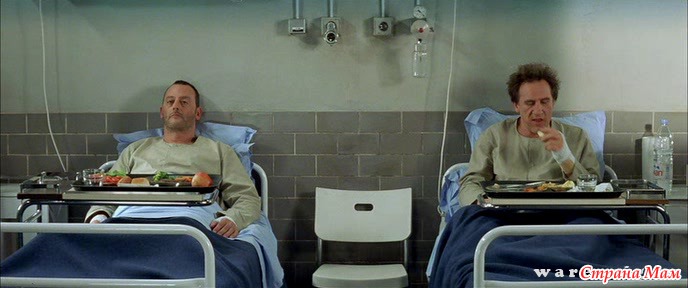 Ruby is a tough guy, whose lover has just been murdered and who won't stop unless he gets a revenge. Sadly he's caught and put into prison, however, he refuses to speak to the investigators, who are at loss since they can't get literally a single word out of him. On the other hand Quentin is a dumb-ass. He does unbelievably dumb decisions so he ends up in a prison where he drives the other prisoners mad with his constant silly drivel. He's been examined by a psychiatrist, who comes to a conclusion that Quentin is not a real retard, he's just really so damn stupid.
The head of prison: Doctor, you must get him out of here. I'm certain he belongs at an asylum.
Doctor: My place is for the mad, not for idiots. You can consider building one for idiots, but just imagine its scale.
Even though I didn't laugh at the film now as I laughed when it saw it for the first time, there were other things I actually appreciated more. The preoccupation with love and drama is often such a big part of many films which aren't even primarily romantic and that's something I find very annoying. Watching a couple of pretty people in love I tend to hold my fingers crossed for them but hoping they are not going to bother us for too long with their special love. They are in love, I get it! Now let's move on to other things! In Shut up! Ruby's lover is killed off very quickly (thank god) and the other potential love interest is over sooner than it begins and I have to give the film thumbs up for breaking the cliche.
Instead we get to see the dynamic duo of Ruby and Quentin in action, both in better and worse, in sickness and health and I loved that. Watching friendship somehow touches me more than watching love, maybe because love is often face-palmingly unrealistic on screen. Bonus points when it was an unlikely friendship of different personality types or if they disliked each other at first.
I recommend Ruby & Quentin because it has a great cast, likable characters, dynamic story, hilarious moments and because French sounds hot, let's be honest about it.
Napriek tomu, že
Amélií
som na lep neskočila, rozhodla som sa nezanevrieť na francúzsku tvorbu, lebo viem, že oni to vedia, keď si ozaj sadnú a posnažia sa. Videla som predsa
Obchod pre samovrahov
, ktorý bol neporovnateľne čarovnejší ako Amélia.
Pamätám si, že keď som kedysi dávno pozerala
Drž hubu!
, tak som sa poriadne nasmiala. V mojom okolí to bol populárny film, ktorý mnohí ospevovali, ale osloví diváka o viac ako desať rokov neskôr? Ak sa naň pozriem z pohľadu niekoho, kto ho nikdy nevidel, myslím že prítomnosť
Gerarda Depardieu
a
Jeana Rena
je silný argument v prospech filmu. Odhliadnuc od nedávnych škandálov týkajúcich sa opitého Depardieu čúrajúceho v lietadle do uličky, jeho filmové výkony sú zvyčajne dosť dobré a to, že Jean Reno s jeho typickou kamennou tvárou je žijúca legenda, to hádam ani vysvetľovať netreba.
Drž hubu!
v podstate stavia na imidži týchto dvoch hercov a vytvára príjemnú komédiu založenú na kontraste a konflikte dvoch rozdielnych osobností.
Ruby je drsňák, ktorého frajerku práve zavraždili a ktorý sa nezastaví, kým sa nepomstí. Bohužiaľ ho chytia a skončí vo väzení, no vyšetrovateľom nepovie ani slovo a tí nevedia, čo ďalej. Na druhej strane Quentin je blbec a keďže robí blbosti tiež skončí vo väzení, kde svojím neustálym táraním doháňa všetkých spoluväzňov do šialenstva. Vyšetril ho už aj psychiater, ktorý však skonštatoval, že nie je skutočný blázon, že je iba nesmierne hlúpy.
Riaditeľ väznice: Doktor, musíte ho odtiaľto dostať preč. Som si istý, že patrí do blázinca.
Doktor: Náš ústav slúži pre bláznov, nie pre hlupákov. Môžeme vybudovať aj inštitúciu pre nich, ale prestavte si, aká veľká by tá budova musela byť.
Aj keď teraz som sa na filme až tak nenasmiala ako keď som ho kedysi pozerala, objavila som ďalšie veci, ktoré som ocenila viac. Sústredenie na lásku a s tým súvisiacu drámu je niečo, čím mnohé filmy trpia, dokonca aj tie, ktoré nie sú primárne romantické a to sa mi zdá veľmi otravné. Pri sledovaní párika zamilovaných a pohľadných ľudí im síce držím palce, ale zároveň dúfam, že nás svojou veľkou láskou nebudú otravovať dlho. Áno, sú zaľúbení, je mi to jasné! Teraz sa presuňme k ďalším veciam, prosím! V
Drž hubu!
Rubyho frajerku zabijú veľmi rýchlo (našťastie) a ďalšia potenciálna romanca skončí skôr ako vôbec začne a preto dávam filmu velký palec hore za prelomenie jedného mimoriadne hlúpeho klišé.
Namiesto toho sledujeme dynamickú dvojku Rubyho a Quentina v akcii, v dobrom i zlom, v zdraví aj chorobe a ja som za. Priateľstvo na striebornom plátne ma dostane určite viac ako romantika asi preto, že tá je často úplne nerealistická a trápna. Navyše udelím aj bonusové body ak ide o nečakané priateľstvo úplne odlišných typov ľudí alebo keď sa dotyční najprv nemali radi.
Drž hubu!
odporúčam, lebo má skvelé obsadenie, sympatické postavy, dynamický príbeh, je plný zábavných momentov a pretože francúžština znie sexy, to sa musí uznať.