Dory: I remember it like it was yesterday. Of course, I don't really remember yesterday all that well.
Dory: Pamätám si to akoby to bolo včera. Teda, včerajšok si vlastne veľmi nepamätám.
Thirteen years ago
Finding Nemo
, an animated Pixar movie, came to theaters and everybody was amazed. Everybody loved
Nemo
. It was hilarious and touching and adventurous and well worth one's money and time to watch and rewatch. It established characters the people immediately fell in love with and even now every child knows and loves
Nemo
even though they might not have been alive when it came to theaters. I'm still quite shocked it's been thirteen years because
Nemo
still feels fresh and fun and I kind of watch to rewatch it again to see if it stands out even after more than a decade.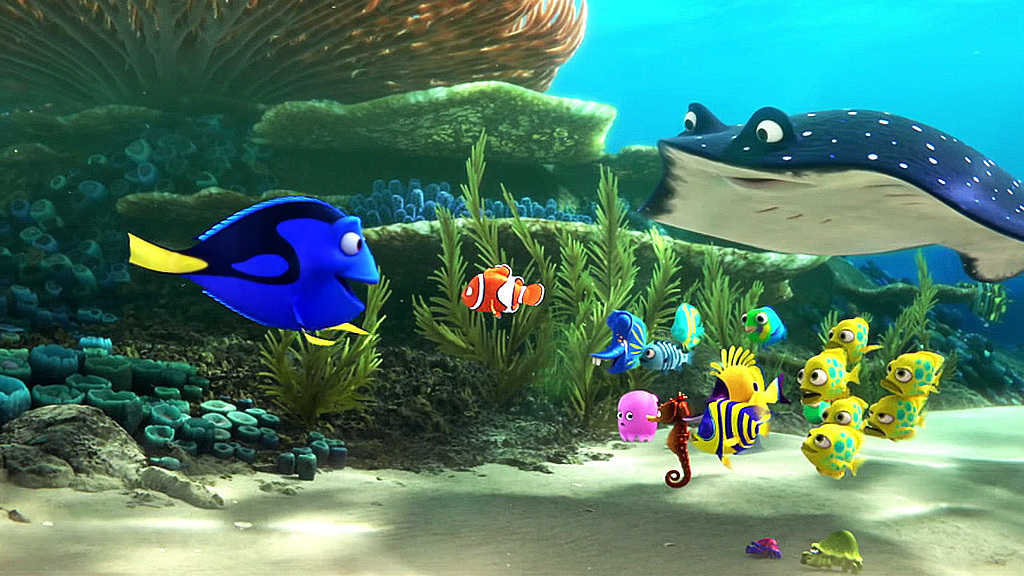 This summer Pixar gave us
Finding Dory
, which got me excited but then I read the reviews and I became worried. There are so many people complaining about it not being as good as
Nemo
I was wondering if I should regret buying the tickets in advance. I honestly can't remember that much of
Nemo
and it's an universally acknowledged truth that sequels are seldom as good as the first film but I liked it. It wasn't groundbreaking but I felt invested in Dory's mission and I was happy to meet the old friends. Nemo and his father, Ray, the teacher at the school of fish, Crush, the turtle under the influence of something unspecified, as well as some new characters are making their first appearance in
Finding Dory
and it feels very nice.
Dory is on the mission to find her family, which is an admirable goal but, of course, a tad bit problematic as she can't remember much. Nemo and his father decide to accompany because with her condition she needs a helping fin now and then or constantly. What was interesting about the film was that a great number of characters had a certain disability. I'm not sure if it was the same in movies thirteen years ago or if the trend has started only lately. It shows the growing acceptance of handicapped and disabled people as a part of society and proves they can have a sense of humor, joie de vivre and can not only function but also to help out others and give back.
Worth mentioning is also the short film they show before
Dory
. Its title is
Piper
and it's about a small seagull, who is supposed to learn how to catch its own food as a part of growing up. The characters have no names and there are no actual lines, however, none of that is necessary. The story, motivations and emotions are crystal clear. From the technical point of view there was some superhypermodern animation method involved but I care only about the fact that it's probably the cutest video I've seen in a while.
I have seen the usual 2D version because I'm generally skeptical about 3D. 2D was beautifully animated and the most impressive was probably the cynical misanthropic 7-legged octopus Hank, who changed his colour to imitate the surroundings. All in all, I recommend watching
Finding Dory
. It's not so important to see it immediately in the cinema though but when having a comfy evening with TV and chips,
Dory
is a sure bet.
PS
: Don't forget to stay for the post-credits scene. We've forgotten about:-)
Pred trinástimi rokmi prišiel do kín animovaný film
Hľadá sa Nemo
a všetci boli unesení. Každý bol z
Nema
paf. Film bol vtipný, dojemný a dobrodružný a stál za peniaze a čas aj pri opakovanom pozretí. Vytvoril postavy, do ktorých sa ľudia hneď zaľúbili a aj teraz
Nema
miluje každé dieťa aj keď pri jeho uvedení do kín ešte ani nebolo na svete. Úprimne, som celkom prekvapená, že je to už trinásť rokov, lebo
Nemo
mi taký starý vôbec nepríde a po
Dory
si ho mám chuť pozrieť znova, že či obstojí aj po toľkých rokoch.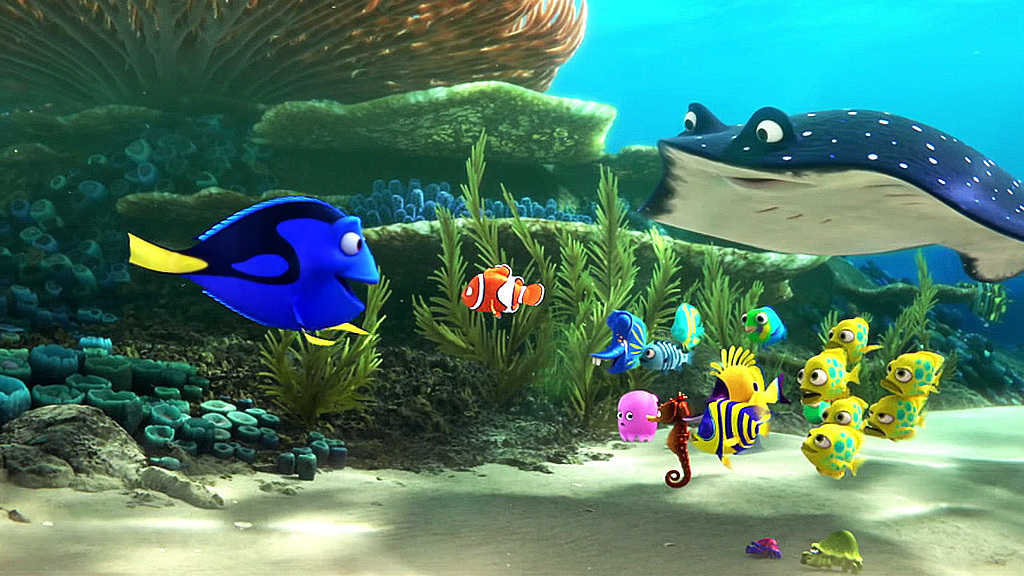 Toto leto nám Pixar nadelil
Hľadá sa Dory
, čo ma potešilo, ale potom som si prečítala recenzie a trošku som sa začala obávať. Toľko ľudí sa sťažuje, že film nie je taký dobrý ako jeho predchodca, že som už pochybovala, či kúpenie lístkov dopredu nebola chyba. Úprimne si toho z
Nema
až tak veľa nepamätám a je všeobecne uznávanou pravdou, že pokračovania sa málokedy vyrovnajú prvému filmu, ale mne sa
Dory
páčila. Nie je to prelomový film, ale dokázal vo mne vzbudiť záujem o Dorin príbeh a rada som videla aj starých známych z prvého filmu. Nema a jeho otca, pána učiteľa Raju, korytnačku pod vplyvom neznámych látok a tak ďalej. No zoznámime sa aj s novými postavami, ktoré sú tiež celkom sympatické.
Dory si totiž zmyslela, že nájde svoju rodinu, čo je krásny cieľ, ale, samozrejme, trošku problematický vzhľadom na jej zlú pamäť. Nemo a jeho otec sa rozhodnú ju sprevádzať, pretože Dory potrebuje občas alebo stále pomocnú plutvu. Čo ma na filme zaujalo bolo to, že väčšina postáv mala nejaký handikep. Neviem, či to bolo aj v originálnom filme a či sa tento trend začal iba nedávno. Značí to však o rastúcej tolerancii hendikepovaných a o tom, že sú chápaní ako súčasť spoločnosti a že aj oni môžu mať zmysel pre humor, radosť zo života a dokážu nielen fungovať, ale aj pomôcť ostatým.
Čo určite stojí za zmienku je krátky film, ktorý dávajú pred
Dory
. Volá sa
Piper (po česky vraj

Ptáčátko

)
a je to príbeh malej čajky, ktorá sa učí hľadať jedlo ako súčasť osamostanenia sa. Postavy nemajú mená a nikto nič nepovie, no to vôbec neprekáža. Príbeh, motivácia a emócie sú úplne zjavné. Z technického hľadiska sa pri jeho tvorbe použila nejaká revolučná najsupermodernejšia animačná metóda, ktorá ma nezaujíma, ale hlavné je, že je to najchutnejšie video, aké som v poslednom čase videla.
Videla som iba bežnú 2D verziu filmu, lebo som voči 3D vo všeobecnosti skeptická. 2D však vyzeralo skvelo a najpôsobivejší bol asi 7-nohý chobotničiak Hank, ktorý menil farbu, aby imitoval prostredie. Suma sumárum,
Dory
odporúčam. Nie je úplne nevyhnutné si film pozrieť hneď a zaraz v kine, ale keď máte chuť na lenivý večer s telkou a čipsami,
Dory
je perfektná voľba.
PS
: Nezabudnite počkať na scénu po titulkoch. Nie ako my:-)