The new Harry Potter universe film is here! There's magic in USA! The magical world is getting bigger! The film is set in the charming 1920s! There are tons of magical beasts! We get some Grindelwald backstory! A so on, I'm out of breath now.
Nový potterovský film je tu! Aj v Amerike vedia čarovať! Čarodejný svet sa zväčšuje! Film zasadený do dvadsiatych rokov! Čarodejné tvory v každej scéne! Príbeh Grindelwalda! A tak ďalej, už mi došiel dych.
So I decided to move with the times and check out what's going on in the cinemas these days. A new Harry Potter film! Ehhhh... I was quite skeptical. Harry Potter was like a bomb and it mesmerized so many people back in the day. I'm reading now Harry Potter and the Chamber of Secrets in Swedish to improve my language skills and as a 28 old person I see many flaws but despite of them the series will always be something that brought me the most wonderful and exciting moments in my book related life.
So now Americans made a new film named
Fantastic beasts and where to find them
to continue milking the cash-cow again. That's what I thought when I put on the 3D glasses on in the full cinema auditorium. I didn't know much about it so everything that happened was more or less a surprise. Since the film is still in the cinemas and some of you haven't seen it yet and might want to I will try not to spoil.
You might remember the tiny book called
"
Fantastic beasts and where to find them
"
which was a compulsory reading at Hogwarts and which was published for real in 2001. There was no story. It was just a lexicon of crazy creatures that live in the Harry Potter universe and it was "written" by Newt Scamander in 1920s. This Newt Scamander was an animal enthusiast, who traveled around the world to learn about, protect and catch magical creatures and the latest film presents us his story.
Newt Scamander comes to New York (via the ship as a muggle, wondering why? Maybe he wanted to keep it off the US magical radar) to look for some more magical creatures to research. Equipped only with his magical luggage and autistic ways (that's my impression) he gets tangled in a mess that lasts for more than 2 hours but it's supremely entertaining. Newt is clumsy when it comes to safety and muggle secrecy. He unknowingly exchanges his luggage with a muggle named Kowalski, which was predictable but I failed to predict it anyway. Consequently the fantastic creatures, which live in his luggage, manage to escape and roam free in a muggle New York. Moreover, there's a new destructive power that emerges when wizards trapped in the muggle world try to suppress their powers and face an emotional distress.
I liked that most of the cast were (at least to me) unknown actors. I understand that no actor wants to be labelled as a one role actor but in this type of film I really want to identify the actor with the one role only.
Eddie Redmayne
was not completely new to me but since I haven't seen him in any other film I approve. Moreover, he is really an excellent choice for the role of Newt Scamander. Special effects were superb as one would expect and they made the magical world alive again. They weren't the same as in the Potter movies though. Some more magical tricks were added so that we don't have to watch more of the same. I liked the idea of the extension of the magical world, though they might have chosen some other part of the world. Or at least I hope they will - there should be 4 more movies with Newt if I understand correctly. I forgive J. K. Rowling for setting the story in USA because it was set in 1920s and everybody who knows something about me knows I love vintage everything. It was really charming with the fashion and buildings (I'm literally drooooling now) and Rowling avoided collision with her previous series while expanding on the backstory. Not many works have as much potential with their backstories that makes the fans' fantasy going wild as Harry Potter series.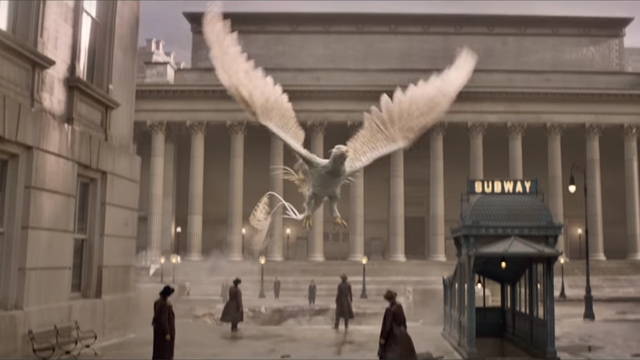 Let's mention the things that were less than awesome now. The minor minus is the attempt at US slang of magical society. "Nomaj" aka muggle just sounds like a invented word to me. Granted Rowling invented bazillion of new words for the series and maybe I simply got used to them. Maybe "nomaj" can be used to too.
Moreover, the end solution seemed a bit like deus ex machina, which is not unusual for Rowling but it was a bit too simple perhaps.
Another much much bigger minus in my eyes is the presence of two famous Hollywood actors in the film. I know I should have expected that but I really don't find it suitable. I couldn't see them as their characters but as actors with many scandals in their past and that was a disappointment to me. And since there will be one of the two characters in the future films too I'm worried I'll watch the films with my eyes half-closed and an expression of pain on my face. Magical world is not like our world! Our famous actors have nothing to do there! Please!
All in all, I recommend watching the film if you're a fan of Harry Potter or if you like fantasy and magic. If magic doesn't do anything for you you might stay at home but if you like imagination you'll be in your element. The majority of the cast are adults, probably because the generation of Potter fans have already grown up so you don't need to be afraid of childishness. I label this film "watch it right now". You won't regret it.
Minule som sa rozhodla ísť s dobou a pozrieť sa, čo dnes beží v kinách. Nová potterovka! Nooo..... Najprv som bola skeptická. Harry Potter bol ako bomba a vo svojej dobe zhypnotizoval kopu ľudí. Teraz čítam Harryho Pottera a tajomnú komnatu po švédsky, že nech si zlepším svoje jazykové schopnosti a ako 28 ročná osoba tam už vidím mnohé chyby, no aj napriek nim táto je knižná séria niečím, čo mi pri čítaní prinieslo asi najúžasnejšie a najvzrušujúcejšie momenty v mojom literárnom živote.
Tak a Američania teraz spravili nový film nazvaný
Fantastické zvery a ich výskyt
, aby ešte trochu podojili túto dojnú kravu. Teda to som si myslela, keď som si dávala na nos 3D okuliare v preplnenej kinosále. O príbehu som nič nevedela a teda všetko, čo sa stalo, bolo pre mňa prekvapením. Keďže film je stále v kinách a niektorí ho možno ešte nevideli a majú to v pláne, tak sa budem snažiť nič neprezradiť.
Možno si pamätáte maličkú knižku s názvom "
Fantastické zvery a ich výskyt
", ktorá bola na Rokforte povinným čítaním a ktorá bola aj reálne publikovaná v 2001. Nebol tam žiaden príbeh. Bol to len lexikón tých podivných tvorov, ktoré žili vo svete Harryho Pottera a "napísal" ju v 20. rokoch Newt Scamander. Newt mal vášeň pre magické tvory. Cestoval po svete, aby ich skúmal, chránil a chytal a tento nový film zachytáva jeho príbeh.
Newt Scamander prichádza do New yorku (loďou ako mukel, ktovie prečo? Možno nechcel, aby si ho americké čarodejné autority všimli), aby hľadal ďalšie magické tvory na výskum. Vyzbrojený len svojím čarodejným kufrom a autistickými tikmi (teda, tak mi pripadal) sa zamotá do chaosu trvajúceho viac ako 2 hodiny, ktoré sú však celkom zábavné. Newt je nešikovný pokiaľ ide o bezpečnosť a utajenie pred muklami. Omylom si vymení kufor s mukom menom Kowalski, čo je celkom starý trik, ale aj tak som ho nečakala. Následne z neho uniknú všetky možné magické tvory a veselo terorizujú mesto New York. Okrem toho, sme svedkami novej ničivej sily, ktorá vzniká, keď sa čarodejníci uväznení vo svete muklov snažia potlačiť svoje schopnosti a niečo ich rozruší.
Páčilo sa mi, že väčšina hercov bola pre mňa neznáma. Rozumiem, že žiaden herec nechce byť hercom jednej role, ale v tomto druhu filmov si naozaj rada spojím herca s jeho postavou.
Eddie Redmayne
mi nebol úplne neznámy, ale keďže som ešte žiaden film s ním nevidela, tak s výberom súhlasím, lebo mu rola Newta Scamandera naozaj sedela ako uliata. Špeciálne efekty boli skvelé, čo som však očakávala a celý magický svet mi po rokoch ožil pred očami. Efekty však nebli také isté ako v Potterovkách. Tvorcovia pridali nové triky, aby sme sa nemuseli pozerať na to isté. Páčila sa mi myšlienka rozšírenia čarodejného sveta, aj keď si tvorcovia mohli vybrať inú časť sveta ako USA. Alebo aspoň dúfam, že nám ešte niečo ukážu, keď nás čakajú 4 ďalšie filmy s Newtom. Odpúšťam J. K. Rowlingovej, že sa príbeh odohráva v Amerike, lebo je aspoň zasadený do 20. rokov dvadsiateho storočia a každý, kto ma pozná vie, že retro ma vždy dostane. Krásna móda a architektúra (ešte teraz slintám nad klávesnicou) a Rowling a tiež vyhla kolízii s predošlou sériou, zatiaľ čo rozšírila príbehy známych postáv do minulosti. Nepoznám až tak veľa diel, ktoré majú toľký potenciál rozšíriť príbeh a mnohí fanúšikova, čo píšu vymyslené príbehy zo sveta Harryho Pottera so mnou evidentne súhlasia.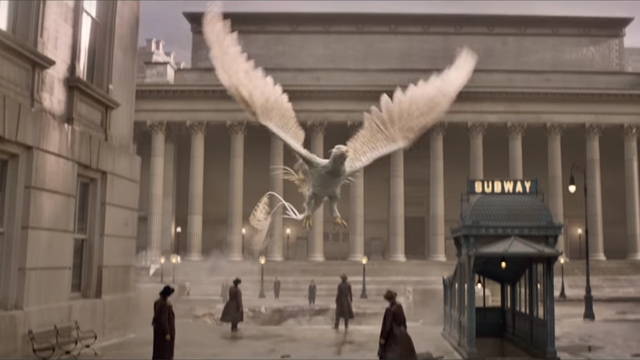 Poďme teraz k veciam, ktoré ma sklamali. Menšie mínusko je pokus o americký čarodejný slang. "Nomaj" (aký je slovenský preklad, to netuším) teda mukel, mi proste znie ako vymyslené slovo. Jasné, Rowlingová si v potterovkách stále vymýšľala slová a možno je to len o zvyku. Tak možno sa aj na "nomaj" dá zvyknúť.
Navyše, koniec mi pripadal ako deus ex machina, čo pri Rowlingovej nie je nič nové, ale predsa len to bolo príliš jednoduché.
Ďalšie a oveľa väčšie mínus je v mojich očiach prítomnosť dvoch slávnych Hollywoodskych hercov. Viem, asi som to mala očakávať, ale aj tak sa mi to zdalo nevhodné. Nemohla som sa na nich pozerať ako na postavy, ktoré hrali a stále som ich videla ako hercov opradených škandálmi a to bolo sklamanie. A keďže aspoň jeden z nich bude aj v nasledujúcich filmoch, obávam sa, že ich budem v istých momentoch sledovať cez prsty a s nešťastným výrazom na tvári. Čarodejný svet nie je ako náš svet! Naši slávni herci tam nemajú čo hľadať, prosím!
Suma sumárum, film odporúčam ak ste fanúšikmi Harryho Pottera alebo ak máte radi fantasy a mágiu. Ak kúzla nie sú nič pre vás, tak zostaňte doma, ale ak vás fantázia baví, v kine sa budete cítiť ako ryba vo vode. Väčšina hercov sú dospelí ľudia, možno preto, že generácia potteromaniakov už vyrástla, takže sa nemusíte obávať nejakej detinskosti. Film som označila ako "okamžite pozrieť". Neoľutujete to.