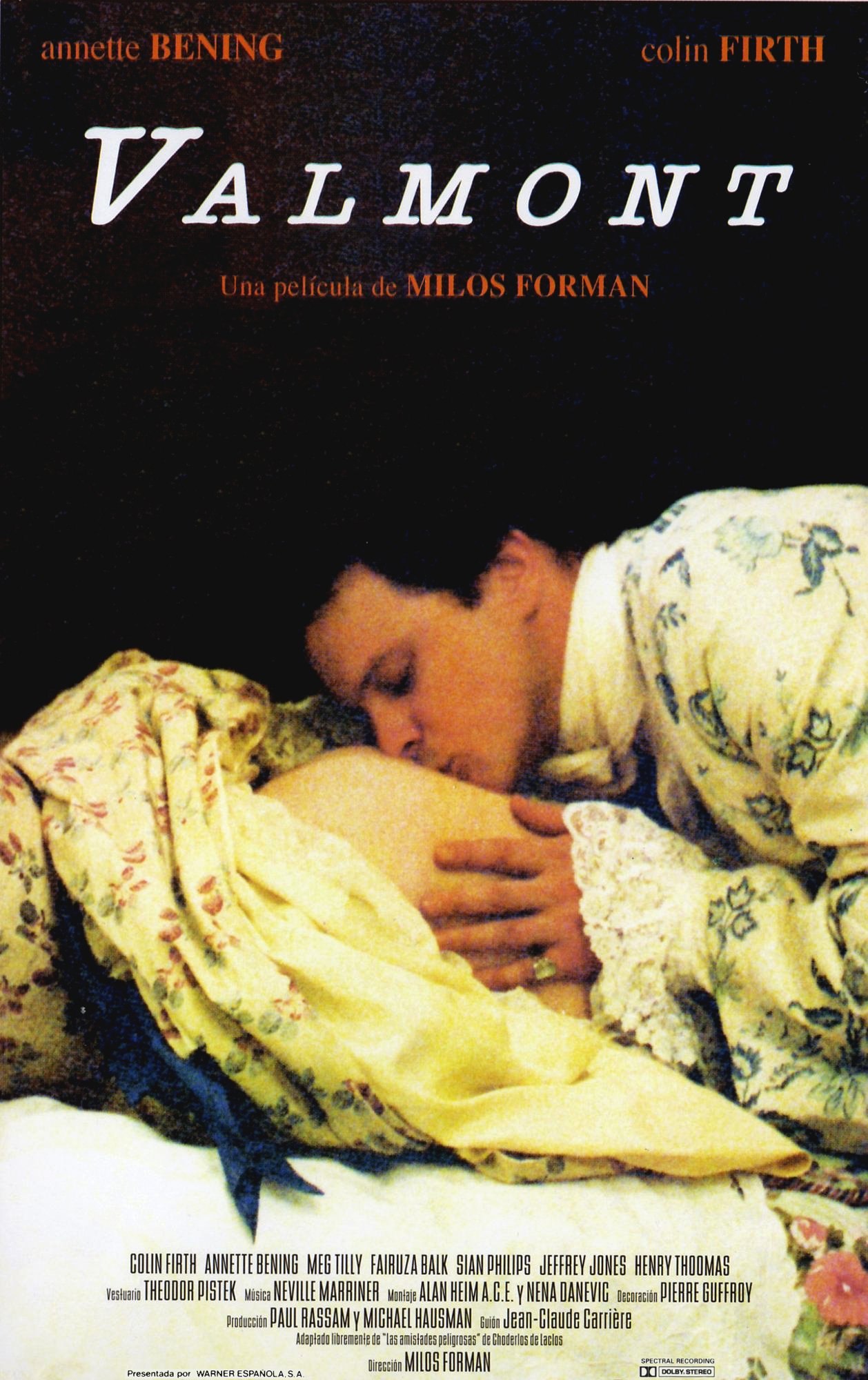 Valmont: Do you think a man can change?
Merteuil: Yes, for the worse.
Valmont: Myslíte, že človek sa dokáže zmeniť?
Merteuil: Áno, k horšiemu.
Ever since I've seen the exhibition related to 18th century life I've been dying to see some film set in this period. The clothes, the hairstyles, the furniture, the manners! I've seen
Cruela de Vil version of Dangerous Liaisons
and I found out that Milos Forman made his version a year later. Its title is
Valmont
and in comparison with
Dangerous Liaisons
it's quite underrated with many people believing the other version is better. I, naturally, don't think so.
I recommend watching both films because they are both good at some things while having downsides too. Dangerous Liaisons is quite serious and dramatic. There are no scenes that made me laugh, at least none I can think of. The characters are older and more menacing and it's generally a film you watch if you're in a serious mood.
On the other hand Valmont is hilarious and truly charming with many moments that will make you laugh out loud. I'm not saying it's a silly film that doesn't take anything seriously but it certainly is very playful even despite some ickiness that I'll get to later.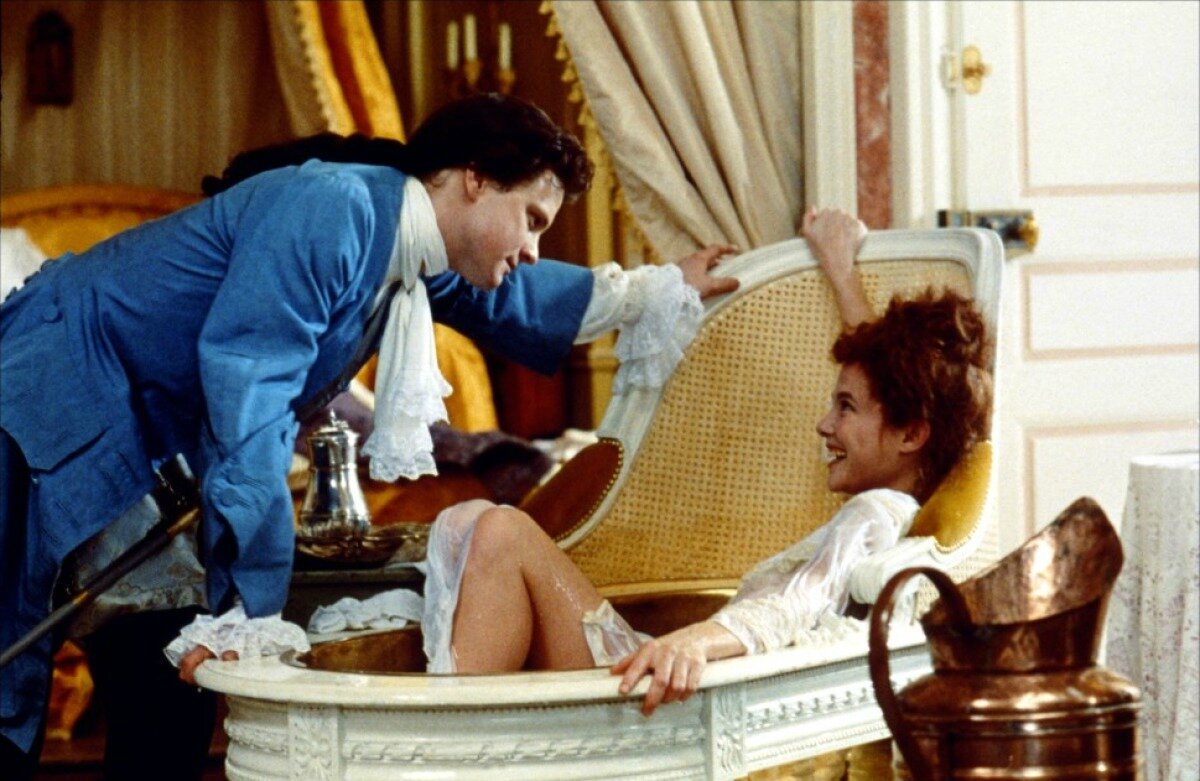 Both Glenn Close (Dangerous Liaisons) and Annette Benning were great choice for madame Merteuil though the later one is so heartwarmingly adorable you can't help it and fall in love with her villainish ways. She owns every scene she's in like a boss! She's radiant!
Colin Firth's Valmont is much more believable as the ladies man as John Malkovich (Dangerous Liaisons), who sure looks like a textbook psycho rapist and, therefore, he simply can't persuade me that women stand in line to get to his bed instead of looking for their tasers in panic. Young Colin Firth (and I'm saying this as someone, who has no special feelings towards the actor at all) is simply much more convincing as a manipulator because he actually shows us his cute side that would make even me jump into his arms without thinking.
Both villain couples in both films have the right kind of chemistry together. Merteuil and Valmont in
Dangerous Liaisons are cold partners in crime with hearts of stone and if you met them in a sidealley at night you'd throw your wallet at them and run away and that's the point the director,
Stephen Frears, wanted to make
. Good job!
On the other hand the Milos Forman's villains are having genuine fun. They are having a blast and their good mood is infectious! Sure, they are horrible people but their mischievous banter, naughty plans and sly actions is fascinating.
Faruza Balk as Cecile the virgin.
The naive 15 year old Cecile, who came from the convent, is played by an actress
Fairuza Balk. She's just as convincing as the 18 year old baby Uma Thurman (Dangerous Liaisons). The moment when Valmont seduces Faruza is icky like hell since the actress really was 15 at that time and looked it. However, at least it wasn't violent in comparison with the Dangerous Liaisons scene with the undead Malkovich.
Another small treasure in the Valmont film is Madame de Rosemonde, a very old lady with non-existent memory, played by an actress who was 85 at the time of shooting. She's there as a delightfully confused comical relief and the film wouldn't be complete without her. I think that she knows or at least suspects Valmont and Merteuil being naughty but she just doesn't care. She's like "I'm 85! Give me a break! Gonna have a nap now."
The end of Dangerous Liaisons is quite tragical and surely powerful and I appreciate the cruel fairness it brings. The end of Valmont is not the same though. It's more light-hearted and the twist at the end is more cheeky rather than punishing or destructive.
What I regret though is the relationship between Valmont and Madame de Tourvel not being quite believable. Meg Tilly is completely forgettable unlike Michelle Pfeiffer. So I'm surprised to say this but the version with the best chemistry between these two characters remains
Cruel Intention from 1999
. What a shame!
Do watch both films (and Cruel Intentions too, if you're interested), they are worth it. Choose according to your mood if you wish but I truly recommend both of them.
Odkedy som videla výstavu týkajúcu sa 18. storočia, chcela som si pozrieť nejaký film z toho obdobia. Šaty, vlasy, nábytok, etiketa! Videla som
Nebezpečné známosti s Cruelou de Vil
a potom som zistila, že aj Miloš Forman spravil svoju verziu o rok neskôr. Volá sa
Valmont
a v porovnaní s
Nebezpečnými známosťami
je veľmi nedocenená, lebo veľa ľudí hovorí, že predchádzajúci film je lepší. Ja si to nemyslím.
Odporúčam si pozrieť oba filmy, lebo sú oba skvelé. Majú svoje nesporné plusy, ale aj mínusy, ku ktorým sa hneď dostanem. Nebezpečné známosti sú vážne a dramatické. Nie sú tam tuším žiadne scény, ktoré by ma rozosmiali. Postavy sú staršie a hrozivejšie a je to film, ktorý si vyberiete, keď máte chuť na niečo vážnejšie.
Na druhej strane Valmont je zábavný a skutočne očarujúci. Disponuje mnohými scénymi, pri ktorých naozaj vyprsknete smiechom. Nehovorím, že je to hlúpy film, ktorý by nič nebral vážne, to nie. No určite je omnoho hravejší aj napriek istej nechutnosti, ku ktorej sa dostanem neskôr.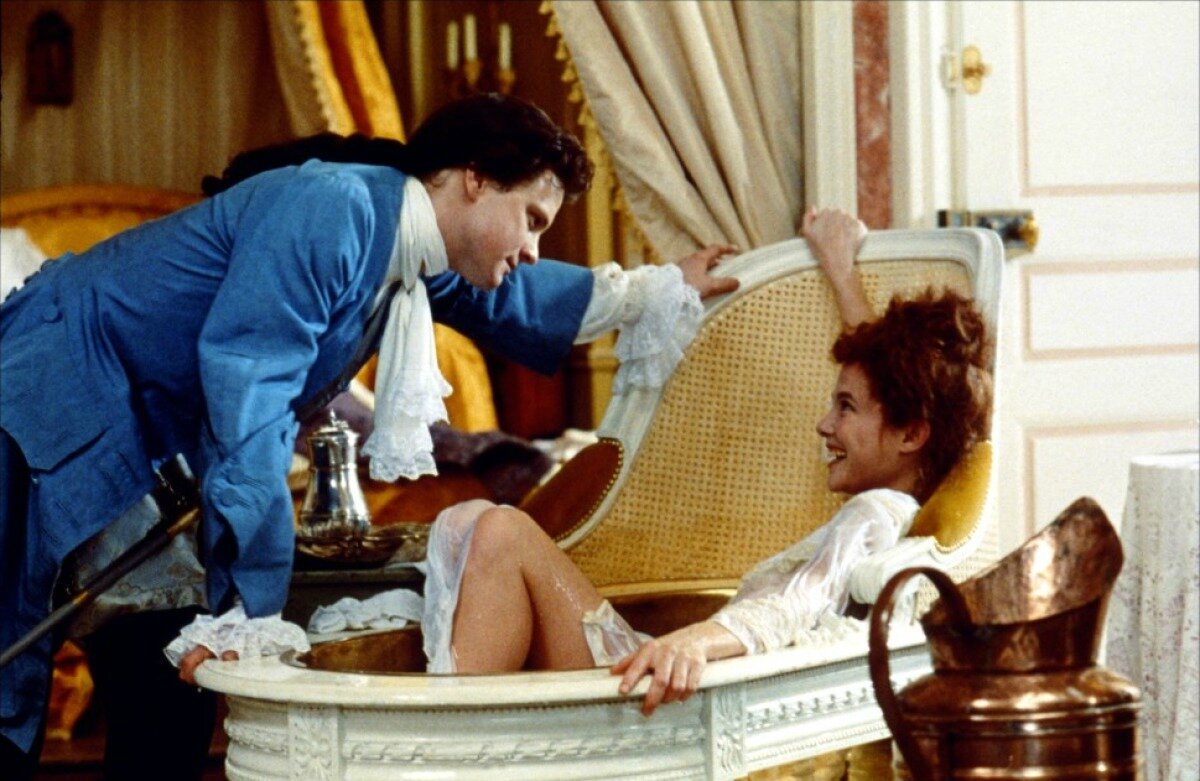 Rovnako Glenn Close (Nebezpečné známosti) ako aj Annette Benning sú perfektnou voľbou pre rolu madame Merteuil, no Annette je vyslovene vrúcna a rozkošná až sa divák do jej záporáčky zaľúbi. V každej scéne celkom dominuje! Úplne žiari!
Valmont v podaní Colina Firtha je ako sukničkár oveľa uveriteľnejší ako John Malkovič (Nebezpečné známosti), ktorý skôr vyzerá ako učebnicový psychopat a násilník a teda nepresvedčí o svojich kvalitách zvodcu, keď máte chuť na neho vytiahnuť skôr taser. Mladučký Firth (a toto hovorím ako niekto, kto pre neho skutočne nikdy nemal slabosť) je jednoducho oveľa lepší ako manipulátor, lebo nám ukáže aj svoju hravú stránku, pre ktorú by som mu hneď vupla do náruče.
Medzi obomi zloduchmi je v oboch filmoch perfektná chémia. Merteuil a Valmont sú v Nebezpečných známostiach opatrní priatelia zo srdcom z kameňa a cynickým zmýšľaním. Ak by ste ich stretli v noci v tmavej uličke, hodíte im peňaženku a utekáte preč a ak to bol zámer, dobrá práca, Stephen Frears!
Na druhej strane zlodusi Miloša Formana sa zabávajú a je to nákazlivé. Jasné, že sú to strašní ľudia, ale na ich šibalské doberanie, daberácke plány a prefíkané činy sa skvelo pozerá.
Faruza Balk ako Cecile, nevinné dievčatko z kláštora.
Naivnú 15 ročnú Cecile, ktorá prišla z kláštora, hrá Fairuza Balk. Je rovnako presvedčivá ako 18 ročná Uma Thurman (Nebezpečné známosti). Scéna, v ktorej ju Valmont zvádza bola veľmi nepríjemná okrem iného, lebo Fairuza mala naozaj 15 rokov v čase natáčania a skutočne aj na svoj vek vyzerala. Aspoň, že to nebolo také násilné ako rovnaká scéna s nemŕtvym Malkovichom.
Malý poklad, ktorý musím spomenúť je Madame de Rosemonde, veľmi stará pani s neexistujúcou pamäťou, ktorú hrala herečka vo veku 85 rokov. Jej rola dobrosrdečnej popletenej babičky slúži na pobavenie publika a tento pomerne dramatický film parádne dopĺňa. Myslím, že o Valmontovi a Merteuil čosi vie alebo aspoň tuší, ale vôbec sa nad tým nevzrušuje. Akoby si myslela "Mám 85 rokov! Kašlem vám na to! Dám si šlofíka!"
Koniec Nebezpečných známostí je pomerne tragický a určite silno zapôsobí na každého diváka, ktorý sa teší na spravodlivú odplatu. Koniec Valmonta však nie je taký istý. Niežeby bol úplne bezstarostný, ale drzé prekvapenie na konci vyvolá úsmev narozdiel od trestania a zkazy u jeho predchodcu.
Čo však musím
Valmontovi
vytknúť je nepresvedčiný vzťah medzi Valmontom a Madame de Tourvel. Meg Tilly je akási nezaujímavá v porovnaní s Michelle Pfeiffer. Som prekvapená, ale vyzerá to tak, že najlepšiu chémiu majú korešpondujúce postavy v
Nebezpečných známostiach
z 1999. Celkom škoda!
Pozrite si teda veselo oba filmy (aj tie relatívne nové
Nebezpečné známosti
, ak máte záujem), stoja za to. Vyberte si podľa nálady, ale s čistým svedomím odporúčam oba.