"When spares are spared, when time is turned, when unseen children murder their fathers: Then will the Dark Lord return."
"Keď bude zvyšok ušetrený, keď sa vráti čas, keď nevidené deti zavraždia svojich otcov: Vtedy sa Temný Pán vráti."
A new Rowling's book found its way into my hands and Christmas was the best time to read it. I hadn't known anything about the story at all and I was quite happy not to have been spoiled. I know it came out in July or so but I've been in the process of reading the original Harry Potter series in Swedish, which is not a simple task. I know you might have read
Harry Potter and the cursed child
already so I might come with no new information but if it still feels fresh feel free to comment on my review. For those who haven't read it: be aware that my review might contain SOME MINOR SPOILERS.
J. K. Rowling wrote a script for a theater play with John Tiffany and Jack Thorne. It deals with Harry Potter and the gang 19 years later. Our heroes have had children of their own so you don't have to be worried that after defeating Lord Voldemort their lives would be too uneventful. Just like Potter fans have grown and many of them have their own kids so some might feel like the book mirrors their lives.
"Love blinds. We have both tried to give our sons, not what they needed, but what we needed. We've been so busy trying to rewrite our own pasts, we've blighted their present."
Harry and Ginny have three kids and one of them is a particularly difficult child. Albus Severus Potter is not a socially skillful individual and being the son of famous Harry Potter makes life very hard for him. Things get worse when he's sorted to Slytherin. Hogwarts is not a nice place when you don't fit in. Draco Malfoy's non-assertive son Scorpius has been very unpopular because of his family's connection with dark magic and there's been rumor he's Voldemort's son. Interestingly these two become best (and only) friends and at the age of 14 decide to prove themselves as heroes by travelling in time and saving Cedric Diggory. What could go wrong?
SCORPIUS: ...if I had to choose a companion to be at the return of eternal darkness with, I'd choose you.
ALBUS: No offense, but I'd choose someone massive and really good at magic.
What I liked about the book/story:
Using the time travel was a good move because many fans, including me, liked it a lot in the third book. The ''what if '' element of changing the course of time and creating a new alternate reality is pretty cool. Moreover, it's also a tool for meeting many old friends that died in the course of 7 books.
"DUMBLEDORE: You ask me, of all people, how to protect a boy in terrible danger? We cannot protect the young from harm. Pain must and will come.
HARRY: So I'm supposed to stand and watch?
DUMBLEDORE: No. You're supposed to teach him how to meet life."
I found the psychological profiles and motivations of Albus and Scorpius quite believable and I liked their strong friendship, which arose because they both have felt like outsiders. Their relationship seemed like something more than friendship in some moments though. But maybe it's just me looking to much into it.
"Most of the time, I think you have to make a choice—at a certain point—of the man you want to be. And I will tell you at that time you need a parent or a friend. And if you've learnt to hate your parent by then and you have no friends...then you're all alone. And being alone—that's so hard."
I liked the new prophecy and the mystery it brought to the story. Professor Trelawney appeared only as a voice but I'll take what I can get.
Another tiny thing I liked is that it's not completely clear who the cursed child is. Or at least to me it seems it could be several characters so you have something to discuss.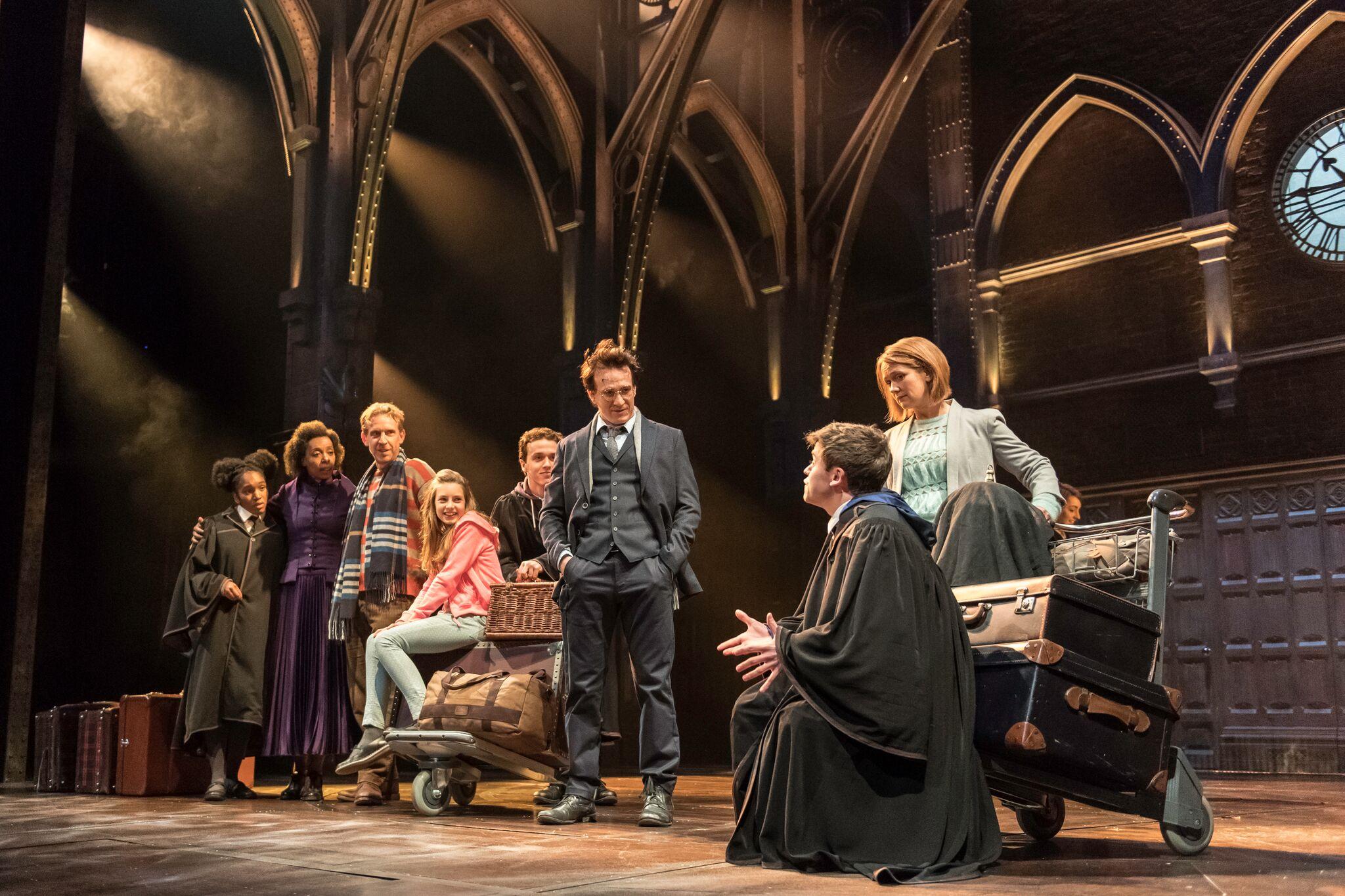 What was missing:
The script with 330 pages doesn't allow much space for descriptions of feelings, thoughts or new characters so you have to believe the authors when they tell you without much showing.
Ron Weasley didn't get much space. I know that even in the series he functioned predominantly as a comic relief or as a mirror for the dumbest reader, who needed everything explained for him from zero but he got a personality and storylines. In the 8th book he simply passes by the main cast providing us with an occasional daddy joke.
Draco Malfoy was surprisingly decent and emotional, which might be the fact he's simply grown up since his school days or the situation was tense, which made him tired and desperate but he seemed too nice to me. Draco shouldn't open to Harry like that. However, in the play the authors don't have that much time to make it natural with repeated hints and subtle confirmation on Draco's emotions and thoughts as they would when writing a book.
The Cedric saving mission and related complications were a little bit too unnatural and the unexpected development towards the end was a bit too unbelievable.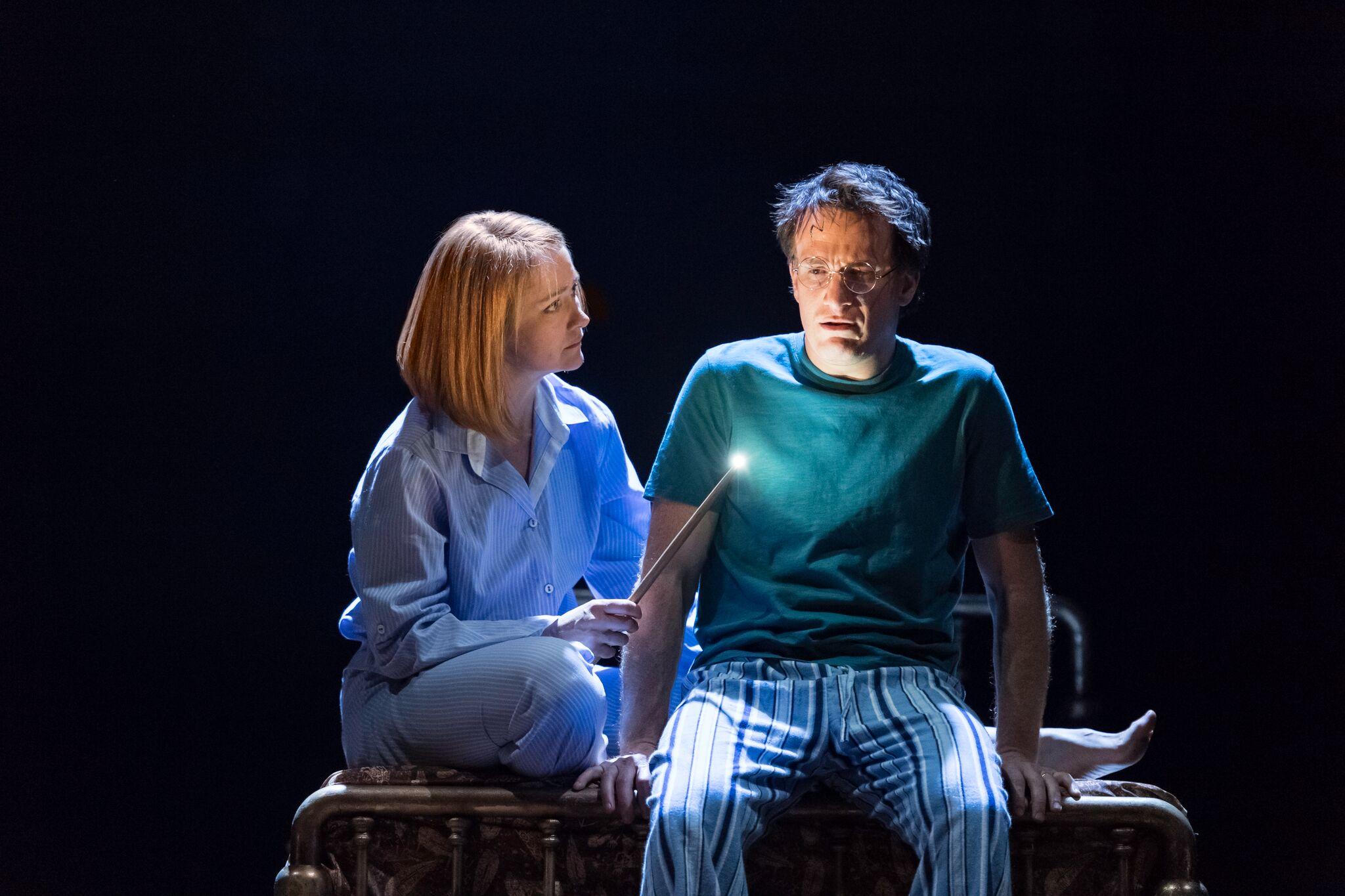 I recommend the book to everyone, who likes Harry Potter series. Even though the reviews vary and I can find both strong and weak points the story was overall quite enjoyable and addictive. Let me know if I forgot to mention something.
Nová kniha J. K. Rowling si ku mne nedávno našla cestu a ten najlepší čas na čítanie sú prirodzene Vianoce. O novom príbehu som vôbec nič nevedela a som rada, že pre mňa bolo všetko prekvapením. Viem, že kniha vyšla v júli alebo tak nejako, ale ja som stále v procese čítania pôvodnej série vo švédčine a to teda nie je nič jednoduché. Je mi jasné, že mnohí ste už
Harryho Pottera a prekliate dieťa
prečítali, takže nič nové vám nepoviem, ale keď ho máte ešte čerstvo v pamäti, neváhajte a podeľte sa o názor. Pre ostatných oznamujem, že nasledujúci článok obsahuje nejaké menšie spolery.
J. K. Rowling napísala scenár pre divadelnú hru spolu s Johnom Tiffanim a Jackom Thornom. Hra zobrazuje životy Harry a jeho kamarátov po devätnástich rokoch od ukončenia knižnej série. Naši hrdinovia už majú svoje vlastné deti, takže sa nemusíte báť, že by ich život po porazení Lorda Voldemorta je príliš všedný. Rovnako aj fanúšikovia Harryho Pottera vyrástli a mnohí z nich si založili rodinu, takže môžu mať pocit, že hra odzrkadľuje ich život.
"Láska zaslepuje. Obaja sme sa snažili dať našim synom nie to, čo potrebovali, ale čo sme potrebovali my. Boli sme takí zaneprázdnení prepísaním našej minulosti, že sme otrávili ich prítomnosť."
Harry a Ginny majú tri deti a s jedným z nich je to mimoriadne ťažké. Albus Severus Potter nie je spoločenský a byť synom slávneho Harryho Pottera je preňho náročné. Veci sa ešte zhoršia, keď je zaradený do Slizolínu. Rokfort nie je príjemné miesto, keď tam človek nezapadá. Draco Malfoy má nepriebojného syna Scorpiusa, ktorý je kvôli svojej temnej rodinnej histórii tiež veľmi nepopulárny a navyše kolujú klebety, že je vlastne syn samotného Voldemorta. Zaujímavé je, že títo dvaja chlapci sa stanú kamarátmi na život a na smrť a vo veku 14 rokov sa rozhodnú stať hrdinami a cestovať v čase, aby zachránili Cedrica Diggoryho. Dokonalý plán, však?
"Scorpius: ... ak by som si mal vybrať spoločnosť pri návrate temnej mágie, tak by som si vybral teba.
Albus: Neuraz sa, ale ja by som si vybral niekoho obrovského, kto vie naozaj dobre čarovať."
Čo sa mi v príbehu páčilo:
Cestovať v čase bol dobrý ťah, lebo veľa fanúšikom, mňa nevynímajúc, sa to v trojke veľmu páčilo. "Čo ak" prvok, kedy protagonisti menia minulosť a tým pádom vytvárajú alternatívnu realitu bol naozaj cool. Navyše je to super spôsob ako sa znovu stretnúť s mnohými starými priateľmi, ktorí zomreli v pôvodných siedmych knihách.
"Dumbledore: A ty sa pýtaš práve mňa, ako ochrániť chlapca pred hrozným nebezpečím? Nemôžeme mladých ochrániť pred zlom. Bolesť musí prísť a aj príde. Harry: A čo? Mám iba stáť a pozerať sa? Dumbledore: Nie. Máš ho naučiť chápať život."
Albusovu a Scorpiusovu psychologizáciu a motiváciu považujem za celkom uveriteľné a páčilo sa mi aj ich silné priateľstvo, ktoré vzišlo z toho, že sa obaja cítili ako outsideri. Ich vzťah sa mi miestami zdal ako niečo viac ako priateľstvo, ale to možno iba ja tam hľadám niečo, čo tam nie je.
"Väčšinou je to o tom, že v istom bode sa mušíš rozhodnúť, akým budeš človekom. A poviem ti, že vtedy potrebuješ rodiča alebo priateľa. A ak si sa naučil nenávidieť svojho otca a nemáš žiadnych priateľov... potom si sám. A byť sám - to je ťažké."
Páčilo sa mi aj nové proroctvo a novú zádadou, ktorú so sebou prinieslo. Professorka Trelawneyová sa síce objavila iba ako hlas, ale aj to mi stačí.
Ďalšia drobnosť, ktorú oceňujem je, že nie je úplne jasné, kto je to prekliate dieťa. Alebo aspoň mne sa zdá, že tak môžeme označiť viaceré postavy, takže tu je o čom diskutovať.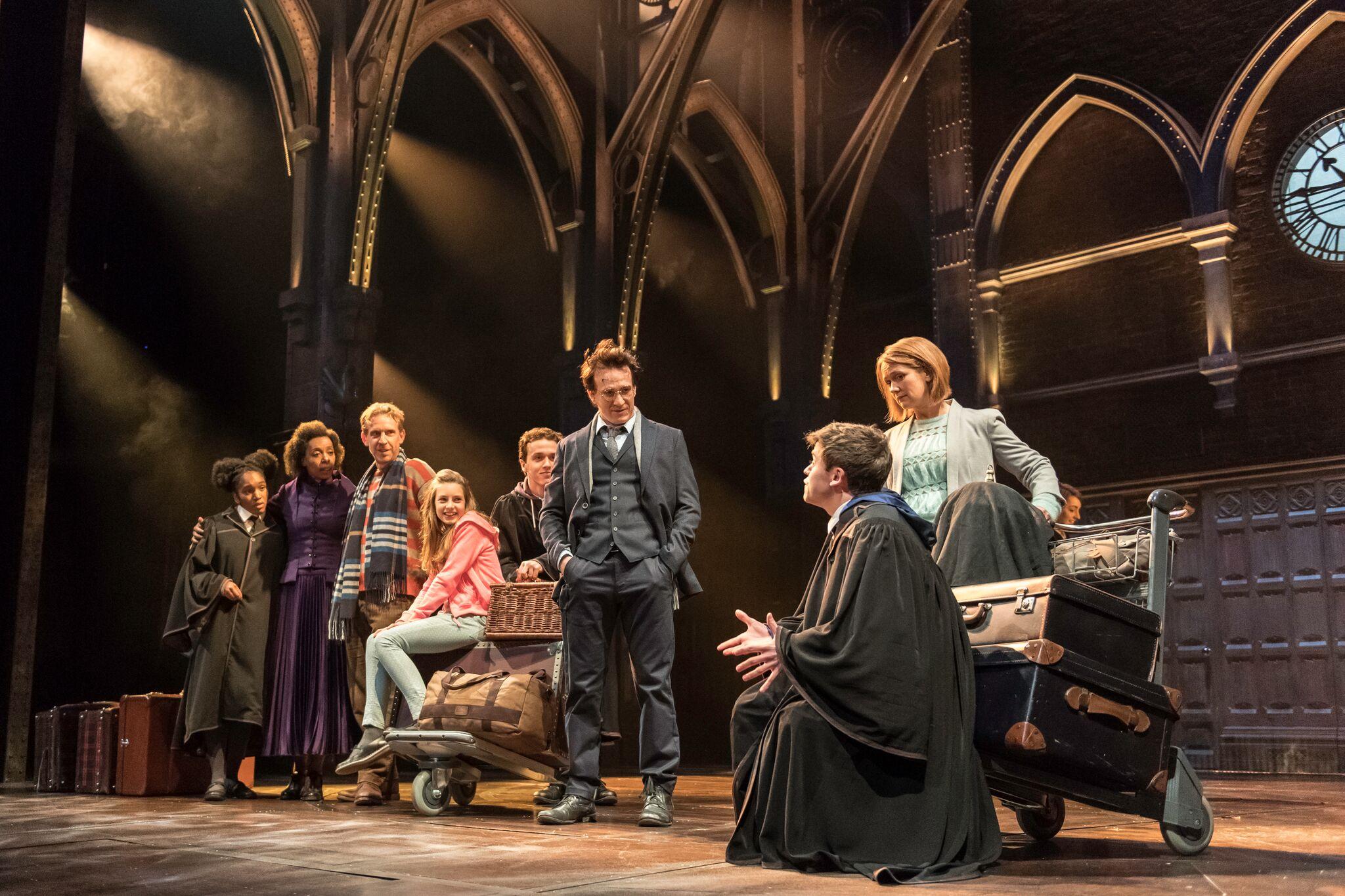 Čo mi chýbalo:
Scenár s 330 stranami neposkytuje veľa priestoru na opisy pocitov, myšlienok alebo nových postáv, takže musíte autorom veriť, keď vám niečo hovoria miesto toho, aby vám to ukázali.
Ron Weasley tiež nedostal veľa priestoru. Áno, aj v pôvodnej sérii fungoval hlavne ako taká veselá kopa alebo odzrkadľoval najhlúpejšieho čitateľa, ktorý potrebuje, aby sa mu všetko vysvetlilo úplne od piky, ale aspoň mal osobnosť a sem-tam aj nejaký vlastný príbeh. Teraz sa iba občas mihne spoločne s hlavnými postavami a povie nejaký tatkovský vtípek.
Draco Malfoy je prekvapivo slušný a emotívny, čo môže byť spôsobené tým, že od svojich školských čias jednoducho vyrástol alebo celá situácia v osmičke je taká napätá, že je z toho už unavený a zúfalý, ale zdal sa mi príliš príjemný. Draco si nemá čo pred Harrym otvárať srdce. Ale pochopiteľne autori pri písaní divadelných hier nemajú toľko času, aby to všetko spravili prirodzene s opakovanými náznakmi a jemným potvrdením Dracových pocitov a myšlienok ako by mali, keby písali knihu.
Misia na záchranu Cedrica a s tým spojené komplikácie sa mi zdala trošku umelá a nečakané odhalenie ku koncu bol až príliš neuveriteľné.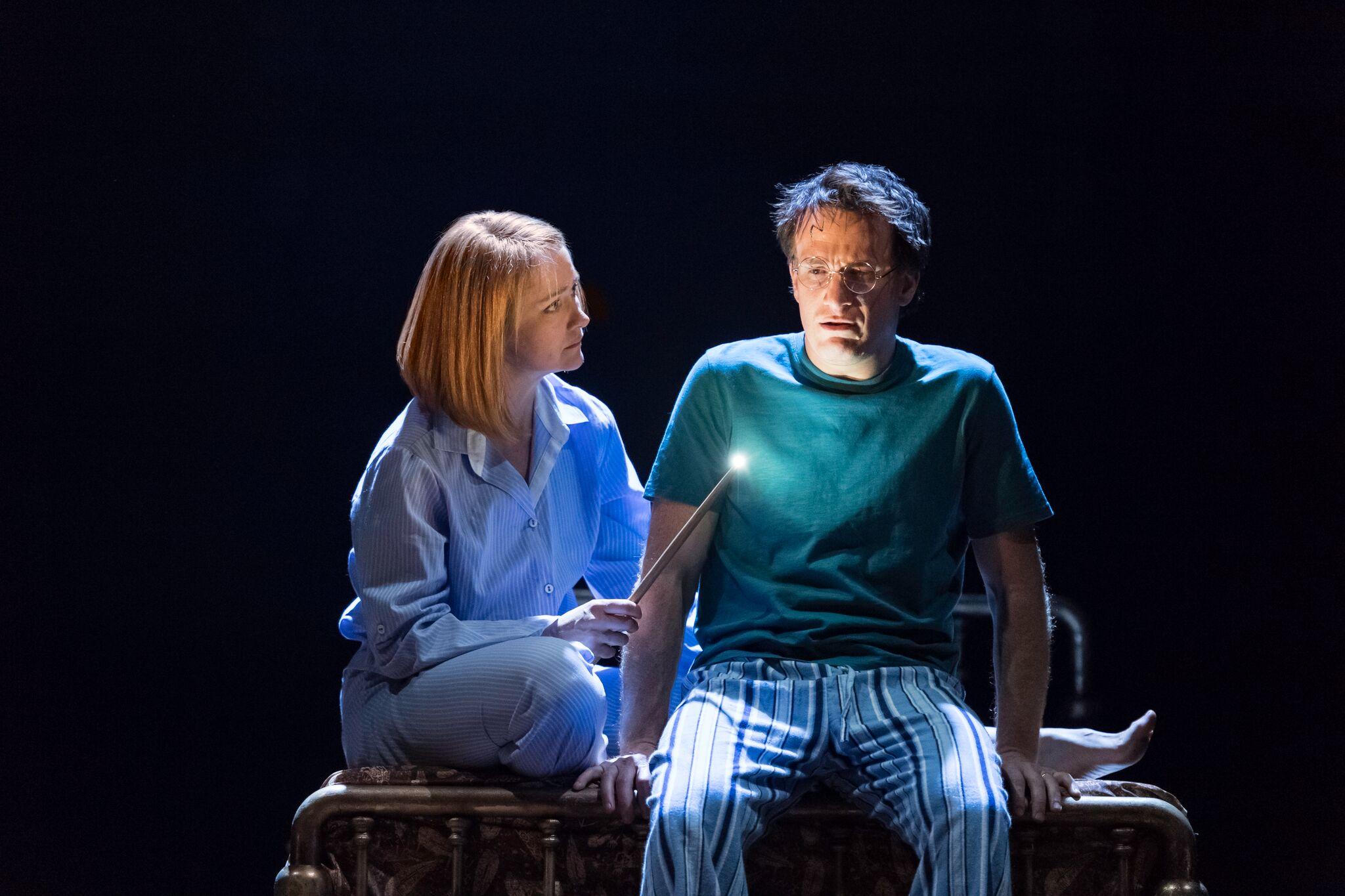 Knihu odporúčam každému, kto má rád Potterovskú sériu. Ak keď recenzie sa dosť líšia a aj ja tu píšem rovnako obšírne o dobrých aj zlých stránkach, príbeh je celkovo veľmi príjemný a kniha sa nedá odložiť pred dočítaním. Dajme mi vedieť, keď som niečo zabudla spomenúť.