HARRY: You know what I don't understand?
RON: The fact that my family is dirt poor and yet somehow manages to send all seven kids to a luxurious private school?
HARRY: No.
RON: Are you wondering why the school's only physical fitness activity is broom flying, which burns as many calories as riding the bus, and yet there's only one fat kid on campus?
HARRY: Nope.
RON: Are you wondering why such a whimsical and fun school fails to offer any class which promotes the creative arts, such as writing, painting, music, etc.?
HARRY: Well...no. But I am now.
RON: Are you concerned by the fact that the magical population is very small, and as such, the job market for a wizard graduate is almost non-existent, thanks in part to the House Elves? How many candy shops, Ministry employees, and Hogwarts professors does our society need? Economical speaking, things do not bode well for our kind, particularly since we lack any useful Muggle abilities such as computer skills or understanding what an escalator does.
HARRY: Hmm. You make a good point. But that's not what I was wondering.
RON: Are you wondering why students don't fail, drop out, get pregnant, smoke, have acne, or try drugs? ....
HARRY: What's acne? Is that a spell!? It sounds delicious.
HARRY: Vieš, čomu nerozumiem?
RON: Tomu, že sme chudobní ako kostolná myš a aj tak sú schopní poslať svoje deti na prestížnu súkromnú školu?
HARRY: Nie.
RON: Čuduješ sa, že jediná fyzická aktivita je lietanie na metle, pri ktorom človek spáli toľko kalórií ako pri cestovaní autobusom a aj tak na škole nie je jediné tlsté dieťa?
HARRY: Nie.
RON: Rozmýšľaš, prečo taká bláznivá škola vôbec neponúka žiadne kreatívne predmety ako napríklad písanie, výtvarnú či hudobnú výchovu?
HARRY: No... nie, ale teraz už hej.
RON: Trápi ťa to, že čarodejnícka komunita je malá a náš pracovný trh vďaka domácim elfom skoro neexistuje? Koľko obchodov so sladkosťami, zamestnancov ministerstva a učiteľov na Rokforte naša spoločnosť potrebuje? Z ekonomického hľadiska to pre nás vyzerá zle, lebo neovládame žiadne muklovské schopnosti, ako napríklad prácu s počítačom alebo čo robí eskalátor.
HARRY: To máš pravdu. Ale na to som nemyslel.
RON: Myslel si na to, že prečo žiadni žiaci neprepadávajú, neotehotnejú, neodchádzajú zo školy predčasne, nefajčia, nemajú akné alebo neskúšajú drogy? ....
HARRY: Čo je to akné? Je to nejaké kúzlo? Znie to lákavo.
I was a child. I used to climb the trees. My friends and me had a
Junior Woodchucks
club together.
Pippi Longstocking
was my idol. And then I encountered a new saga titled
Harry Potter
and it was exactly my cup of adventurous tea. I was too old to be so naive and expect the owl from Hogwarts but I dreamed of it anyway. Imagine, a school, where people study magic instead of boring math. A school where even getting to the classroom is an adventure because the castle is a stylish magical medieval place that changes several times a day. A school divided into four houses that compete against each other with fierce rivalry. A school where even bad teachers are an exciting challenge. Fantastic place. Perfect place. My favourite place in the world. And it still is. Even after growing up and rereading the saga several times it still holds a special place in my heart. But I have questions now. And I'm not the only one. For example Dan Bergstein,
about whom I wrote before
, has them as well.
Do the Hogwarts teachers have families? Do they really stay at the school 10 months straight?
Are magical creatures animals? Do they procreate? Do wizards defeat them by killing them? Aren't they already endangered? How many magical species have the wizards wiped out? Don't they care about biodiversity? Is Newt Scamander a pioneer?
Why does everybody think that Dumbledore is super competent? In the first book there's a troll roaming free in the school full of kids. In the second one a giant murdering Slytherin's monster keeps attacking children for several months. In the third one a criminal wanted for murder is able to break into the school and reach a students' bedroom. And that's some examples off top of my head.
Dumbledore as a recruiter? He has a very bad judgement about people. As a school principal he hired a bully, a werewolf, Voldemort, an incompetent fraud, a drunken baby, Voldemort's posse and I'm sure I've forgot someone. He's only missing a pedophile to earn the dumb-bell achievement.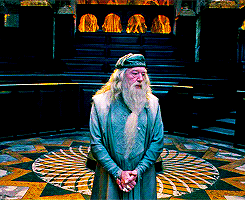 How useless Hagrid is? Hagrid is constantly on the verge of nervous breakdown. Harry, Ron and Hermione have seen him crying and/or completely hammered numerous times. I know that the author wants us to see that they are his friends and equals but imagine having a teacher like this. In the first book he gets a dragon and the 11 year old pupils must explain to him that a dragon is not a fitting pet for someone who lives in a wooden house. They have to arrange new home for the dragon themselves while Hagrid does nothing. They get caught because they are outside their bedrooms at night solving Hagrid's problems and do you think Hagrid comes out and admits his role in it all? Nah! Even though it's completely clear that he should never have been accused in the slytherin's monster affair those 50 years ago, breaking his wand and forbidding him to do magic was one of the few surprisingly sensible acts of the Ministry of magic.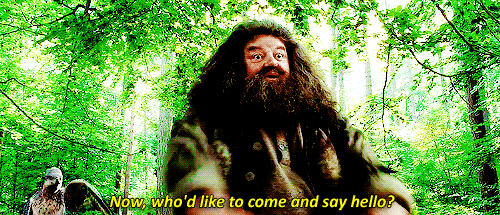 Why did Dumbledore make Hagrid a teacher? Sure, young Malfoy did a lot of exaggeration after the Buckbeak's attack but he had the point: Hagrid can't judge degree of danger correctly.
Are Malfoys actually right? Dumbledore is clearly incompetent. Hagrid is hilariously unfit to be a teacher. I'm only rereading the third book but I think there's a pattern.
Is Snape right? I agree that he shouldn't have been a dick to 11 year old Harry, however, from his point it surely looks like Harry is a thoughtless brat. Every year he breaks the rules and ends up in dangerous situations that sometimes don't even concern him. Instead of warning the adults and wait for them to take an action he acts himself. Snape is completely right about scolding him in the third book for leaving Hogwarts for Hogsmead or leaving the castle to follow Black at the end of the book. From his point of view it really looks like Sirius bewitched the students to believe some silly explanation about rats. It's actually true that Harry and friends insert themselves into situations absolutely unnecessarily. Everytime when something shady happens he immediately suspects Harry and friends and he's right. Rowling makes him sound like a hateful person, who he is, but he's right!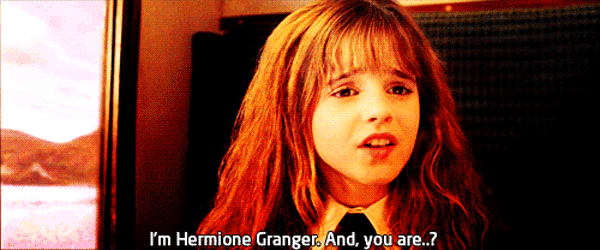 Hermione is the smartest. I know it's not a question but I had to include it here. Everything she says is the best solution to all the problems that arise but those two little dunces never listen to her.
In The Prisoner of Azkaban in the Buckbeak's case we see that the magical judicial system is waaaay faster than ours. Cool! More power to you wizards!
In the third book Harry and his friends are thirteen and Dumbledore inexplicably sends them on a dangerous mission to the past to save Sirius and Buckbeak. There's no reason for him not to do it himself.
Why do they give time-turners to 13 year olds? Hermione explains Harry that they must avoid seeing themselves when travelling in time because it's crazy dangerous. I guess the answer is that Hermione is smart and also special but this is Hogwarts we're talking about.
Why is anyone allowed to go to Hogsmeade in The Prisoner of Azkaban? I know that everyone thinks that Sirius Black is after Harry but letting the children go there still seems to be a risk.
Also why did Sirius Black run away from the prison after 13 years? I know that he saw Pettigrew's pic in the newspapers, which reminded him he had to kill him but still. Prisons are bad places. People try to run away all the time.
How come post-owl will always find the recipient but the whole ministry of magic has a problem to find Sirius Black? They have aurors and they're basically special agents of the magical world. How come they're so powerless? They should send him an owl with a hand-grenade. Where were they when there was a huge snake running around the school? Maybe Harry is right to throw himself in the harm's way to advert catastrophes because who else will deal with that shit if not him?
Also why is Hogwarts still open after all that crazy shit?
But I love Harry Potter series dearly and it will always have a place in my heart but I guess I'm grown up now so I'm going to keep asking questions. If you're impatient regarding my comments about the Harry Potter series feel free to visit
Dan Bergstein's posts on Sparknotes
.
Bola som dieťa. Lozila som po stromoch. S kamoškami sme si založili
klub Mladých Svišťov
. Mojou hrdinkou bola
Pipi Dlhá Pančucha
. A potom prišli dobrodružné knihy o
Harry Potterovi
a bol to zásah do čierneho. Už som bola dosť veľká, aby som čakala na sovu z Rokfortu, ale aj tak som o nej snívala. Predstavte si školu, kde ľudia študujú mágiu namiesto nudnej matematiky. Školu, kde by bolo dobrodružstvo sa už len fyzicky dostať do triedy, pretože ten štýlový stredoveký zámok je čarovný a každý chvíľu sa mení. Predstavte si školu rozdelenú na štyri fakulty, ktoré proti sebe súperia. Školu, kde sú aj zlí učitelia vzrušujúcou výzvou. Fantastickú miesto. Dokonalé miesto. Najobľúbenejšie miesto na svete. Aj teraz je to tak. Aj po tom, čo som vyrástla a niekoľkokrát prečítala celú ságu, mam pre ňu slabosť. Ale mám aj otázky. A nie som jediná. Napríklad Dan Bergstein,
o ktorom som už písala
, ich má tiež.
Majú učitelia z Rokfortu rodiny? Naozaj sú v škole 10 mesiacov v kuse?
Sú magické tvory zvieratá? Množia sa? Keď ich čarodejníci porazia, znamená to, že ich zabijú? Nie sú ohrozené? Koľko čarodejných druhov už čarodejníci vyhubili? Čo sa nezaujímajú o biodiverzitu? Je Newt Scamander priekopník?
Prečo si všetci myslia, že Dumbledore je mega kompetentný? V prvej knihe behá po škole plnej detí trol. V druhej na žiakov počas niekoľkých mesiacov opakovane útočí slyzolínova príšera. V tretej knihe sa človek odsúdený za vraždu vláme do školy a podarí sa mu dostať až do izieb žiakov. A to som spomenula len pár príkladov.
Dumbledore ako recruiter? Jeho úsudok, čo sa ľudí týka, je asi najhorší na svete. Ako riaditeľovi školy sa mu podarilo najať učiteľa, čo šikanuje žiakov, vlkodlaka, Voldemortovho kumpána, nekompetentného podvodníka, uplakaného alkoholika, Voldemorta a to som si ešte istá, že som na niekoho zabudla. Do zbierky mu chýba už len pedofil a mal by "achievement" istý.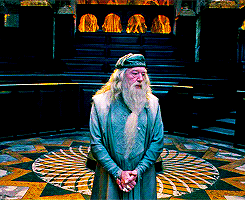 Je vôbec možné, aby bol niekto taký nekompetentný ako Hagrid? Tento zamestnanec školy a hlavne dospelý človek neustále prežíva nejaké nervové zrútenie. Harry, Ron a Hermiona ho videli uplakaného a na kašu spitého asi tak tristo krát. Viem, že autorka sa nám snaží povedať, že sú všetci kamaráti a sú si rovní, no ale predstavte si, že by ste mali takého učiteľa. V prvej knihe si zaobstará draka a 11 ročné deti mu musia vysvetľovať, že drak nie je vhodné domáce zvieratko pre človeka, čo býva v drevenom dome. To oni musia nájsť drakovi nový domov, zatiaľ čo Hagrid nerobí nič. To oni sú prichytení a potrestaní, keď v noci behajú po hrade, pretože riešia Hagridove problémy. A myslíte, že Hagrid sa postaví a prizná, že to bola vlastne jeho chyba? Dežé! Aj keď je jasné, že obviniť ho z vypustenia slizolínskej príšery bolo nefér, zlomiť prútik na dve polovice a zakázať mu do konca života čarovať bolo jedno z nemnohých a prekvapivo rozumných riešení Ministerstva mágie.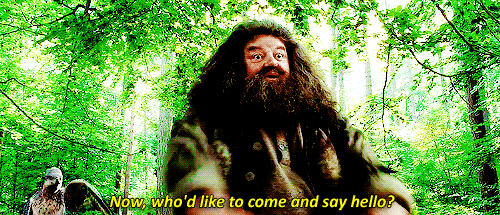 No tak kto by ho chcel prísť pozdraviť osobne?
Prečo urobil Dumbledore z Hagrida učiteľa? Jasné, mladý Malfoy po útoku hipogryfa dosť preháňal, ale v podstate mal pravdu: Hagrid nedokáže posúdiť mieru nebezpečia.
Majú Malfoyovci vlastne pravdu? Dumbledore je evidentne nekompetentný. Hadrig je až komický nevhodný na pozíciu učiteľa. Teraz čítam tretiu knižku, ale myslím, že moje pocity sa časom len umocnia.
Má Snape pravdu? Súhlasím s tým, že nemá čo šikanovať 11 ročného Harryho, ale z jeho pohľadu Harry skutočne pôsobí ako nerozvážny malý parchant. Každý školský rok poruší miliardu pravidiel a dostal sa do nebezpečia, lebo sa zaplietol do situácií, v ktorých nemal čo hľadať. Namiesto toho, aby informoval dospelých a čakal na to, kým to vyriešia, koná vlastnú päsť. Snape má úplnú pravdu napríklad, keď mu v tretej knihe vyčíta, že odišiel z Rokfortu, aby navštívil Rokville alebo keď odišiel z hradu, aby išiel za Siriusom Blackom. Z jeho pohľadu to naozaj vyzerá, že Sirius začaroval žiakov, aby uverili absurdnej story o potkanovi. Je úplná pravda, že Harry a jeho kamaráti sa stále zamotávajú do situácií, keď vôbec nemusia. Vždy keď sa udeje niečo podozrivé, Snape z toho viní Harryho a vždy má pravdu. Rowling z neho robí nenávistnú osobou, ktorou vlastne aj je, ale on má predsa pravdu!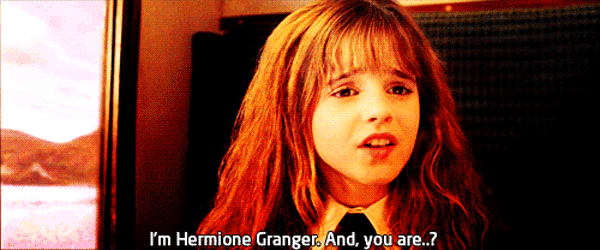 Ja som Hermione Granger a kto si ty?
Tvoj budúci manžel.
Hermiona je najlepšia. Viem, že to nie je otázka, ale musela som to sem dať. Všetko, čo hovorí, je skoro vždy to najlepšie riešenie problémov, ale tí dvaja malí blbci ju nikdy nepočúvajú.
Vo Väzňovi z Azkabanu pri prípade s hipogryfom si môžeme povšimnúť, že čarodejný súdny systém je určite rýchlejší ako ten náš. Super! Držím vám palce, čarodeji!
V tretej knihe má Harry a jeho kamaráti trinásť rokov a Dumbledore ich úplne nevysvetliteľne vyšle na nebezpečnú misiu do minulosti, aby zachránili hipogryfa a Siriusa. Neprišla som na žiaden dôvod, prečo by to nemohol spraviť sám Dumbledore.
Prečo dali časovrat trinásťročnej dievčine? Hermiona vysvetľuje Harrymu, že keď cestujú časom, musia sa za každú cenu vyhnúť tomu, aby ich niekto videl, lebo je to veľmi nebezpečné. Ja viem, že Hermiona je veľmi bystrá a skutočne mimoriadna mladá dáma, ale toto je Rokfort.
Prečo vôbec niekomu dovolia ísť do Rokvillu vo Väzňovi z Azkabanu? Viem, že si všetci myslia, že Sirius black ide po krku Harrymu, ale nechať deti, aby chodili samé mimo hradu je stále risk.
A prečo Sirius Black utiekol z basy až po 13 rokoch? Viem, že videl v novinách obrázok Pettigrewa, čo mu pripomenulo, že ho chce zabiť, ale aj tak. Väzenia nie sú pekné miesta. Ľudia odtiaľ utekajú v jednom kuse.
Ako to, že poštová sova nájde svojho adresáta vždy, ale Ministerstvo mágie má problém nájsť Siriusa Blacka? Majú predsa aurorov a tí sú v podstate špeciálni agenti čarodejného sveta. Ako to, že sú takí bezmocní? Mali by mu poslať sovu s ručným granátom. Kde boli, keď po škole behal obrovský had? Asi už začínam rozumieť, prečo má Harry pocit, že sa musí vrhúť vústrety každému nebezpečenstvu, aby odvrátil všetky tie katastrofy.
Prečo po tom všetko Rokfort ešte stále nezavreli?
Harryho Pottera však ľúbim a vždy bude mať svoje miesto v mojom srdci, ale už som asi vyrástla, takže mám otázky. Ak ste netrpezliví a chcete si prečítať viac dospeláckych komentárov o Harrym Potterovi, odporúčam navštíviť články
Dana Bergsteina na Sparknotes
.