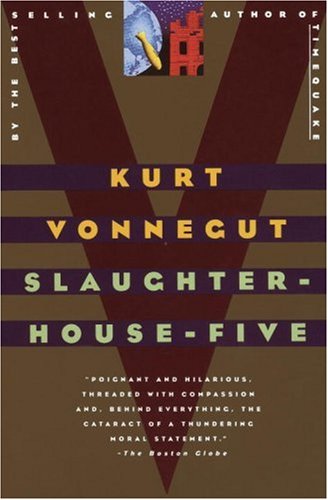 I've finished my war book now. The next one I write is going to be fun.
This one is a failure, and had to be, since it was written by a pillar of salt. It begins like this:
"Listen:
Billy Pilgrim has come unstuck in time."
It ends like this:
"Poo-tee-weet?"
Už som dopísal tú moju vojnovú knihu. Ďalšia, ktorú napíšem bude zábavná.
Táto je úplný prepadák, ako inak, veď ju napísal solný stĺp. Začína takto:
"Počúvajte:
Billy Pilgrim sa vyslobobodil z času."
A končí takto:
"Čvirik?"
A few years ago I read
Breakfast of Champions
. I somehow found it in the library, the title was intriguing and when I opened it I saw drawings of pubic hair and other silly things so I took it home expecting silly fun. Nope. When I saw
Slaughterhouse 5
in a secondhand store for peanuts a few months ago I had to have it. I already knew what to expect from
Kurt Vonnegut
. You see, his books are fun. Not a silly fun though. It's a grim fun and laughter through tears in a cloak of silliness. Evidently a postmodern author.
Let's talk about
Slaughterhouse 5
now. Where to begin. (After several minutes starring into nothing) At the beginning I guess. The book starts with one of the most kick-ass line I've ever seen.
"All this happened, more or less."
I like it because it says two important things. Vonnegut fought in the WW2 and the book is autobiographical to a great extent. This statement is, however, followed by a twist in the the second part of the sentence: "more or less". The unreliability of the narrator makes sense and it's phenomenal. It gives us the freedom to ponder, contemplate and analyze about what is actually going on.
In the first chapter the author comes with the typical post-modern move called Breaking the forth wall. The chapter reminds a foreword, in which writers explain their writing process and the ideas. Another sign of post-modern work is the anti-climax. In the first chapter we already know that Edgar Derby is going to die at the end.
"I think the climax of the book will be the execution of poor old Edgar Derby," I said. "The irony is so great. A whole city gets burned down, and thousands of people are killed. And then this one American foot soldier is arrested in the ruins for taking a teapot. And he's given a regular trial, and then he's shot by a firing squad."
The same thing goes for the citation at the very beginning of my post. I don't know about you but these things really get my interest. That's why I can't stop reading
TV tropes
.
Kurt Vonnegut is not a relax reading. You don't read it along with Sophie Kinsella on the beach when catching some vitamin D laced with cancer. Maybe if the beach was in Normandy. It's a war book. The main protagonist fought in the war, became a hostage, survived the bombing of Dresden and returned home to US to watch war documents on rewind.
"American planes, full of holes and wounded men and corpses, took off backwards from an airfield in England. Over France, a few German fighter planes flew at them backwards, sucked bullets and shell fragments from some of the planes and crewmen...The bombers opened their bomb bay doors, exerted a miraculous magnetism which shrunk the fires, gathered them into cylindrical steel containers, and lifted the containers into the bellies of the planes. The Germans below had miraculous devices of their own, which were long steel tubes. They used them to suck more fragments from the crewmen and planes...German fighters came up again, made everything and everybody as good as new.When the bombers got back to their base... to the United States of America, where factories were operating night and day, dismantling the cylinders, separating the dangerous contents into minerals. Touchingly, it was mainly women who did this work. The minerals were then shipped to specialists in remote areas. It was their business to put them into the ground, to hide them cleverly, so they would never hurt anybody ever again.The American fliers turned in their uniforms, became high school kids."
The war scenes are disturbing but what really drives home the whole point of the destructing power of war is Billy's life in the aftermath of the war. As you can imagine the protagonist suffers from PTSD. He works as an eye doctor but after another head injury he loses the interest very quickly. Moreover, he starts claiming he travels in time and was/have been/will be kidnapped by aliens to mate with a pornstar.
"Billy had a framed prayer on his office wall which expressed his method for keeping going, even though he was unenthusiastic about living. A lot of patients who saw the prayer on Billy's wall told him that it helped them to keep going, too. It went like this: "God grant me the serenity to accept the things I cannot change, courage to change the things I can, and wisdom always to tell the difference." Among the things Billy Pilgrim could not change were the past, the present, and the future."
He's very believable in his descriptions of someone who has been through traumatic events and has mixed feelings when both looking for the meaning of it all and dejectedly believing they're helpless and that there's no point in existence at all.
Vonnegut witnessed and survived the bombing of Dresden by Americans. Just like anybody confronted with traumatic circumstances he touches the subject of religion and faith. By now you've probably realized that in his skeptical attitude to life, the devotion to god has no place at all. Vonnegut's outlook on faith and Bible's message is very cynical.
''Before you kill somebody, make absolutely sure he isn't well connected. So it goes...The visitor from outer space made a gift to Earth of a new Gospel. In it, Jesus really was a nobody, and a pain in the neck to a lot of people with better connections than he had...So the people amused themselves one day by nailing him to a cross and planting the cross in the ground. There couldn't possibly be any repercussions, the lynchers thought. The reader would have to think that too, since the Gospel hammered home again and again what a nobody Jesus was. And then, just before the nobody died, the heavens opened up, and there was thunder and lightning. The voice of God came crashing down. He told the people that he was adopting the bum as his son, giving him the full powers and privileges of the Son of the Creator of the Universe throughout all eternity. God said this:From this moment on, He will punish horribly anybody who torments a bum who has no connections!''
One of the things Vonnegut really nailed is this short analysis of American philosophy of life. I'm not an American so I don't know if he's right about it but I think he is.
''Americans, like human beings everywhere, believe many things that are obviously untrue. Their most destructive untruth is that it is very easy for any American to make money. They will not acknowledge how in fact hard money is to come by, and, therefore, those who have no money blame and blame and blame themselves. This inward blame has been a treasure for the rich and powerful, who have had to do less for their poor, publicly and privately, than any other ruling class since, say Napoleonic times... The most startling of these, a thing without precedent, is a mass of undignified poor. They do not love one another because they do not love themselves.''
The book is full of jokes but they are more tragic than fun. The following one is one of them. Vonnegut was struggling in his career as a writer before finishing Slaughterhouse 5 (he was 47 when he published it). As a joke on himself he creates a fiction character of an unsuccessful writer named Kilgore Trout, who has only one fan in the world.
"Trout, incidentally, had written a book about a money tree. It had twenty-dollar bills for leaves. Its flowers were government bonds. Its fruit was diamonds. It attracted human beings who killed each other around the roots and made very good fertilizer."
Come on! It sounds terrific!
To sum it up, Slaughterhouse 5 is not an easy reading but, boy, is it good! I'm not somebody who likes to wallow in misery but this is a classic for a reason and I'm giving it 5 out of 5. Or I would if I gave scores to books.
Pred pár rokmi som čítala
Raňajky šampiónov
. Nejako som to vyhrabala v knižnici, názov bol zaujímavý a keď som knihu otvorila, zbadala som kresbičky genitálneho ochlpenia a všelijakých iných bláznivých vecí, takže som si knihu požičala, čakajúc jednoduchú zábavu. Nie. Keď som v sekáči za pár šupov videla
Bitúnok číslo 5
, musela som si ho kúpiť. Už som vedela, čo mám od
Kurta Vonneguta
očakávať. Aby bolo jasné, jeho knihy sú sranda. Ale nie jednoduchá sranda. Je to čierny humor a smiech cez slzy prezlečený za primitívnu zábavu. Evidentná postmoderna.
Poďme teda k
Bitúnku číslo 5
. Kde začať. (Po pár minútach civenia do prázdna) Tak asi na začiatku. Kniha začína asi tou najkúlovejšou vetou, akú som kedy videla.
"Toto všetko sa naozaj stalo, viac-menej."
Tá veta je super, pretože nás hneď informuje o dvoch veciach. Vonnegut bojoval v Druhej Svetovej Vojne a príbeh je autobiografický. Vyhlásenie je však hneď popreté zvratom v druhej časti vety slovami: "viac-menej". Nespoľahlivosť hlavnej postavy dáva úplný zmysel a je to fenomenálne. Dáva nám príležitosť a slobodu premýšľať, maturovať a analyzovať to, čo sa deje.
V prvej kapitole na nás autor vytasí typický postmoderný trik, ktorý sa nazýva Prelomenie štvrtej steny. Táto kapitola pripomína predslov, v ktorom spisovatelia zvyknú vysvetľovať proces písania knihy a práce s ideami. Ďalším znakom post-moderných diel je anti-climax. Hneď v prvej kapitole sa dozvieme, že na konci zomrie Edgar Derby.
"Myslím, že vyvrcholenie knihy bude poprava chudáka Edgara Derbyho," povedal som. "Tá irónia je skvelá. Celé mesto zhorí a tisíce ľudí zomrú. A potom tohto radového amerického vojaka zatknú uprostred ruin za to, že si zobral kanvicu na čaj. A dostane sa mu riadneho procesu a potom ho zastrelí popravovacia čata."
Podobým príkladom je aj citácie v úvode celej recenzie. Neviem ako u vás, ale takto vo mne autor okamžite vyvolá záujem. Preto sa neviem nabažiť stránky
TV tropes
.
Kurt Vonnegut nie je relaxačné čítanie. Nečítajte si ho spolu so Sophie Kinsellou niekde na pláži pri chytaní vitamínu D okoreneného rakovinou. Teda možno, ak by to bola pláž v Normandii. Veď je to vojnová kniha. Hlavný protagonista bojoval vo vojne, bol zajatý, prežil bombardovanie Dresdenu a vrátil sa domov do USA, aby sledoval vojnové dokumenty v televízii odzadu.
"Americké lietadlá plné dier, zranených ľudí a mŕtvol vzlietli z anglického letiska smerom dozadu. Nad Francúzskom k nim prileteli nemecké bojové lietadlá, aby vysali náboje z niektorých lietadiel a členov posádky... Bombardéry otvorili dvierka na bruchu a zapli svoj magický magnet, ktorý vysal a zmenšil požiare na zemi a pozbieral ho do veľkých nádob a vložil si ich dovnútra. Nemci zasa mali čarodejné prístroje, vyzerajúce ako dlhé trúbky, ktorými vysávali malé kovové kúsky z vojakov a lietadiel... Nemecká armáda prišla, aby spravila všetko ako nové. Potom sa bombardéry vrátili naspäť na svoju základňu do USA, kde továrne, pracujúce dňom i nocou, rozobrali nádoby s ohňom a roztriedili ich nebezpečný obsah na minerály. Dojemné bolo, že to boli hlavne ženy, kto túto prácu vykonával. Minerály sa potom poslali špecialistom vo vzdialených oblastiach. Ich úlohou bolo uložiť ich do zeme, šikovne a starostlivo, aby už nikdy nikomu neublížili. Americkí piloti vrátili uniformy a vrátili sa do školy."
Tak to chodí.
Vojnové scény sú samozrejme znepokojujúce, ale čo celú pointu ničivej sily vojny zaklincuje, je Billyho ďalší život s následkami vojny. Asi vám je jasné, že trpí postraumatickou stresovou poruchou. Pracuje ako očný lekár, ale po zranení hlavy o prácu stratí záujem. Navyše začne tvrdiť, že vie cestovať v čase a bol/je/bude unesený marťanmi, aby sa spáril s pozemskou pornoherečkou v marťanskej ZOO.
"Billy mal na stene ordinácie modlitbu, ktorá vyjadrovala jeho životný postoj, aj keď mu už veľa životného entuziazmu nezostávalo. Mnoho pacientov mu povedalo, že im pomohla tiež. Modlitba znela takto: "Bože, daj mi pokoj duše, aby som dokázal prijať veci, ktoré nedokážem zmeniť, odvahu zmeniť veci, ktoré zmeniť môžem a múdrosť rozlíšiť, ktoré je ktoré." Medzi veci, ktoré Billy nedokázať zmeniť, patrili minulosť, prítomnosť a budúcnosť."
Vonnegutove opisy psychológie straumatizového človeka plného konfliktných pocitov sú viac než uveriteľné. Či už sa snaží nájsť zmysel vo svete naokolo alebo zdeprimovane konštatuje, že je bezmocný a život nemá zmysel.
Autor bol svedkom a prežil americké bombardovanie Dresdenu. Tak ako každý, kto je konfrontovaný s nejakou traumo,u sa dotýka aj témy náboženstva a viery. Asi tušíte, že v jeho skeptickom prístupe k životu oddanosť k bohu nemá miesta. Vonnegutov pohľad na vieru a Biblické posolstvo je veľmi cynický.
"Predtým, ako niekoho zabijete sa musíte úplne uistiť, že nemá dobré známosti. Tak to chodí... Navštevník z vesmíru dal pozemšťanom dar Nového Zákona. V ňom Ježiš, ktorý bol iba taký niktoš a vred na zadku mnohých ľudí, ktorý mali lepšie známosti ako on... A tak sa rozhodli, že sa pobavia tým, že ho priklincujú na kríž, ktorý zapichnú do zeme. Iste to nebude mať žiadne dôsledky, pomysleli si lynčovníci. A každý čitateľ Nového Zákona si to musí myslieť tiež, lebo sa tam stále opakuje, aký niktoš ten Ježiš bol. A potom, tesne predtým ako niktoš zomrel sa otvorili nebesá a prišli blesky-hromy. Ozval sa hlas samotného Pána Boha. Povedal ľuďom, že si tohto vandráka práve adoptoval a dal mu všetky právomoci a privilégiá syna stvoriteľa vesmíru až do konca večnosti. Boh povedal toto: Odteraz príšerne potrestám každého, kto ublíži vandrákom bez konexií!"
Jednou z ďalších vecí, ktoré Vonnegut tresol po hlavičke je táto trefná analýza americkej životnej filozofie. Jasné, že nie som Američanka, takže sa v tomto môžem mýliť, ale nemyslím si.
"Američania, ako ľudské bytosti všade inde na svete, veria mnohým veciam, ktoré sú evidentne nepravdivé. Ich najdeštruktívnejšou predstavou je viera, že zarobiť peniaze je pre každého Američana ľahké. Vôbec nepriznajú, že zarábať peniaze je naopak veľmi ťažké a preto tí, čo ich nemajú vinia iba samých seba. Toto sebaobviňovanie je ako poklad pre bohatých a mocných, pretože tí robia pre chudobných, či už verejne alebo súkromne, tak málo, ako žiadna iná vládnuca vrstva, povedzme, od napoleónskych čias... Najznepokojujúcejšou vecou je bezprecedentne veľká masa chudoby bez štipky dôstojnosti. Nemajú radi jeden druhého, lebo nemajú radi ani seba samých."
Kniha je síce plná vtipov, ale tie sú skôr smutné ako smiešne. Aj nasledujúci je taký. Predtým ako Vonnegut vydal
Bitúnok číslo 5
(a to mal vtedy už 47 rokov), nazaznamenal žiadne výrazné kariérne úspechy. Ako vtip o sebe samom vytvoril fiktívnu postavu neúspešného spisovateľa Kilgora Trouta, ktorý ma na celom svete len jediného fanúšika.
"Trout, mimochodom, napísal knihu o strome, ktorý rodil peniaze. Miesto listov mal 20 dolárové bankovky. Jeho kvety boli štátne dlhopisy. Jeho plody boli diamanty. Priťahoval ľudí ako muchy na lep a tí pri jeho kmeni bojovali, navzájom sa zabíjali a tak vytvárali perfektné hnojivo."
No tak! Neznie to lákavo?!
Aby som to všetko zhrnula,
Bitúnok číslo 5
nie je ľahké čítanie, ale stojí za to! Nie som jednou z tých, čo sa rada utápa v nešťastí a melanchólii, ale táto kniha sa stalo klasikou z dobrého dôvodu a dávam jej 5 z 5. Alebo teda dala by som, kedy som dávala knihám číselné skóre.