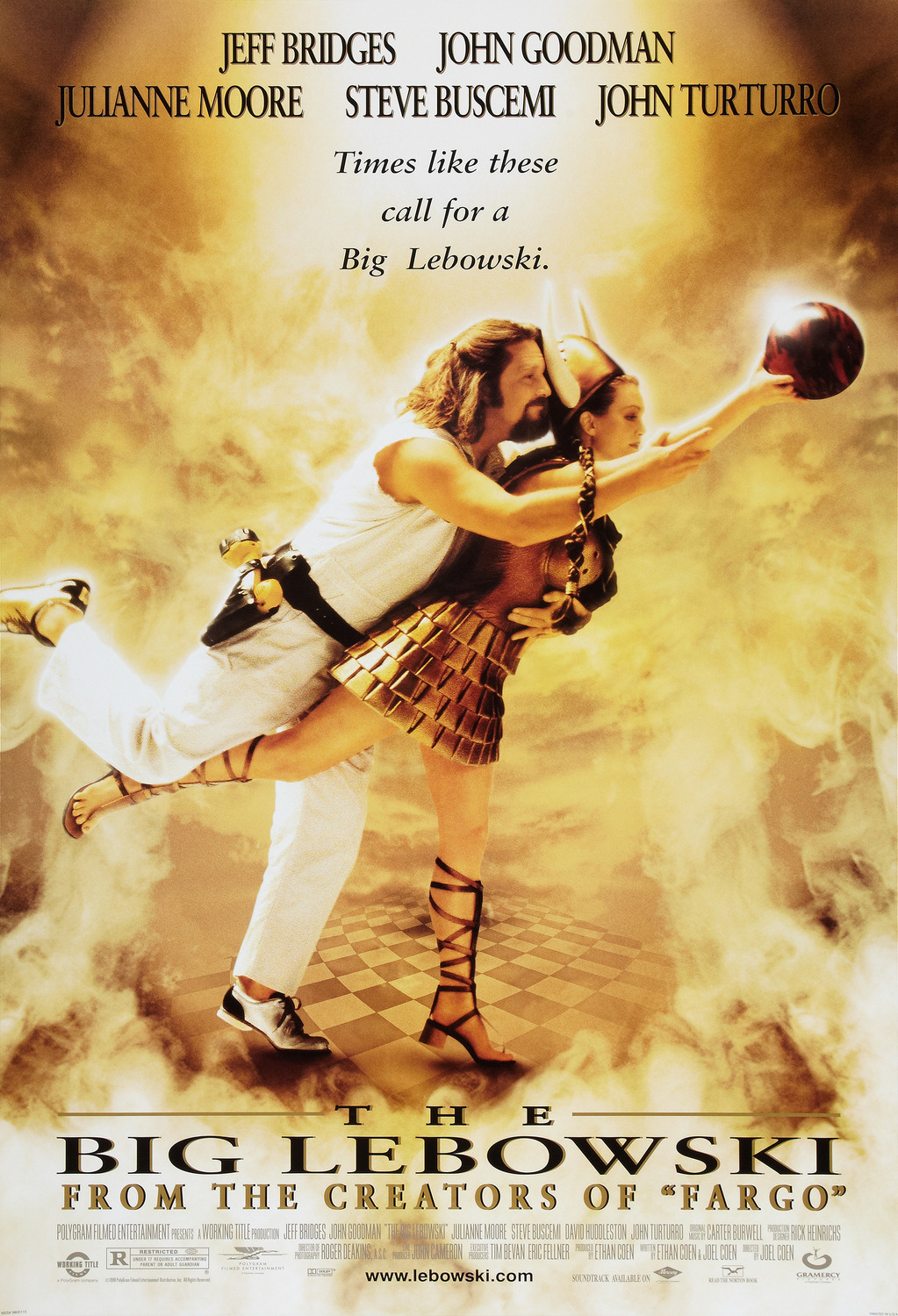 Extortioners: You see what happens, Lebowski?
The Dude: Nobody calls me Lebowski, you got the wrong guy, I'm the Dude, man.
Extortioners: Your name's Lebowski, Lebowski. Your wife is Bunny.
The Dude: My wife? Bunny? Do you see a wedding ring on my finger? Does this place look like I'm fuckin married? The toilet seat's up man!
Výpalníci: Tak vidíš, čo sa stane, Lebowski?
Dude: Nikto ma nevolá Lebowski. To je omyl, ja som Dude, okej?
Výpalníci: Voláš sa Lebowski, Lebowski. Tvoja žena je Bunny.
Dude: Moja žena? Bunny? Vidíš mi na prste snubák? Vyzerá to tu, ako keby som bol, do riti, ženatý? Záchodová doska je hore, človeče!
When I saw
Nostalgia critic on Youtube
talking about
The Big Lebowski
I knew it was about time for me to see that.
Now I'm wondering: "What have I just seen?"
Jeff Lebowski is an unemployed bum, who doesn't do much. He plays bowling, listens to music, drinks White Russian, smokes weed and... yeah that's pretty much it. You might consider him a useless person. He has achieved very little in life because he's never had any goals. And he's absolutely content with it.
The whole film starts when somebody pees on his rug. It's a case of mistaken identity because there is a millionaire with the same name and his young trophy wife owes money all over the town. The carpet-pissers break into Bum Lebowski's house to extort the money from him but he explains them he's not the millionaire, he's Dude. Later his trigger-happy friend Walter persuades him to go to the rich man's house and ask him to fix the situation. Dude gets somehow mixed up in a detective story about a kidnapped trophy wife and 20 thousand ransom. And there's some surreal shit going on too.
That's okay.
The Big Lebowski
is not about story, it's about attitude. It's a lifestyle piece. The film wasn't very popular at the time of its premiere and many critics disappointedly stated they'd expected a bit more from the Cohen brothers, especially after the Oscar awarded
Fargo
(which is also on my list). Audience was perplexed over the plot that was too complicated and didn't seem to matter at all. Have you seen it? Do you remember what happened with the ransom money? What happened with Bunny? What happened with the millionaire Lebowski? Who stole the Dude's car and why? What about the bowling tournament? What about Jesus? Did Dude get his rug back?
See what I'm saying? The story isn't what the film was about. It's a celebration of a live-and-let-live attitude of the central character in spite of every crazy twist that life threw at him. It's about the silly and larger than life support characters, all of which would deserve their own spin-off. They don't particularly do anything that changes anyone's course of life, they don't learn or change or anything (except for poor Donnie). It's about the attitude and acceptance.
Dude became a hero of young people in early noughties. Especially college students, who had to work hard at school so that they could work hard later in life to maybe possible have a decent life. Understandably they fell in love with Dude, who doesn't have much but lives in impenetrable tranquility that we all can envy him.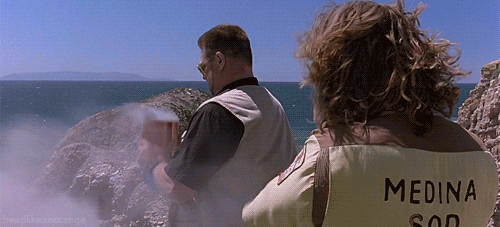 The plot is said to resemble the noir detective story of The Big Sleep, however, the Cohen brothers decided to come up with a protagonist that would be least equipped to deal with the situation. The anti-hero gets robbed, attacked, threatened, drugged, lied to and decides to solve the whole mystery not to achieve justice but only because he wants to live in peace again. Hilariously he's so incompetent that every single attempt at affecting something goes south. He's so useless that every single plot line would solve itself without his meddling. Yet he can't be omitted or replaced.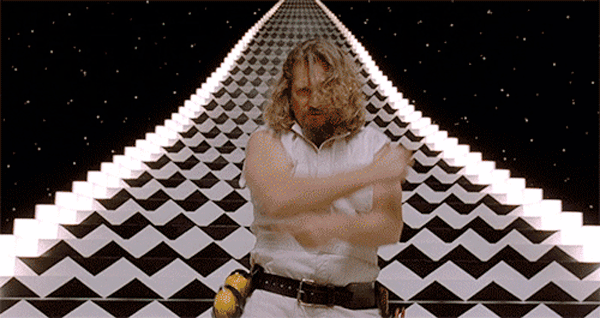 Is that staircase inspired by Twin Peaks?
Some say that The Big Lebowski is about life. In typical postmodern fashion we have a weird anti-hero, the characters often act irrationally, the surreal dream sequences might or might not make any sense, the conversations keep repeating and rarely bring anything new to the table, the plot goes nowhere and then it stops. Just like life itself, the film doesn't have any final resolution nor consequences.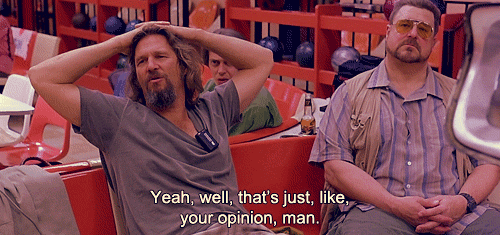 The Cohen brothers succeeded completely into bringing the atmosphere of the film out of the screen and into the audience's heart and soul. The blissful relax the film brings is not something that you get everyday. I recommend it especially when you feel stressed and need to relax. And if you don't have enough time to watch the film, listen to the soundtrack. The Big Lebowski in any form will do the impossible job and relax you under any circumstances.
Jeff Lebowski je nezamestnaný povaľač, ktorý nič nerobí. Hrá bowling, počúva hudbu, pije Bieleho Rusáka, fajčí trávu a... a to je tak všetko. Niekto by ho označil za zbytočného človeka. V živote toho dosiahol veľmi málo, lebo vlastne žiadne ciele ani nemal. A je so sebou absolútne spokojný.
Celý film začína tým, že mu niekto oští koberec. Ide o omyl, lebo v meste býva aj milionár s rovnakým menom a jeho veľmi mladá imidžová žena má dlhy kade-tade. Darebáci sa k povaľačovi Lebowskému vlámali a pošťali mu koberec, lebo od neho chceli vymáhať dlh, ale on im vysvetlí, že on nie je žiaden milionár, on je Dude (ak prídete s nejakým slušným prekladom, dám vám cukrík). Jeho akčný a šťastne ozbrojený kamarát ho presvedčí, aby išiel do boháčovho domu a požiadal ho, aby napravil celú situáciu. Následne sa Dude nejako zapletie do detektívky o zmiznutej boháčovej žene a v hre je 20 tisíc dolárov.
Pardón, nepočúval som.
To je v pohode.
Big Lebowski
nie je o zápletke, je to o postoji k životu. Je to lifestylový film. Najprv nebol veľmi populárny a v čase jeho premiéry boli kritici sklamaní, lebo od bratov Cohenovcov očakávali niečo iné, hlavne po Oskarovom filme
Fargo
(ktorý mám už tiež na zozname). Obecenstvo bolo zmätené zápletkou, ktorá je príliš komplikovaná a vlastne na nej nezáleží. Videli ste
Lebowského
? Pamätáte sa, čo sa stalo s výkupným? Čo sa stalo s Bunny? Čo sa stalo s milionárom Lebowským? Kto ukradol Dudove auto a prečo? A čo ten bowlingový turnaj? Čo Ježiš? Dostal Dude svoj koberec naspäť?
Koberec
Izba bez neho nie je tým, čím bývala (ďalší cukrík)
Vidíte? Tento film nie je o príbehu. Je to oslava kréda "ži a nechaj žiť", ktoré protagonista vyznáva a drží sa ho aj napriek všetkým šialenostiam, ktoré mu život hádže pod nohy. Je to o tých šibnutých intenzívnych postavách, z ktorých každá jedna by si zaslúžila svoj vlastný film. Väčšinou nerobia nič svetoborné, čo by niekomu zmenilo život, nepoučia sa, nezmenia sa, nič. Teda až na chudáka Donnieho. Film je o postoji a prijatí života, aký je.
Niekedy zješ medveďa ty, inokedy zje on teba.
Dude sa stal hrdinom mladých ľudí po roku 2000. Hlavne vysokoškolských študentov, ktorí sa v škole biflili, aby mohli tvrdo makať v práci, aby potom možno žili slušný život. Jasné, že sa zamilovali práve do Duda, lebo aj keď ten toho veľa nemá, žije si svoj vyrovnaný život a to je niečo, čo mu môžeme všetci závidieť.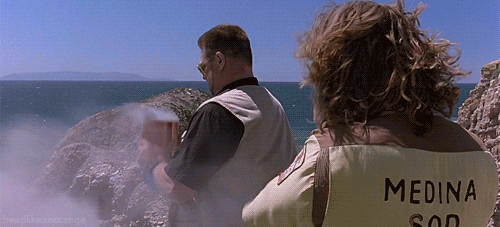 Zápletka pripomína noir detektívku zo 40. rokov s názvom The Big Sleep, no Cohenovci sa rozhodli, že do stredu diania postavia protagonistu, ktorý je úplne najmenej kompetentný situáciu vyriešiť. Anti-hrdina je fyzicky napadnutý, okradnutý, vyhrážajú sa mu, zdrogujú ho a oklamú a on sa rozhodne vyriešiť celú záhadu nie preto, že by túžil po spravodlivosti, ale aby ho už konečne nechali na pokoji. Našťastie je taký nekompetentný, že každý jeho pokus skončí neúspechom. Je taký zbytočný, že každá jedna zápletka, aby sa bez jeho pričinenia vyriešila aj sama. No aj tak ho nemôžeme z filmu vynechať.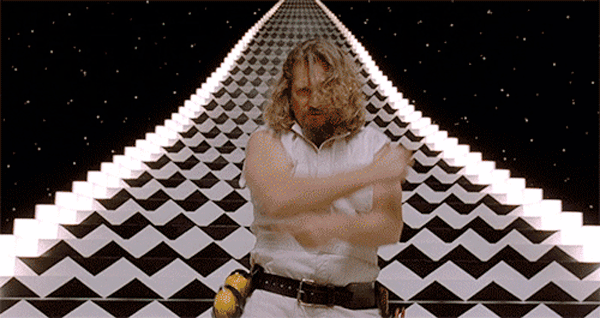 Je toto schodisko inšpirované seriálom Twin Peaks?
Niektorí hovoria, že Big Lebowski je o živote. Presne v duchu postmoderny tu máme anti-hrdinu, postavy sú často iraciónálne, surealistické snové scény občas dávajú a občas nedávajú zmysel, konverzácie sa dookola opakujú a málokedy prinesú niečo nové, zápletka ide nikam a potom to skončí. Presne ako sám život, ani Lebowski neprináša nejaké konečné rozuzlenie, zmenu alebo dôsledky.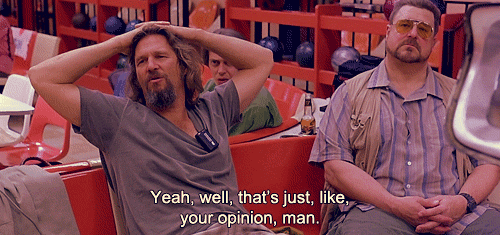 É... nó... to je akože.... iba tvoj názor.
Cohenovcom sa úplne podarilo priniesť atmosféru filmu z obrazovky priamo do divákovho vnútra. Bezstarostný relax, ktorý tento film ponúka, nenájdete len tak hocikde. Film odporúčam hlavne, keď ste vystresovaní a potrebujete si poriadne oddýchnuť. Ak nemáte čas na celý film, tak si aspoň vypočujte soundtrack. Big Lebowski v akejkoľvek forme dokáže aj nemožné a zrelaxuje vás za akýchkoľvek okolností.