''Don't dream it, be it.''
''Nesnívaj o tom, staň na tým.''
When I first saw
Rocky Horror Picture Show
I didn't understand anything. What the hell is going on there? Why are they wearing corsets and fishnets? Who are they? What's the point of this whole film? But when I watched it the second time I realized it's fun. You're supposed to sing the silly catchy songs with the cast and enjoy it all. Maybe what doctor Frank'N'Further is trying to tell us is that life is supposed to be fun.
Rocky Horror Picture Show
is endlessly inspiring. When I grow up I want to be rich and eccentric like doctor Frank'N'Further. I'm gonna live in a huge gothic mansion and employ a man like this to open door for the visitors:
Brad and Janet (baby
Susan Sarandon
) are a young couple coming from their friends' wedding and planning to get married soon. During their journey home there's a wild storm and they get a puncture. Naturally there's a big scary gothic castle nearby and they decide to ask the inhabitants whether they can use their phone. Riff Raff opens the door and invites the cute couple in where they meet the striking doctor Frank'N'Further played by
Tim Curry
in the role of his life.
When I started looking for the cool gifs from the film I realized all the gifs I saved are Franks gifs. I don't even know how to describe him. He's the villain of the story but he's larger than life, a complete powerhouse and owns the whole movie like a boss. Frank is an alien mad scientist with very liberal views of sexuality, which you'll sure understand after seeing him dancing in sky-high heel and singing ''Sweet transvestite''. Oh, and he's just created a man only for his own sexual pleasure.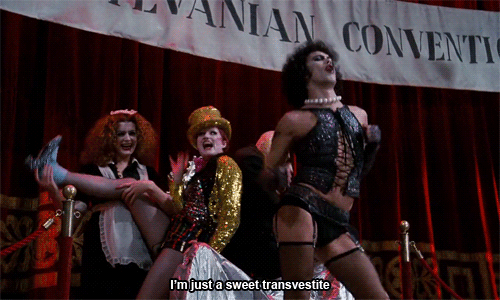 FRANK: [singing] Whatever happened to Fay Wray / That delicate satin-draped frame / As it clung to her thigh / How I started to cry / 'Cause I wanted to be dressed just the same.
The first time I saw the film I had no words really. Now I know better.
Anyway Brad and Janet introduce themselves to the boss:
BRAD: Brad Majors. This is my fiancée, Janet "Vice."JANET: Weiss.
And then they try to leave politely but no dice. They are trapped. Frank'N'Further stripps them down both literally and metaphorically and when they try to protest, he just sasses them to close their mouths.
FRANK: How forceful you are, Brad. Such a perfect specimen of manhood. So...dominant. You must be awfully proud of him, Janet.
Long story short, Brad and Janet learn a few things about themselves and each other that night and one can be sure nothing will ever be the same.
There are two groups of fans of
Rocky Horror Picture Show
: one that analyzes the musical and look for metafors and hidden meanings and the other insists that everything is just fun and viewers are supposed to enjoy the music and ridiculousness of it all.
Both groups are right. It's certainly interesting to dig and find out where the it all comes from. The 70's were much more prude than these days. Even though the 60's brought new radical sex related ideas to light and hippies had their free love and all,
Rocky Horror Picture Show
was in the time of its origin an R rated show. Characters openly bisexual, transsexual and god knows what! Songs about lust and sex! The creator Richard O'Brien (played Riff Raff as well) is a transgender himself and the
main character
protagonist
antagonist doctor Frank'N'Further is a transvestite.
Another cultural phenomenon that was widely talked about was space travel and aliens. There had been a lot of successful missions to explore the space in 60's and 70's and science-fiction was enjoying a huge popularity. That's might have inspired Frank'N'Futher's alien origin and mad scientist's hobby.
Moreover, glam rock music and exaggerated image was at its height (just remember
David Bowie
and his Ziggy Stardust phase).
The other group are fans that enjoy the songs and charming performances of every actor, beginning with Tim Curry and ending with Meatloaf (yes).
Even though the film flopped at first it soon found it's audience and it's been having midnight screenings every Halloween as cult classic, a broadway show and recent remake (that we will not talk about anymore). There aren't many films that can brag so much unwavering attention for over 40 years now. Fans visit the live show and sing with the characters, yell at them and throw around things, all dressed up in crazy costumes.
Janet: If only we were amongst friends... or sane persons!
Now that wouldn't be as much fun, would it, Janet?
Keď som prvý krát pozerala
Rocky Horror Picture Show
, ničomu som nerozumela. Čo do pekla sa tam deje? Prečo majú všetci oblečené korzety a sieťované pančuchy? Kto vôbec sú všetci tí ľudia? Ale keď som film pozerala druhý raz, bolo mi jasné, že tu ide o zábavu. Divák si má spievať bláznivé pesničky spolu s postavami a baviť sa na tom. Možno sa nám doktor Frank'N'Further snaží povedať, že život má byť zábava.
Rocky Horror Picture Show je nekonečne inšpiratívny. Keď vyrastiem, chcem byť bohatá a ekcentrická a bývať v gotickej vile a zamestnávať takéhoto pána, aby vítal návševníkov:
Brad a Janet (mladučká
Susan Sarandon
) sú zamilovaný párik na ceste zo svadby kamarátov, ktorá cih inšpirovala, aby sa tiež zasnúbili. Počas cesty ich zastihne búrka a dostanú defekt. Prirodzene, že je nablízku strašidelný gotický zámoček a párik sa rozhodne, že si odtiaľ skúsia zavolať pomoc. Riff Raff im otvorí dvere a pozve chutný párik dnu, kde sa stretnú s ohromujúcim doktorom Frank'N'Furtherom, ktorého hrá
Tim Curry
(a ktorý sa očividne pre túto rolu narodil).
Nehovorte!
Keď som začala hľadať gifká z filmu, uvedomila som si, že všetky, ktoré som vybrala sú Frankove. Ani neviem, ako ho opísať. Hrá úlohu zloducha, ale je to hlevná hviezda a úplný boss celého filmu. Frank je mimozemský šialený vedec s veľmi liberálnym pohľadom na sexualitu, čo pochopíte až keď ho uvidíte tancovať s 12 centimetrových opätkoch, spievajúc "Sladkého transvestitu". Ou, a aby som nezabudla, Frank si práve stvoril stvoril muža na sex.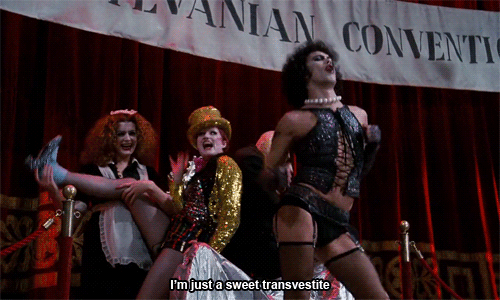 FRANK: [spievajúc] čo sa stalo s Fay Wray / s tým nežným telom saténe / čo objímal jej boky/ Ako som len plakal / Chcem som byť presne ako ona.
Keď som pozerala film prvý raz, nemala som slová. Teraz ich už mám.
Brad a Janet sa teda zoznámia s šéfom:
BRAD: Brad Majors. Toto je moja snúbenica, Janet Vice. (Neresť)
JANET: Weiss.
V každom temnom živote jsa dá nájsť svetlo.
A potom sa slušne snažia odísť, ale majú po ptákách. Sú v pasci. Frank'N'Further ich vyzlečie aj obrazne aj doslova a keď sa pokúsia o odpor, tak ich jeho drzý šarm zase rýchlo odzbrojí.
FRANK: Aký energický si len, Brad. Taký dokonale mužný exemplár. Taký... dominantný... Musím byť na neho strašne pyšná, Janet.
Aby sme to skrátili, Brad a Janet sa v tú noc naučia pár vecí o sebe a jeden o druhom, takže už nič nebude také ako predtým.
Fanúšikov Rocky Horror Picture Show môžeme rozdeliť na dve skupiny: jedna muzikál analyzuje a hľadá metafory a skryté významy a druhá trvá na tom, že všetko je len sranda a diváci si majú užívať hudbu a celé to šialenstvo okolo.

Obe skupinz majú pravdu. Je to iste zaujímavé, hľadať z čoho film vychádza. Sedemdesiate roky boli oveľa zdržanlivejšie ako dnes. Aj keď šestdsiate priniesli radikálne myšlienky ohľadne sexu a hipisáci majú svoju voľnú lásku a tak ďalej,
Rocky Horror Picture Show
bol v čase svojho vzniku mládeži neprístupný. Postavy boli otvorene bisexuálne, transexuálne a boh vie, čo ešte! Piesne o sexe a túžbach! Autor Richard O'Brien (vo filme si zahral Riff Raffa) je sám transgender a
hlavná postava
protagonista
antagonista doktor Frank'N'Further je tranvestita.
ďalší kultúrny fenomén, o ktorom sa vtedy veľa hovorilo bolo objavovanie vesmíru a marťania. V 60. a 70. rokoch prebehlo veľa úspešných výskumných misií a žáner science-fiction sa tešil ohromnej popularite. To mohlo inšpirovať mimozemský pôvod doktora Frank'N'Futher a jeho laboratúrne hobby.
Navyše, glam rocková hudba a prehnaný imidž bol na vrchole (spomeňte si na
Davida Bowieho
a jeho Ziggy Stardust fázu).
Ďalšou skupinou fanúšikou sú tí, ktorí sa radujú z piesní a parádnych výkonov hercov, Timom Curry počínajúc a Meatloafom končiac. Áno.
Aj keď film hneď na začiatku veľa úspechov nezožal, rýchlo si našiel svoje publikum a každý rok na Halloween sa o polnoci premieta ako kultová klasika už 40 rokov (!). Dávali ho už aj na Broadwayi a nedávno spravili aj remake (ktorý tvárme sa, že neexistuje). Nie je veľa filmov, ktoré sa môžu hrdiť toľko nehynúcou pozornosťou počas 4 desaťročí. Fanúšikovia navštevujú živé predstavenia, kričia a hádžu veci, oblečení v bláznivých kostýmoch.
JANET: Keby sme len boli medzi priateľmi... alebo zdravými ľudmi!
Ale to by predsa nebola žiadna sranda, Janet.